Somehow, this beat-up phrase seemed to be the best fitting beginning to describe the start of our Vietnam trip. Mostly because we did arrive in Ho Chi Mingh City (also known as Saigon, and often abbreviated to HCMC) in the morning.
The 9-hour flight from Munich with Thai Airways first brought us to Bangkok for a layover on our way to Saigon. After all the rave reviews I heard from people about the airline, I was looking forward to experience the excellent service everybody was referring to, but ended up being rather disappointed. Maybe my expectations were too high, or maybe I was just spoilt by all the years of business travel I had to do… The flight was ok, but the airline was not much to write home about. The crew, indeed, looked very stylish in their uniforms, made to resemble traditional Thai dresses, but the stewardess (or shall I be using the politically-correct "flight attendant"?) responsible for our section of the plane was either practicing her "European cool look", or was constantly chewing on a bumble-bee, for the famous Thai hospitality did not register on her face once. The food was on the lower end of acceptable for Lufthansa (whose standards did drop dramatically over the years), and the crew was surprisingly stingy on drinks. We are not even talking alcohol here – just plain water was in amazingly short supply!… But I have to restrain myself here – I did not mean to start the notes about the Vietnam trip with bitching about Thai Airways, which in no way were meant to play the main role here. We were on vacation, and we were happy with everything! The plane arrived in Bangkok ahead of schedule, and the resulting 5-hour layover in a huge and modern airport filled to the brim with orchids and fancy shops brought with it nice coconut soup, and refreshing coffee. The atmosphere of vacation slowly started creeping in on us.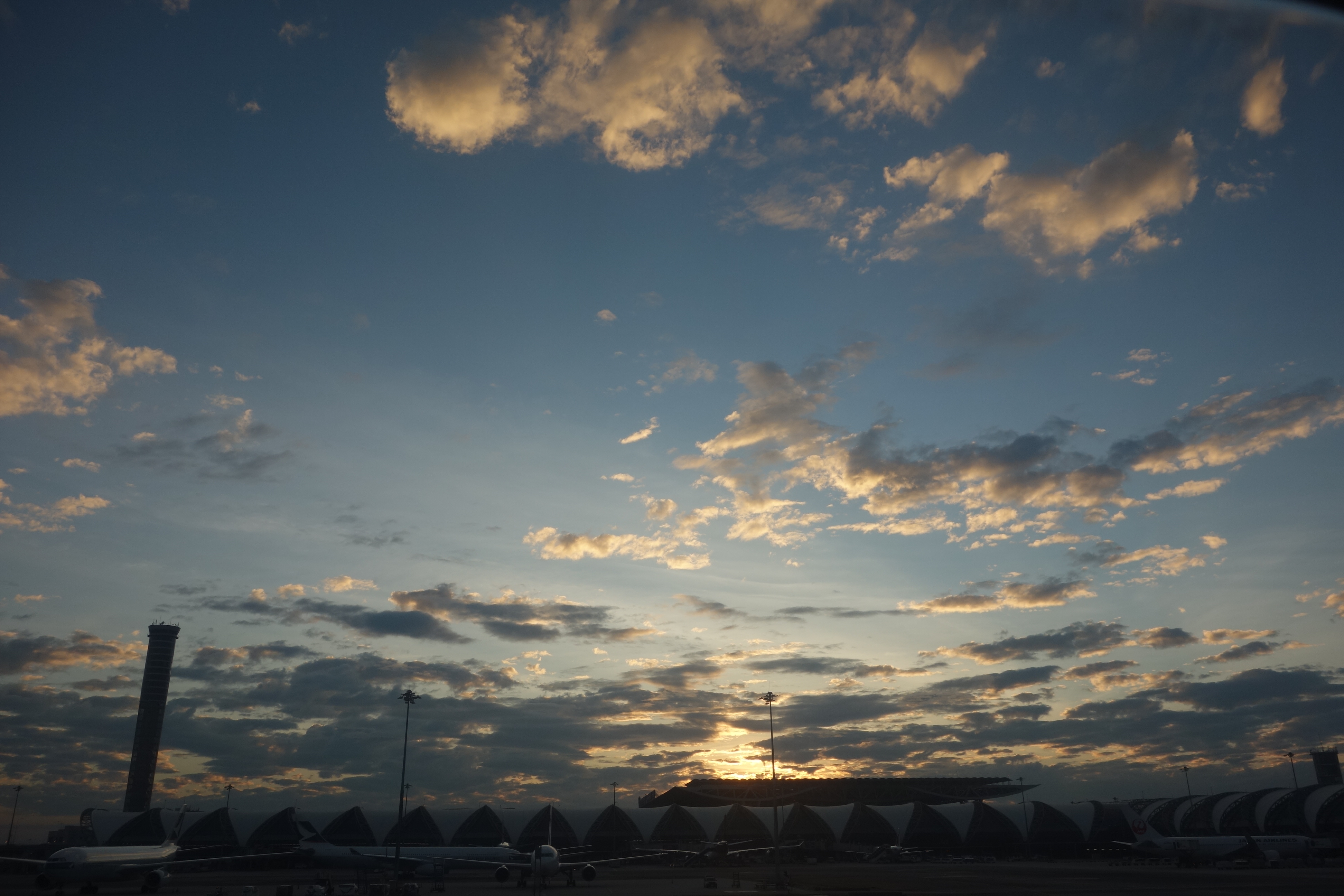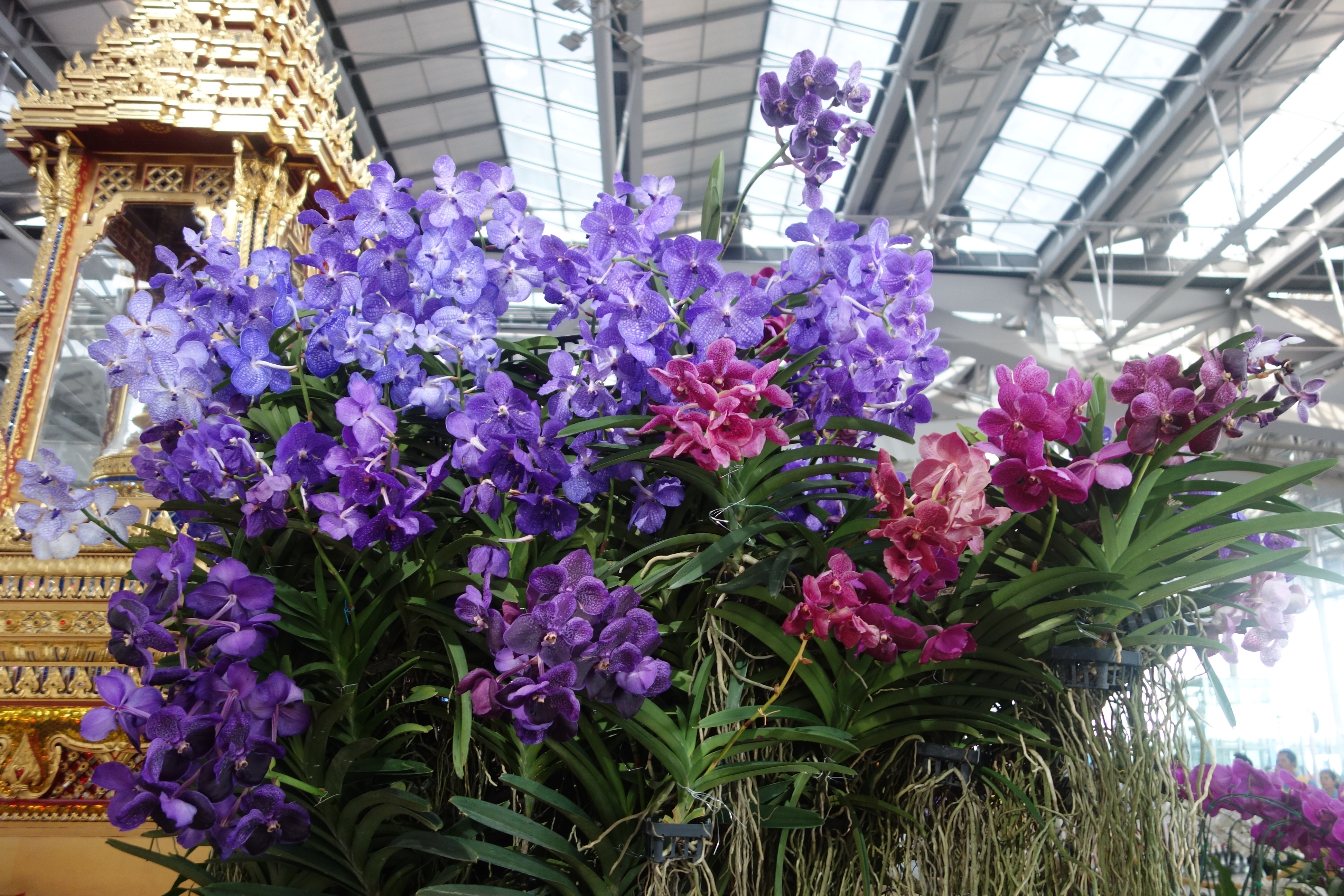 Surprisingly, the one way Vietnam Airlines ticket to Ho Chi Minh City that I booked 3 months earlier on Expedia worked, and both, we and our luggage were checked in to our destination. Hats off to modern technology! Two hours after boarding the second plane in Bangkok we landed in the Socialist Republic of Vietnam. At first glance nothing about the place reminded of the scary Soviet times – people were smiling, the airport was big and modern (shame on you, St. Petersburg!…), nobody was marching around in grey uniforms, and even immigration officers acted friendly.
Having successfully ditched about a dozen people offering us limo service and a comfortable luxury transfer to any part of town, we got a regular metered taxi, that quickly and easily delivered us to our destination – the local backpackers' district in the heart of Saigon. The plan was to find accommodation, jump into a shower, and set off exploring the area. The first two places recommended by the trustworthy Lonely Planet were full, but one of a couple dozen others, located in the same alley did have a room. Nothing fancy, but it had a bed and a shower, and we did not have to climb ten flights of stairs to reach it.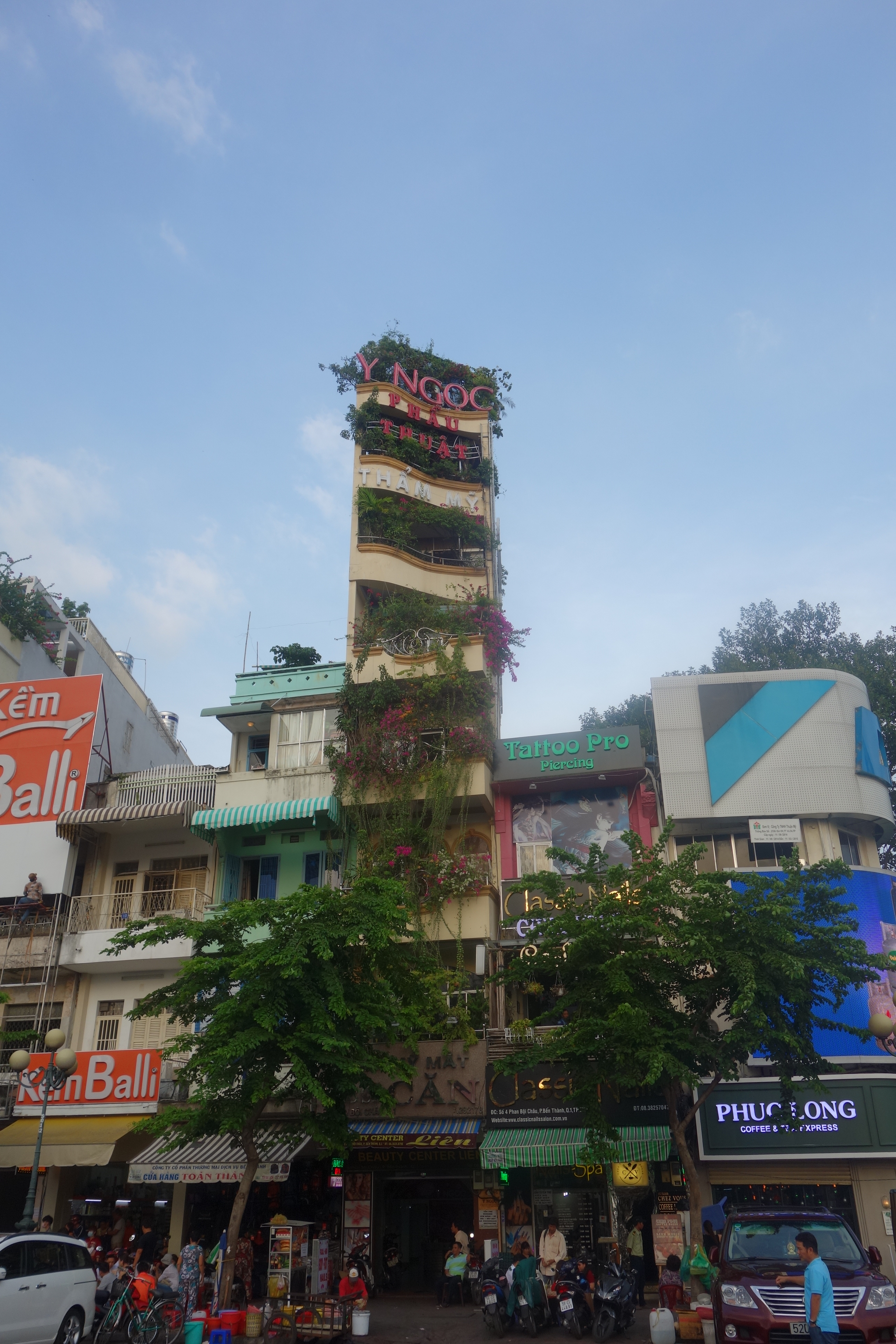 What we learned later, was that most constructions in the country were narrow for tax reasons. The government taxed buildings based on the width, which made house-owners build them as narrow as possible. Many of these spaghetti-thin constructions would be yards deep, and compensate for narrowness of the facade not only with height, but with depth as well.
250 thousand Vietnamese Dong (equivalent to 12 American dollars) bought us a night in a room with a window, a balcony, two beds, and a shower over the toilet. A bit run down and shabby, but we were in no condition to either be picky, or to continue the search. Almost 25 hours spent on the road were calling for hot water and a shower. Both were immediately applied.
Even after all the flying, searching, and showering it was still early enough, and we went for a walk to familiarize ourselves with our new neighborhood. Wandering through the area we looked at a number of hotels, and found the ideal place for the rest of our stay in Ho Chi Minh. With a surprisingly Mexican name of Saigon Amigo the brand-spanking-new hotel could boast a room with a spacious balcony, a marble bathroom with a very modern shower cubicle (hooray!), a queen-size bed (as opposed to two singles in the first one we found), air conditioner, and an ultimate Saigon luxury – a lift! At 27 US dollars a night it was a bargain. We happily moved into this oasis the next morning, and never regretted the 15 dollars we had to add – the quality of the room we got did not just double, it quadrupled at least!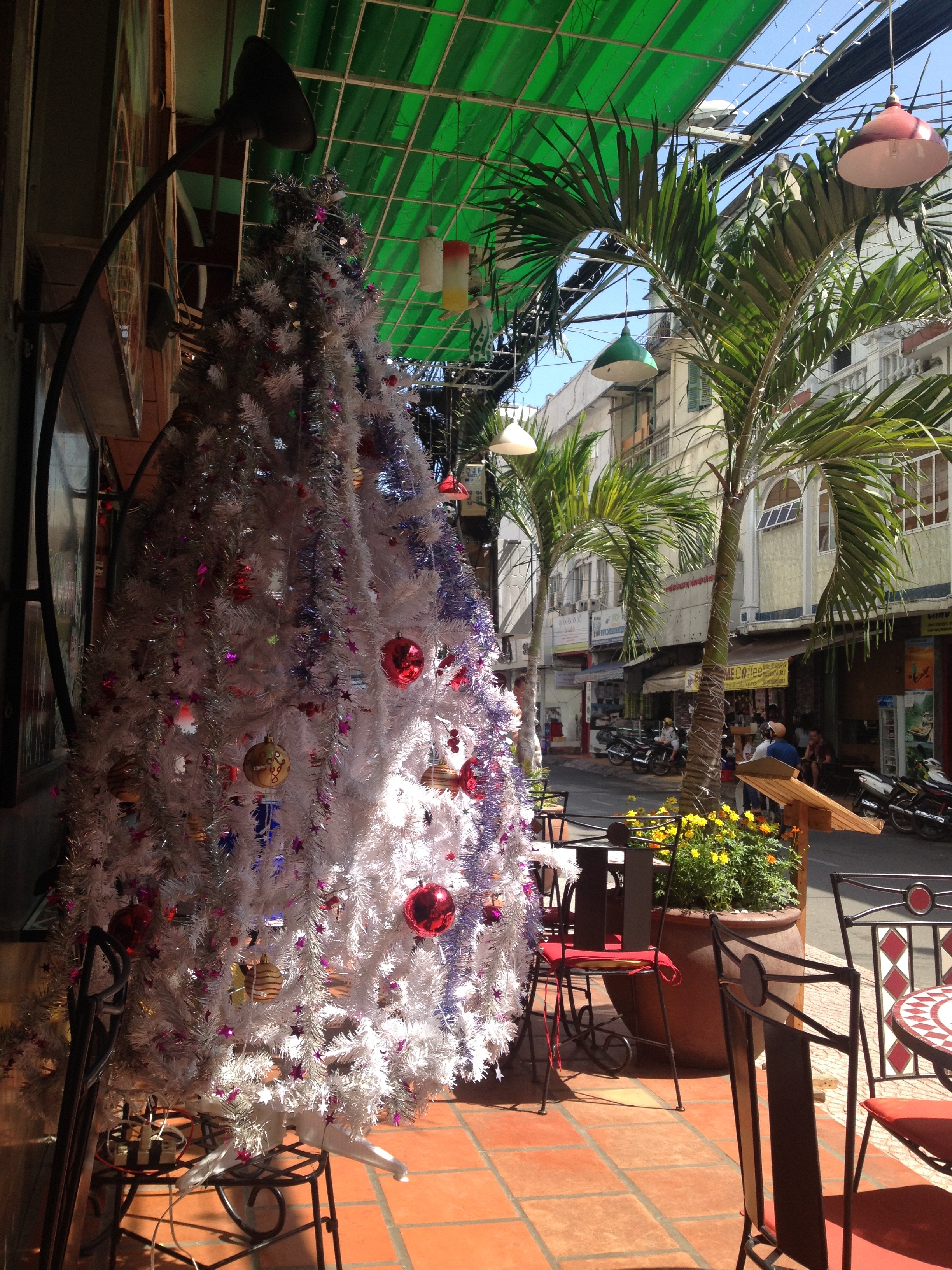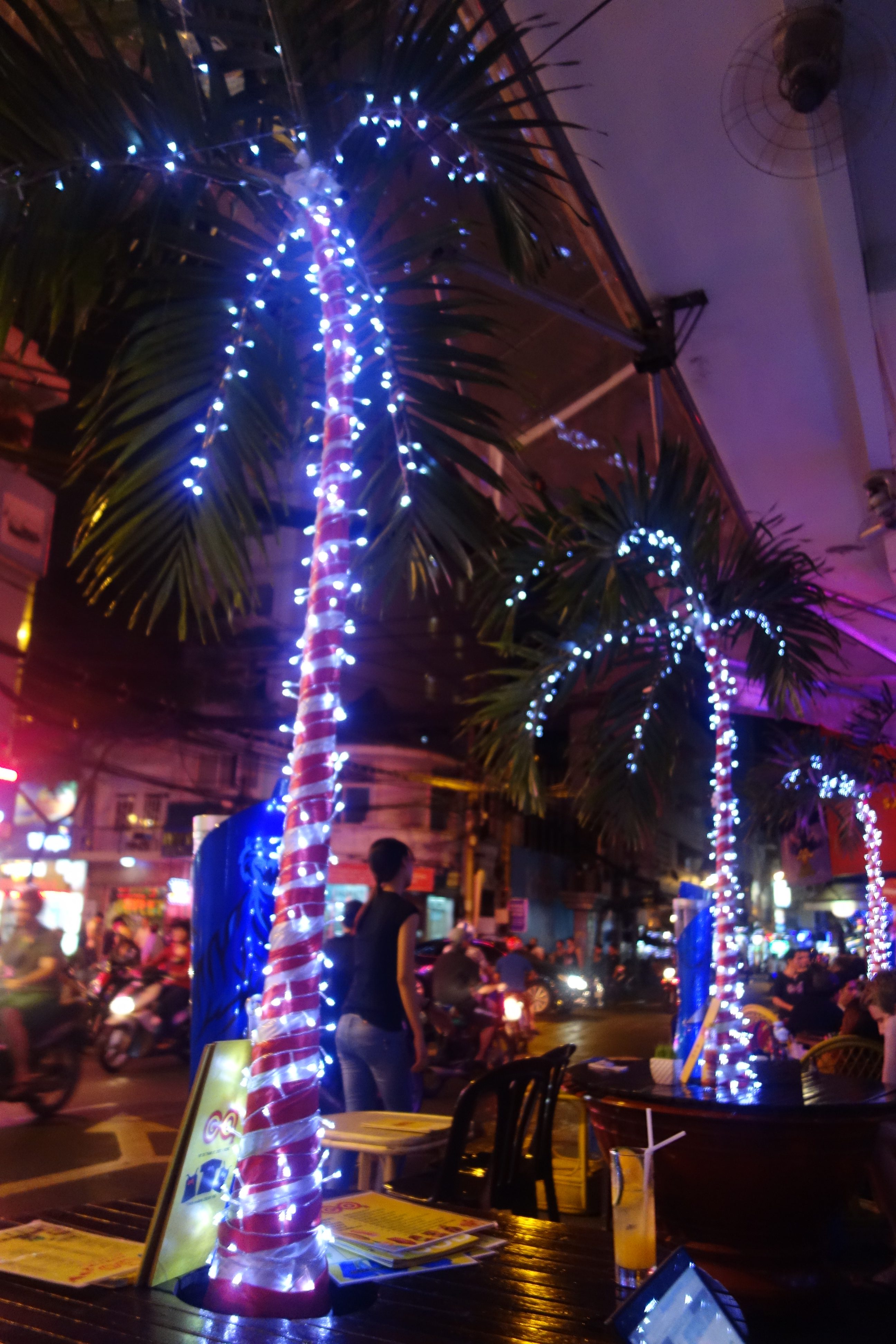 Speaking of beds – Vietnamese beds deserve a separate (and a very unflattering) comment.  Throughout our trip we discovered that no matter the size, the shape, or the age, they all had one thing in common – they were all rock-hard.  No idea what those mattresses (for there were mattresses on them, all right!) were made of, but the beds left you feeling as if you were beaten up and left for the rest of the night lying on concrete floor.  Somehow the idea that a mattress may be comfortable, has never made it to Vietnam.  Maybe it's the whole socialist anti-luxury idea, but the fact remains: all mattresses we slept on during the trip were hard as a rock.
What did make it to Vietnam, however, is coffee. Along with croissants and wine. The French did leave, but left the best part of their culture behind, after all…
Vietnamese coffee (and they do grow their own!) is very strong and is served in tall small glasses with a thick layer of sweet condensed milk on the bottom. I normally don't take sugar with my coffee, but even I had to agree that consuming the Vietnamese variety without sugar would be a cardiac suicide.
The Gallic heritage isn't as obvious in Vietnam as it was in Cambodia, where a family of five riding on a moped with two bags of baguette was a regular sight. In Saigon the French culture is more subdued, but more natural – streets with French names, cafes with croissants all over the place, wine on the menus – it all seemed well integrated into Saigon's Asian lifestyle.
Creepy Santa

Creepy Santa close-up

Saigon sidewalks, made for everything, but pedestrians

Saigon sidewalks – restaurants and chicken markets