Torrential downpours weren't just a Chicago thing. The whole Midwest was experiencing record rainfall and was quickly flooding over. After only one dry and sunny afternoon in Springfield, we woke up the next morning to grey skies and heavy clouds dripping with drizzle. Breakfast recommendations had been collected from Driftwood staff last night, and the "Incredibly Delicious" bakery café did not disappoint!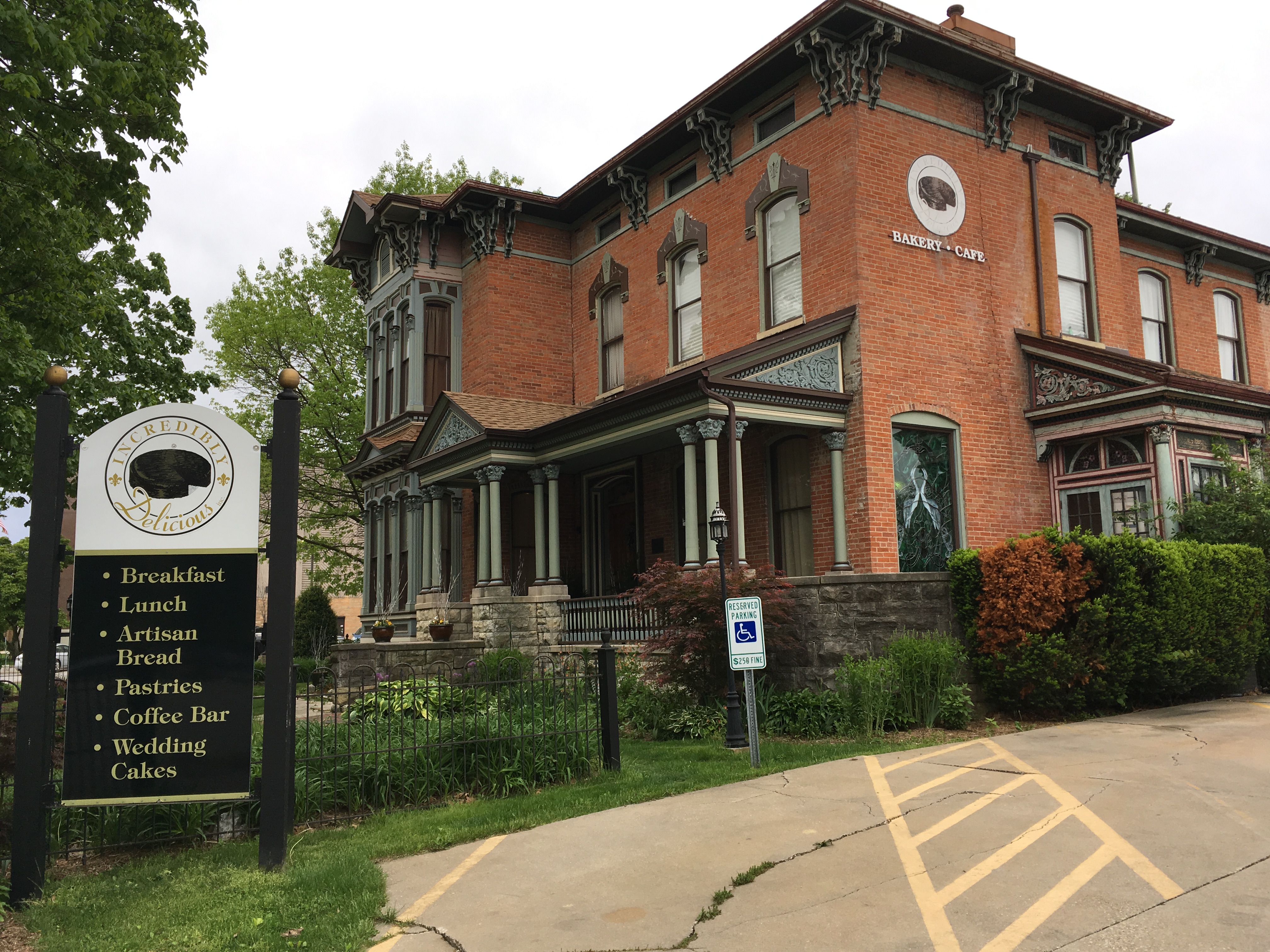 Not only was it situated in a grand old mansion in a fancy part of Springfield, but the food on offer was amazingly tasty, and the portions were human. There is something about America, "the Land of Plenty" that nation-wide calls for humongous portions, especially for breakfast. I have long learned that ordering a set breakfast anywhere was a feat not for the faint-hearted, and an average-sized European was much better off ordering just sides – one boiled/poached/fried egg, and a side order of hash browns were a safe bet. They would in any case come with a pile of toast and bottomless coffee refills that would keep one sated till the end of the day. "Incredibly Delicious" warmed out hearts and stomachs with freshly made quiche and hot teas, and the staff did not blink an eye at us first taking 4 layers of clothing off when we arrived, and after breakfast repeating the process in reverse order and adding rubber rain suits on top.
Warmed up by the delicious food and hot tea, we set off on our way in the pouring rain. This time, it was not a drizzle – the water was seriously rushing down from the skies. After about an hour of riding in torrential rain, some of the dents in our gear started making themselves known. My seemingly long rain trousers gathered up, leaving the bottoms of my jeans exposed to the elements, and soaking up the rain. My hardy Harley boots treated with all the waterproof solutions we could find before the trip did a good job of not letting the water through, but the zipper on the side betrayed all efforts and was leaking in rain like nobody's business. The uncomfortable feeling of sitting in a pool of water (Harley seats are especially handy for collecting whole buckets around one's ass and crotch), was now paired with a lovely squishy sensation of cold water collecting around my feet. Great! Just what one needs on a cold rainy day!… Queen of the road, my ass!… I felt very far from regal, and very close to a drowning rodent in soaking wet socks with bad hair… A quick look at Nic, with streams of water running down his cheeks (his helmet did not have a visor) proved that I was not alone in my misery.
On the positive side, there was absolutely nobody to admire/mock/commiserate with us (choose the most fitting option) in all our glory – we were riding through nowhere, with miles and miles of farm fields stretching to the horizon. Not even cows were seen out in this lovely weather. The South-Western part of Illinois did not seem to be as rich in the roadside memorabilia, as the North of the state… The GPS confirmed that we were on the right track, but the country roads were quickly downgrading to B, C, and finally D-list tracks, covered with mud and grass. All I could think of was "Please, please, please, please, no gravel!" The memories of our feats on the Ring of Kerry in Ireland a year earlier were still fresh in my memory, and the questionable pleasure of riding on gravel paired up with pouring rain would be too much to bear…
Ariston Cafe
Our first planned stop for the day was some 50 miles South of Springfield, at the Ariston Café in Litchfield, Illinois. In continuous operation on since 1924 (first opened in nearby Carlinville, and then moved to Litchfield in 1929), it has been in the hands of the Adam Family (do not confuse with the Addams Family!) from the start, and has long become one of Route 66 iconic places. We were all in for history! Besides, after just under an hour on the road we were getting seriously cold. Our friend Fletch's words were circling in my mind "I ride in the rain. I ride in the cold. Just not in both together." And he's got serious bike mileage and experience under his belt!… Here we were – two fair-weather bikers, riding in the inclement weather that the seasoned professionals stayed away from… Please, please, please, no gravel, and let the fucking rain stop!!!!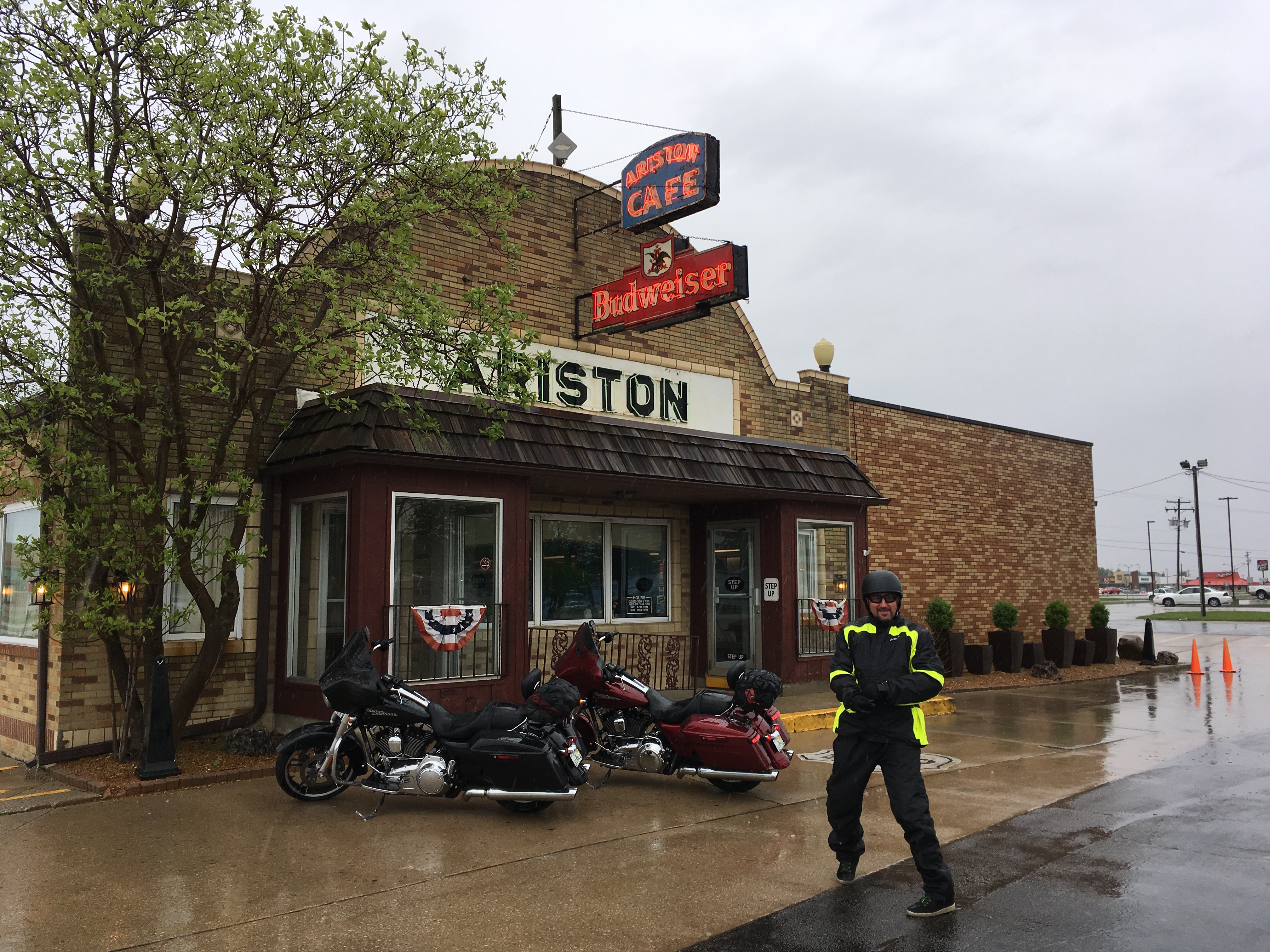 Wet, cold and miserable, with our teeth doing the Morse code messaging all of their own accord, we pulled into the Ariston's Café parking lot, fantasizing about hot coffee and cake, only to see that the door was locked. What the fuck?… We consulted the plaque with the opening hours at the door, looked at our watches, and realized that in our stubborn idiotic strive to get away from the rain, we were too early – the place was not going to open for another 40 minutes. Well, what can we do?… I was intent to at least take a photo of the place, before starting to search for alternative warm-up scenarios, when the door opened, and a prim and proper old lady rushed us in. We apologized profusely for not watching the time, and for dripping all over her floor, but she did not blink an eye. Yes, the café was opening only in 40 min, but she was there, the coffee was brewed, so we might as well come in and warm our wet sorry asses inside.
We spent well over an hour in the café, thawing off, having endless cups of coffee and some seriously good apple pie, chatting with the old lady, her husband who showed up later (they must have been the Adams'!), and a couple more elderly ladies preparing the place for customers. They were all exceptionally friendly, homey and chatty. One of the ladies had a pin on her spotlessly white apron, saying she had been working for the establishment since the late 1960-es. At second glance, the place seemed to be much more than the modest name of "Café" seemed to suggest. The front room with a coffee bar had a couple dozen tables with full lunch and dinner menus, all ready for service, and the back of the building opened up into a full-fledged white table cloth restaurant that could easily sit a couple hundred people. We mentioned this disconnect to Mr. Adams, who philosophically remarked that "Café" was a much shorter word than a "Restaurant", and by calling the place "Ariston Café" one of his ancestors had probably saved a buck or two on the neon sign back in the day.
We signed the guest book, thanked the kindly owners and staff for saving our asses, and went back into the rain. There was no sign of it thinning down, let alone stopping. Well, we were on schedule, and had a route to continue on…
Soulsby's Service Station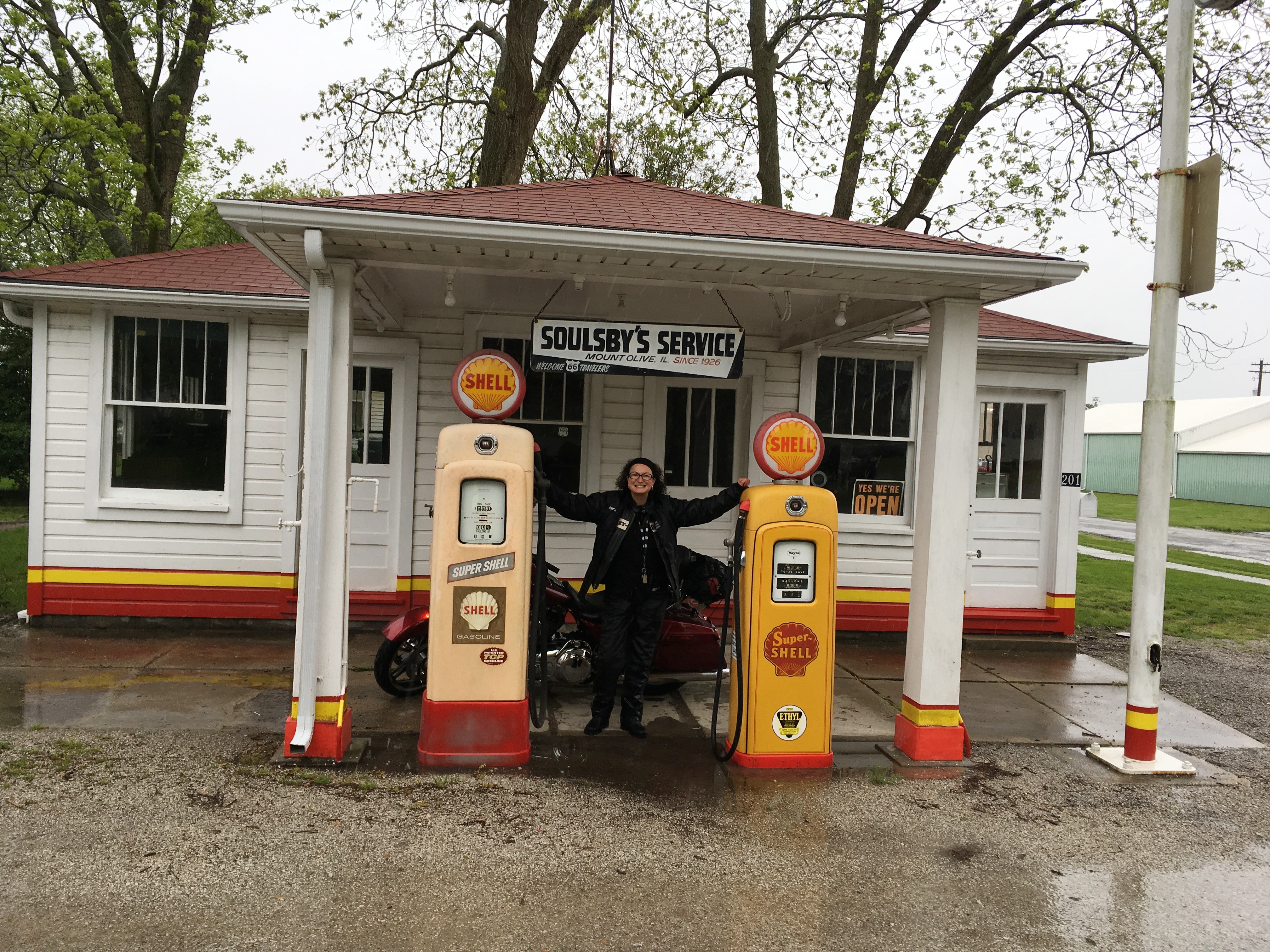 Soulsby's Service Station in Mount Olive, IL, was the next on our list. Opened in 1926, it was in continuous operation and was pumping gas for the passing by motorists till 1991, even after Interstate 55 came into operation in late 1950-es, pushing Mount Olive that ended up a mile away from the new thoroughfare almost into oblivion. Even though the station has not been pumping gas for a good 15 years, it was restored to its original shape, and while closed at the time of our visit, seemed to be serving as a gift shop in better weather. We stopped for a photo opportunity, proud of the fact that we did find the place in the obviously under-populated rural areas of the state of Illinois.
We gave a couple other sights on our list a miss – some were situated down dirt tracks that I would not risk on a bike even in better weather conditions, others were quite a bit out of the way, and with the torrential rains following us we did not feel overly adventurous.
The Pink Elephant Antique Mall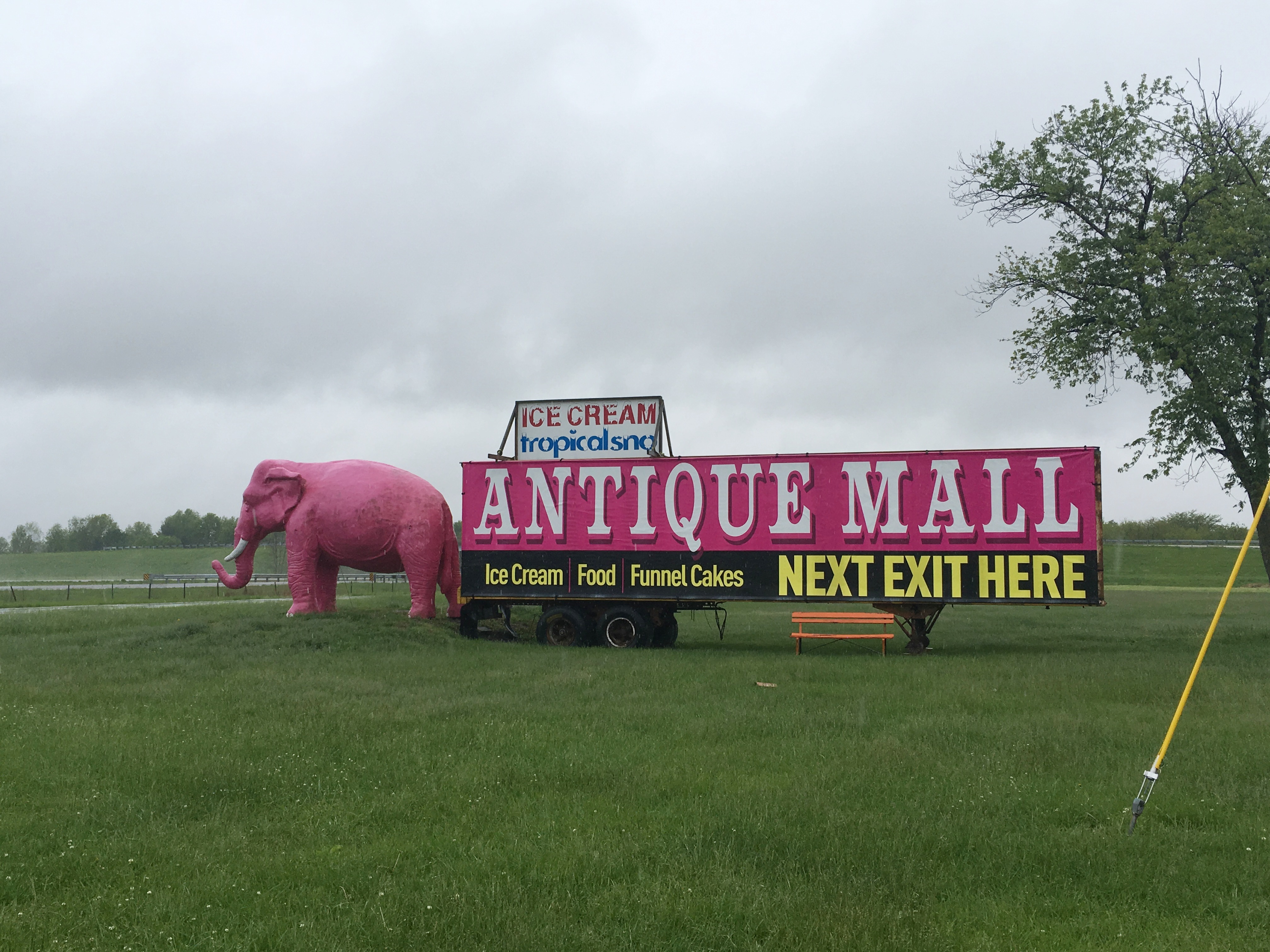 One place did call for a visit, though – the Pink Elephant Antique Mall, which looked exactly like it sounded! The address put into the GPS turned out not exactly correct, so we circled around for a couple of minutes, but the mall was hard to miss, due to the life-size statue of a pink elephant, perched in the middle of a lawn next to the road leading to the place. Only in America!…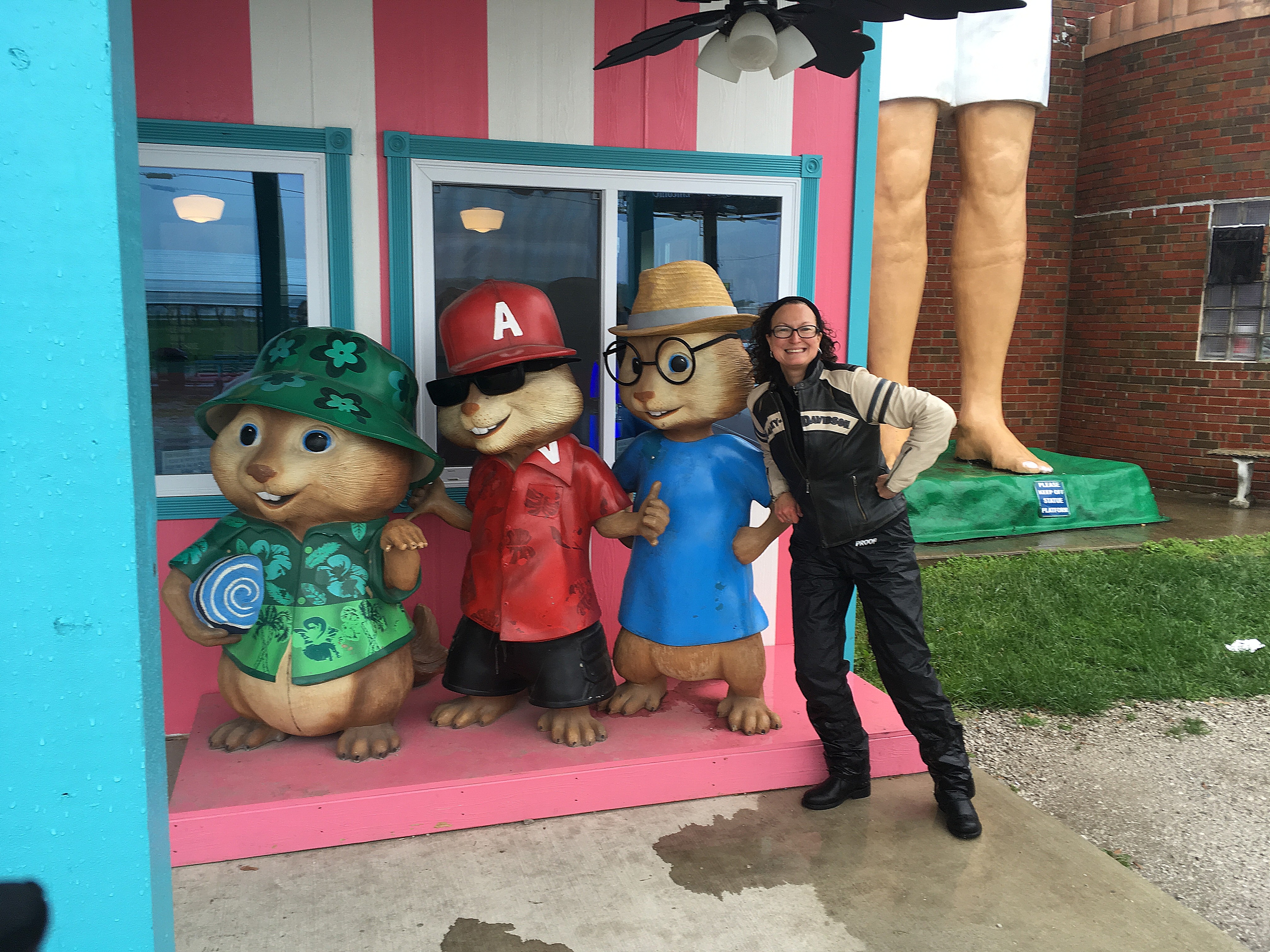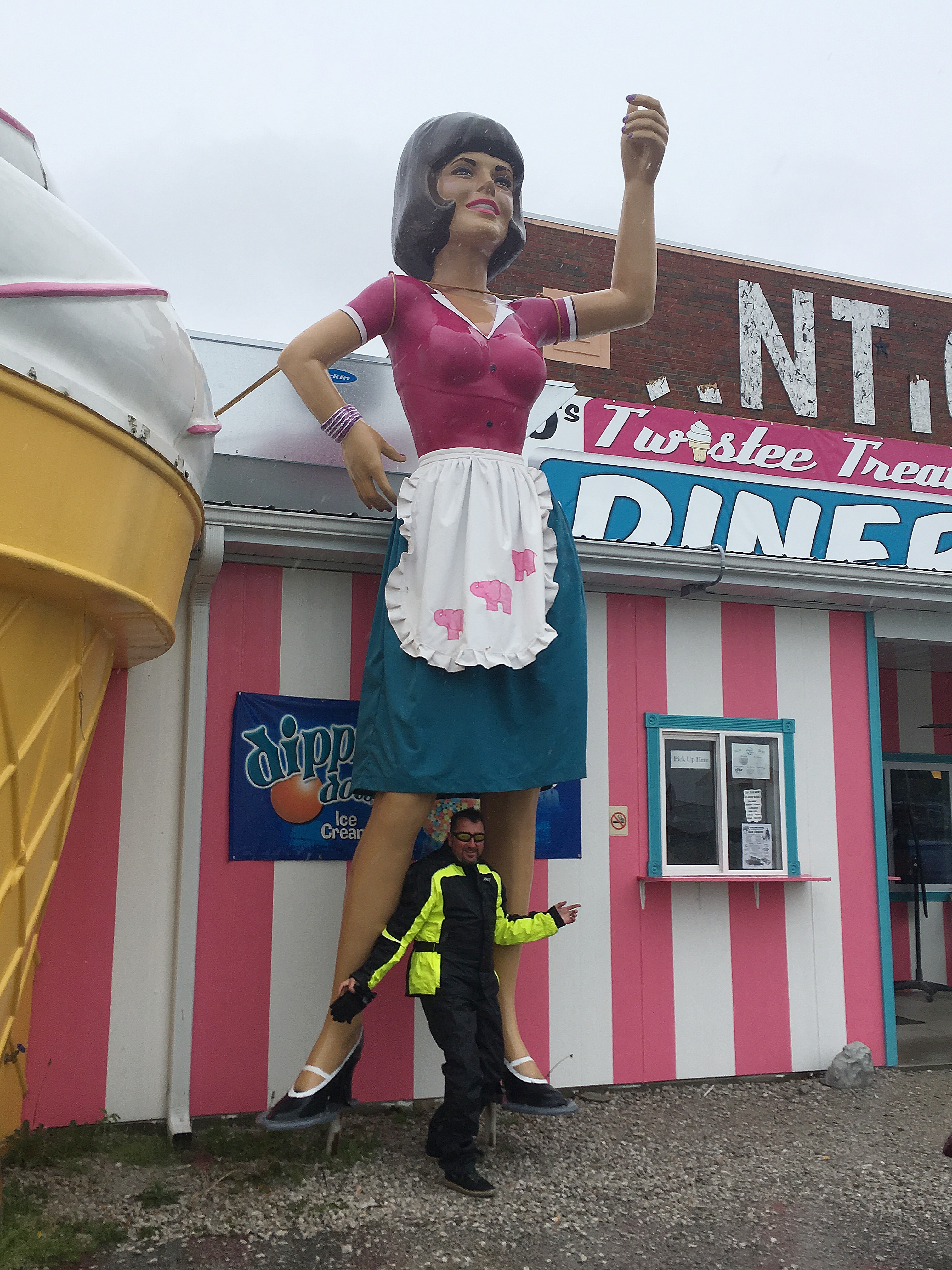 We took the pictures of the elephant, and the green UFO inconspicuously sitting next to it on the lawn, posed with the figurines decorating the mall from the outside, and tired, but happy, moved on direction St. Louis, MO. We figured it was time to call it a day. 120 miles done on the 2nd day weren't really record-breaking, and barely took us out of the state of Illinois, but we were done with the rain, and needed a hot shower and dry clothes. Besides, I had fond memories of downtown St. Louis, and we had a bit of a sightseeing program in mind.
St. Louis
While thawing off at the Ariston Café, we also enjoyed the free WiFi the place had to offer, and having no intent on going further than St. Louis, booked a hotel there for the night, using my thoroughly prepared route planner that listed several options in each potential stop on the way. Feeling miserable and wet we decided to splurge a bit, and set our eyes on the Union Station Hotel in downtown St. Louis – a converted train station, conveniently located within walking distance to everywhere we wanted to see in the city.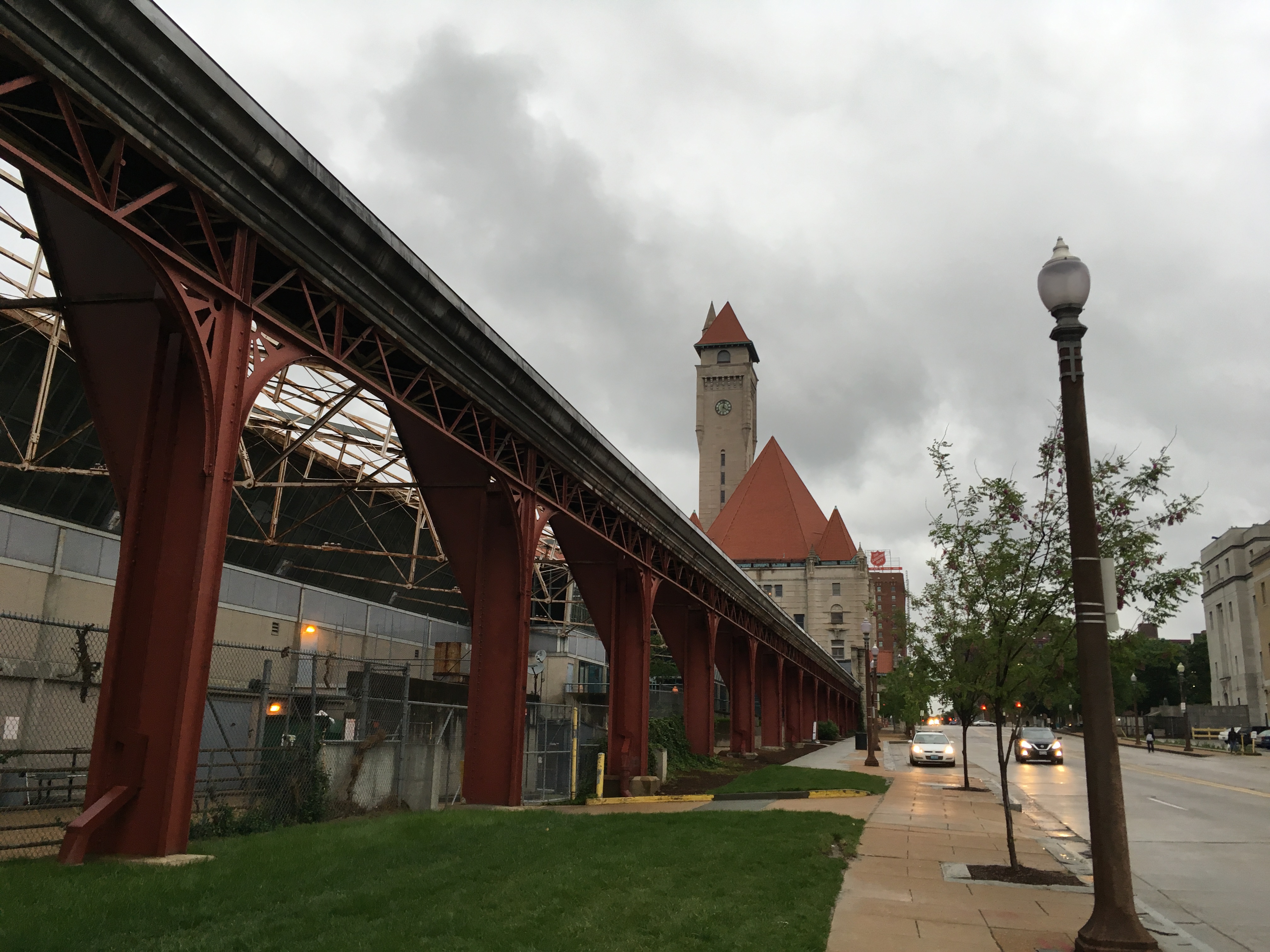 We pulled in at the doors soaking wet, and I immediately impressed the doorman not only by being able to reverse park my huge motorized sofa all on my own, but happily informing him that only 2 days earlier we were experiencing similar lovely weather in Chicago. He gave us directions to the hotel parking on a side street, and agreed to us leaving our bags at the front door. He also went as far as to inform the front desk of the arrival of two soaking wet water rats, so when we showed up for check-in, the lovely lady at Reception was ready with heaps of snowy-white towels to dry our hair and clothes! We cautiously took one towel each for the hair, but politely declined the rest, saying that we would sort everything out on our own. When we returned the 2 used towels to the still smiling lady, they were far from snowy-white, but she did not seem to mind.
A hot shower and a change of dry clothes and shoes (luckily, our dry bags packed in the saddlebags of the bikes did not leak!), and we were human again! Four more hotel towels were inevitably ruined by being pushed into our riding boots to try to soak up all the water that collected there during the day, and armed with a huge umbrella borrowed from the still impressed doorman, we continued with the tourist program.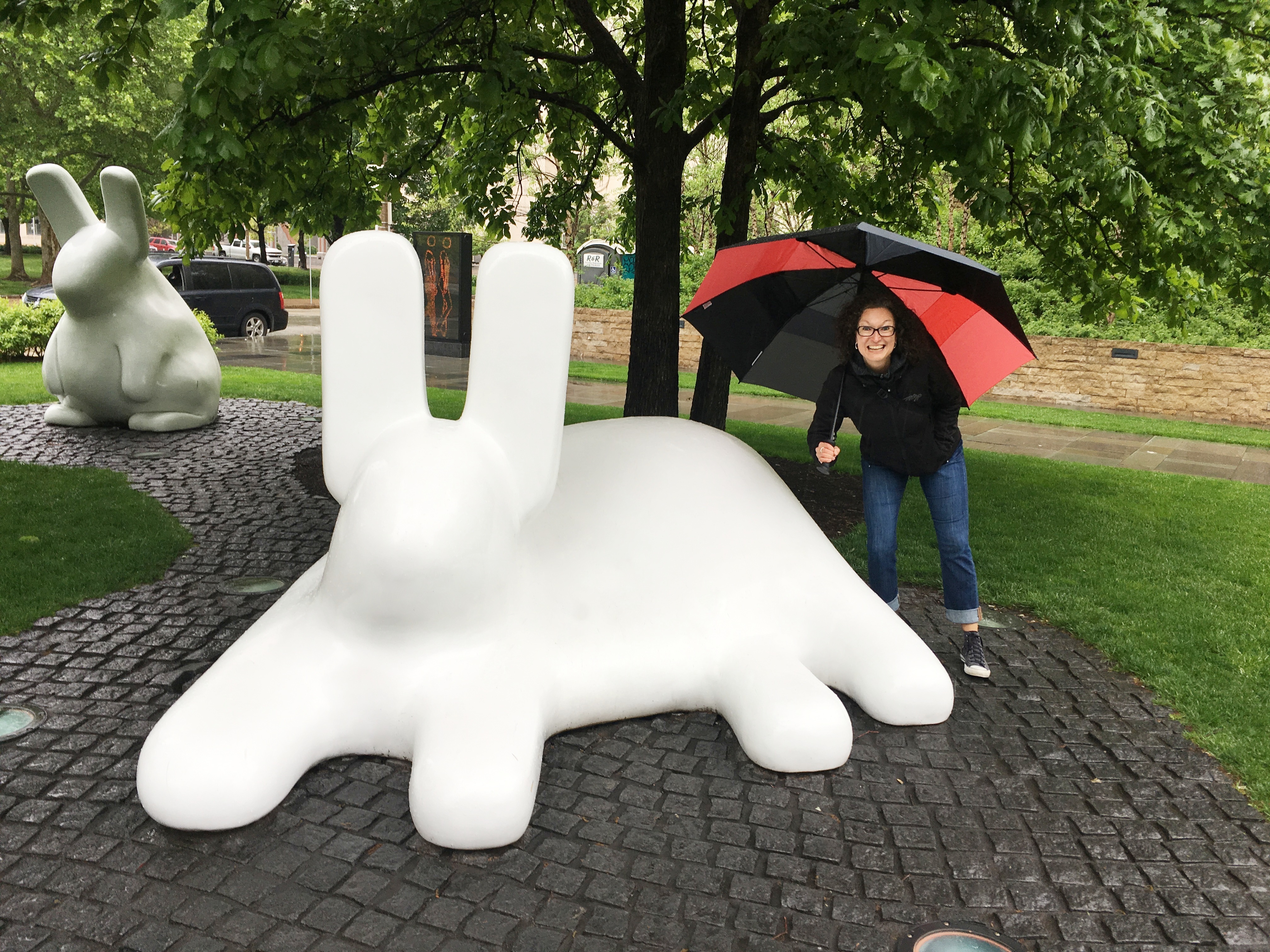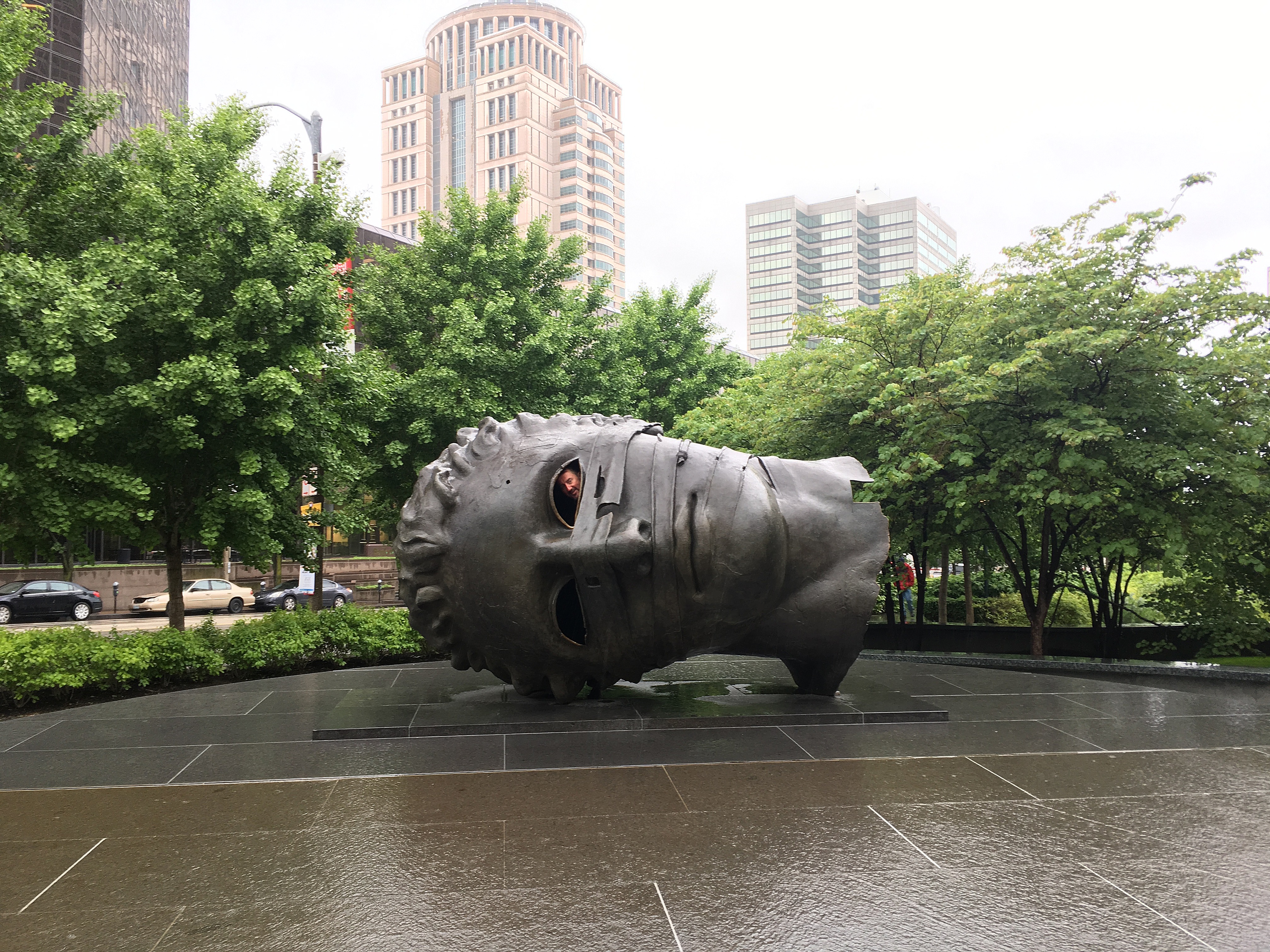 Even though I was in St. Louis only for half a day 4 years ago, I was eager to introduce Nic to both places I remembered and enjoyed back then – the Citygarden and the Gateway Arch. Conveniently, they were located not far from one another, or from our hotel, but even so, we ended up freezing cold and wet from the toes to the knees (the rest was protected by the giant umbrella). Both sights were as great as I remembered them to be – the wacky sculptures in the Citygarden were still there, and even though the giant TV screen in the wall was gone, and so were the homeless, this did not spoil my reunion with St. Louis.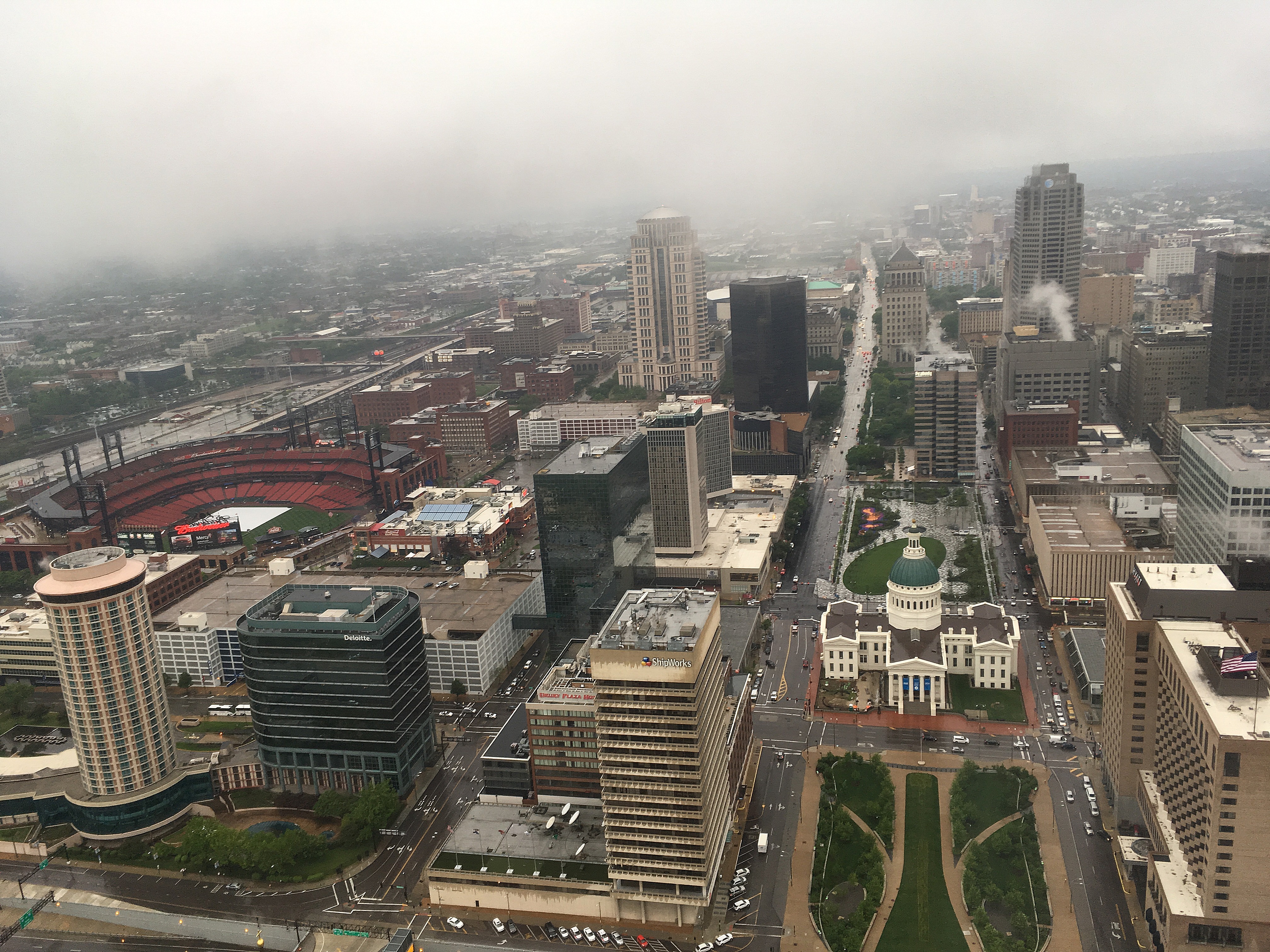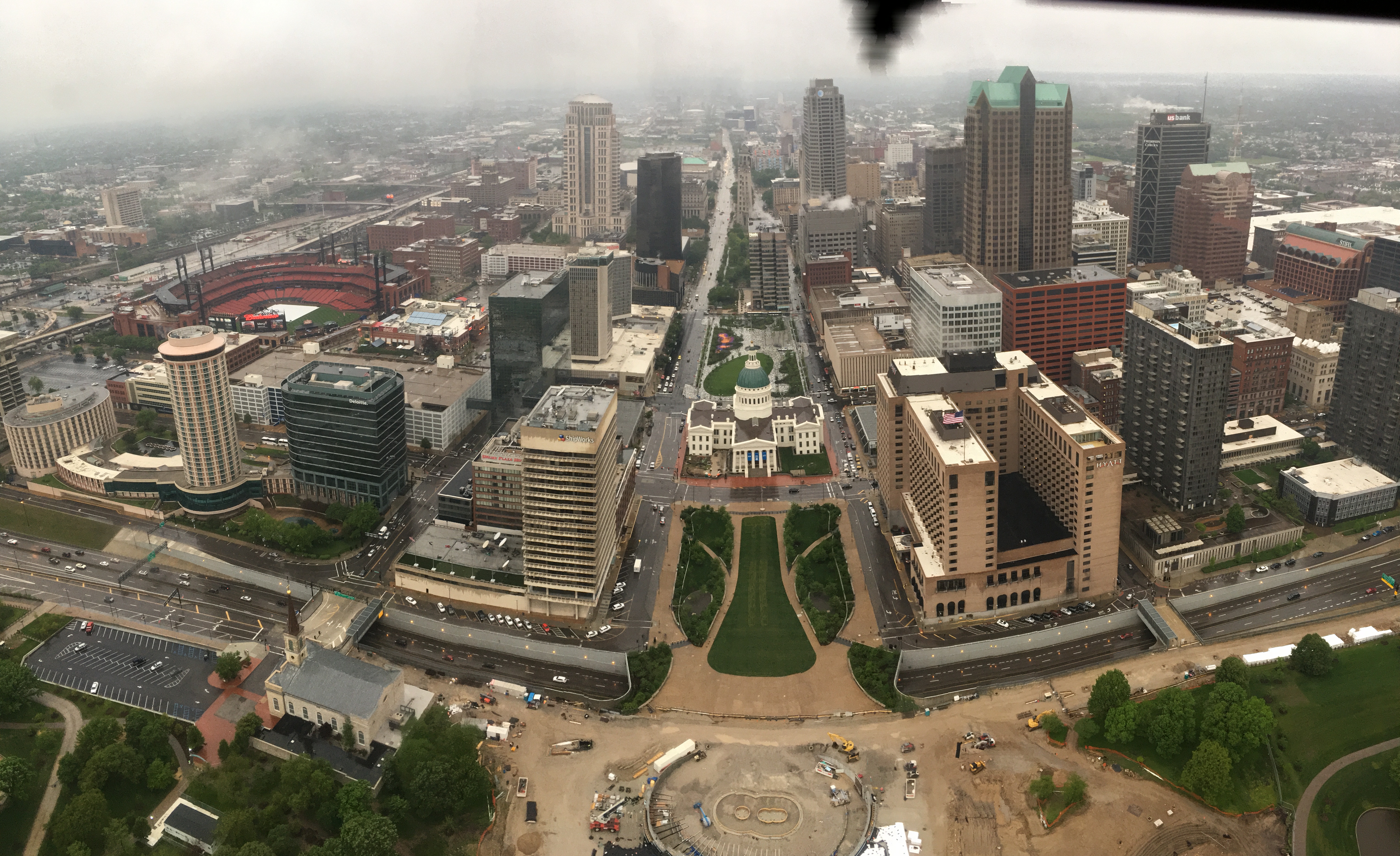 We grabbed some nondescript food in an Irish pub next to the hotel, and finished the day at the lobby bar (formerly the main railway station hall) with lovely drinks and a fantastic light show on the ceiling.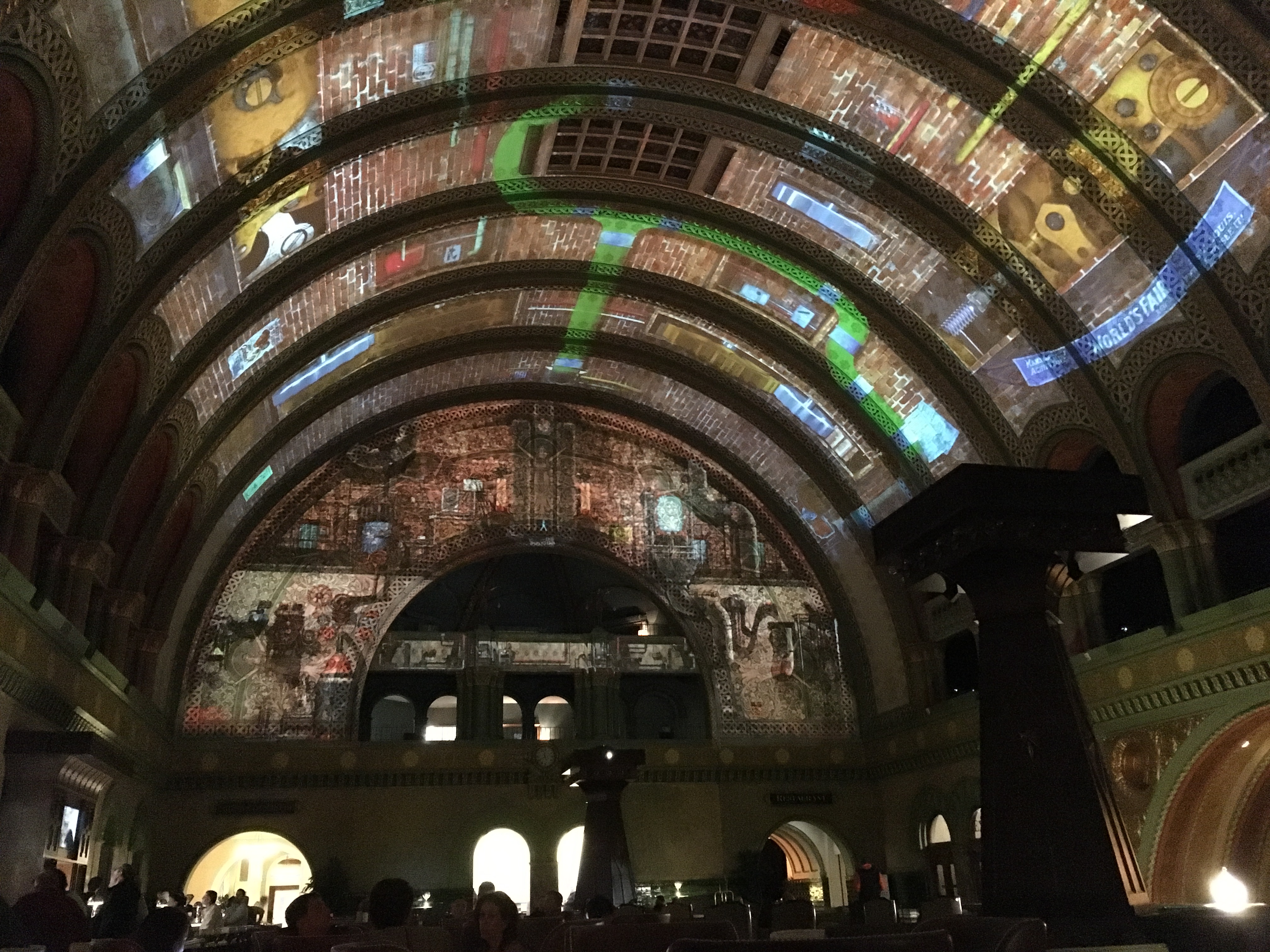 The two scruffy Swiss guys were nowhere to be seen…