Having recently moved to a new apartment in a part of town we had not frequented earlier, and having had to wait for the kitchen to be delivered, we were forced to eat out for about three weeks. It is amazing how many new places you discover, being deprived of an opportunity to snack at home!
Lazy to stray too far from home after a full working day, we were positively surprised at the sheer amount of hidden gems we discovered. Some were tucked safely away in dark hidden alleys, others were hiding out there in plain sight – there were relatively few disappointments, and quite a few serious gems among our new findings.
Never one to hide my discoveries, I am here to share them with the whole wide world. Enjoy!
Tempel (Vietnamese Haute Cuisine)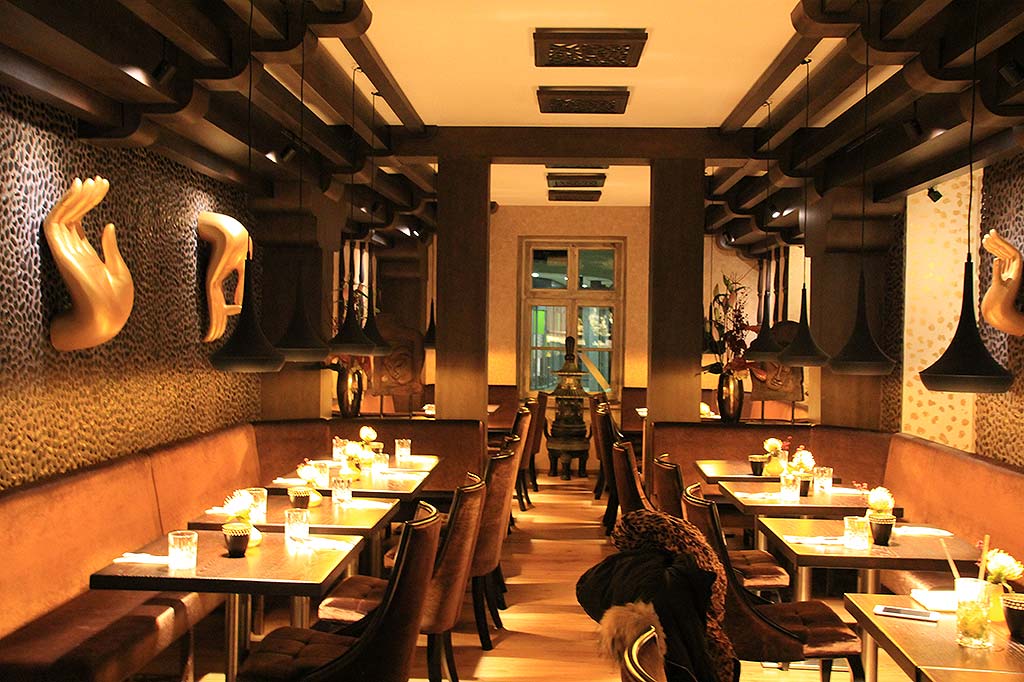 http://tempel.asia/
Bruderstrasse , 80538 Munich, Tel +49 89 12 19 11 92
Monday through Friday 11:30 till 14:30 and 18:00 till 23:00; Saturday 18:00 till 24:00; Sundays & holidays 12:00 till 14:30 and 18:00 till 23:00
<PERMANENTLY CLOSED>
If you never happened to be lost at one of the back streets in Lehel – far away from any U-bahn or tram stop, you would never find "Tempel". Safely tucked away from plain sight, this is a true gem to cherish and enjoy. A haute cuisine Vietnamese restaurant, decorated with impeccable taste, and boasting high-class service and top-notch dining experience, "Tempel" is definitely the place for those in the know. Come in to sample delicious food during lunch hours, when an extensive lunch menu gives you a taste and a tease of what awaits you later in the day. Everything is super-fresh, exquisitely presented, and unbelievably tasty, in this temple of fantastic Vietnamese dishes. The make-your-own spring rolls for 2 is to die for, and so are the spicy scallops. Come, enjoy, and keep the name to yourself, for we don't want this secret place to be run over by hordes of tourists, do we?…
LeDu (Happy Dumplings)
www.ledu-dumpling.de
Teresienstrasse 18, 80333 Munich, Tel.+49 89 9589 8460
Open daily from 11:00 till 21:30
While dim-sum and Chinese dumpling places are no novelty in places like London or New York, "LeDu" is Munich's first, and so far one and only restaurant of its kind. Well hidden in the middle of the University area, this 6-table 1-window establishment is easy to miss. Yet, it offers a surprisingly small high-quality menu of authentic Chinese dumplings, cooked with love and consumed with happy smiles on everyone's faces. In the evenings, the queues for a table may easily take a couple of hours – yet people are stubbornly waiting for a seat. Those lucky to live in the area, happily order take out.
The place looks like the proverbial hole in the wall, easy to stroll by without giving it a second glance (that is, unless you notice a horde of hungry people queueing outside), but is definitely worth a stop and a more intimate encounter.
Start with a small yet impeccably tasty salad to wet your taste buds (the peanut salad comes highly recommended). Don't miss the "black & white" steamed dumplings – a mixture of meat and shiitake mushrooms will make your mouth water the moment you see them. Order several sets to try everything the place has to offer, savour them, and move on to free up the table for the hungry people queueing at the door.
Sitar
(Authentic Indian Cuisine)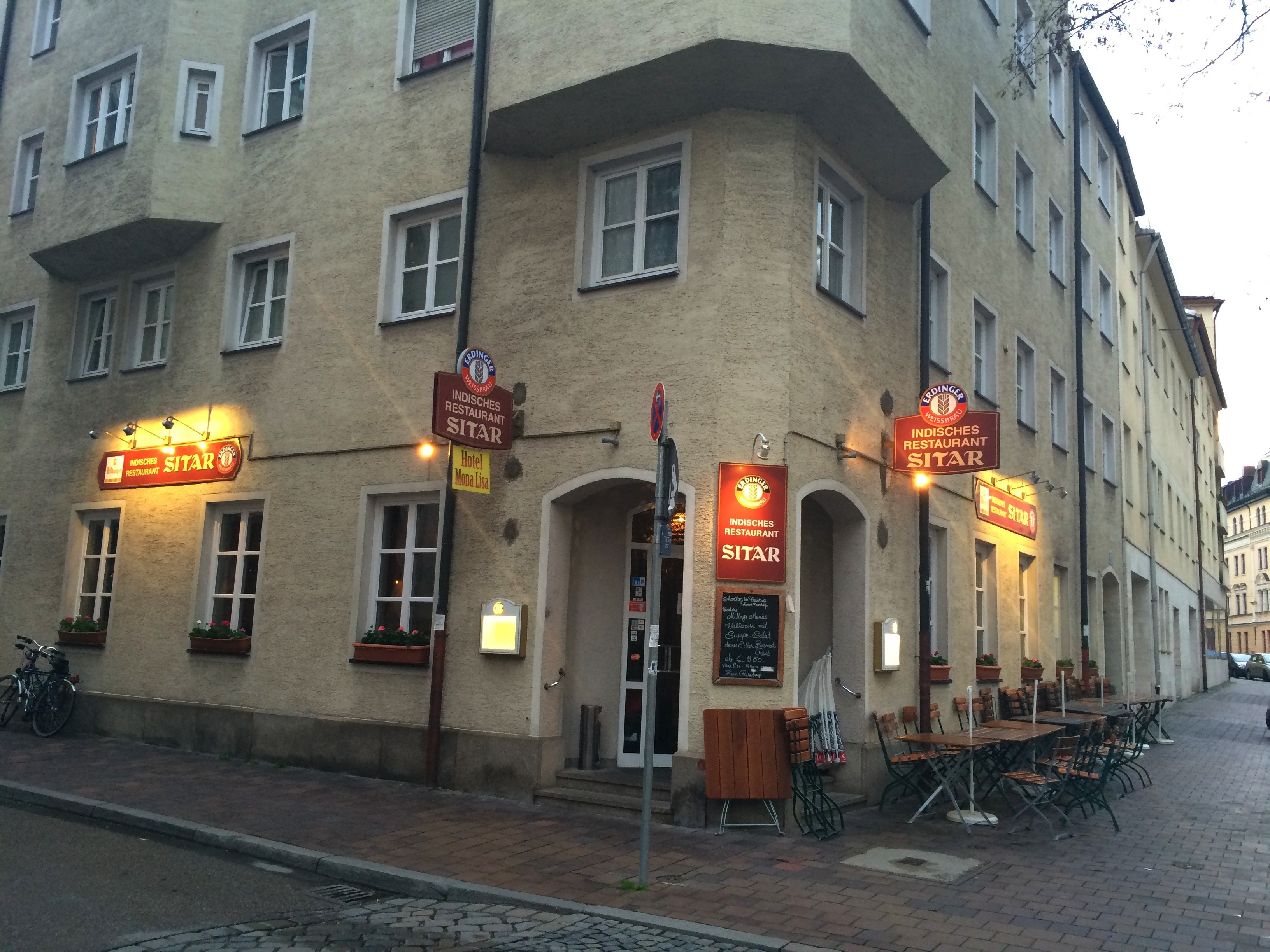 sitar-indisches-restaurant.de
Robert-Koch-Str. 4, 80538 Munich, Tel. +49 89 2111 2361
Open daily from 11:30 till 14:30 and from 17:30 till 01:00
Those living in the neighborhood are well familiar with "Sitar" (and equally love and hate the place) due to the hearty aromas of spices enveloping the building and sipping through the whole area during lunch time. Walk around Lehel at about 12:00, and your nose will invariably lead you to the corner of Robert-Koch-Strasse and Tattenbachstrasse. If you venture inside, you will find yourself immediately charmed by the classic atmosphere of Indian hospitality and your taste buds will be screaming to sample the food that led your nose into this aromatic paradise.
Forget the first pages of the menu, and order anything on the "chef's specialties" list – you will not regret this. The classic chicken tikka masala is to die for, and not only will it keep you sated, you will have plenty to take back home with you for a hearty breakfast.
Overall, an excellent experience. If you are used to proper English-style or Indian-style spices, tell your waiter – Germans are not big on spicy food, and you risk being disappointed with the blandness of some of your favorite dishes if you are not from here. The staff will be happy and delighted to add an extra tang note for you, if they know you would appreciate it.
KoKuMi (Designer Fusion Sushi)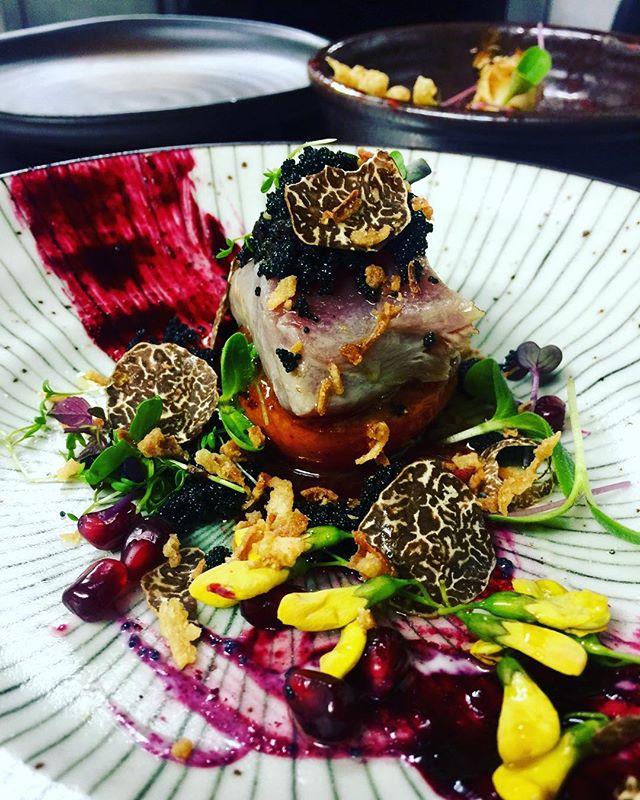 www.heykokumi.com
Christophstr. 3, 80538 Munich, Tel. +49 176 8482 5751
Tuesday through Friday 12:00 till 15:00 and 18:00 till 23:00; Saturday & Sunday 18:00 till 23:00
Tucked into a little side street away from the main drags or public transport routes, "Kokumi" is definitely a place for those in the know. Offering the most beautiful and visually pleasing dishes in Munich (as well as delightfully tasty), it is the place to pamper your senses. The picture above is not a filter-enhanced exaggeration – this is their signature Kokumi fusion tuna roll in all its glory.
The place boasts a fantastic ambiance, exquisite food, and a delicate interior that will be a perfect setting for a special night out. It is not going to be the cheapest meal you will have in Munich, but is bound to be one of the most memorable ones.
Tattenbach Wirtshaus & Stueberl (Fantastic Schnitzels)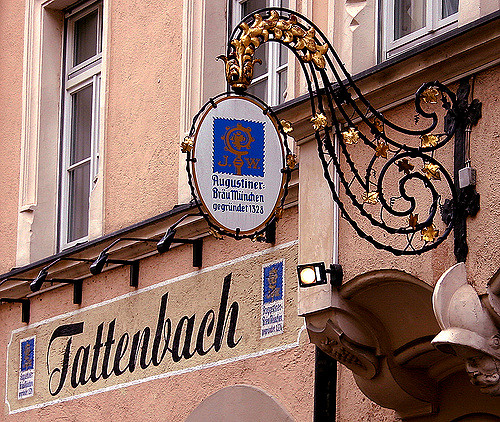 www.tattenbach.de
Tattenbachstr. 6, 80538 Munich, Tel. +49 89 225 268
Monday through Friday 11.00 till 01:00, Saturday, Sunday & holidays 17:00 till 01:00
One can't possibly surprise anyone with an Augustiner restaurant in the quarter full of Augustiner places – there are at least three within a 3-min walk from one another in this part of Lehel alone. Yet, they all have their own character, ambiance and clientele. "Tattenbach" will probably stand out as the least pretentious one of all, catering mostly to easy locals and a more student clientele than the others.
Don't miss the house schnitzel with a hearty portion of potatoes and a salad for just under €11.00. What you get for the price that in other places won't even buy you a starter, is a lovely piece of veal that would hang from both sides of your plate, beautifully done with no grease at all, paired with mouthwatering potatoes and a nice-size salad with a tasty dressing. You can't possibly ask for more than that!…
The service is fast and friendly, the atmosphere is nice and relaxed – all that paired with the best beer in the world and fantastic food, definitely make it worth a second visit!
Vino Café
(The Unforgettable Spagghetti Parmigiana)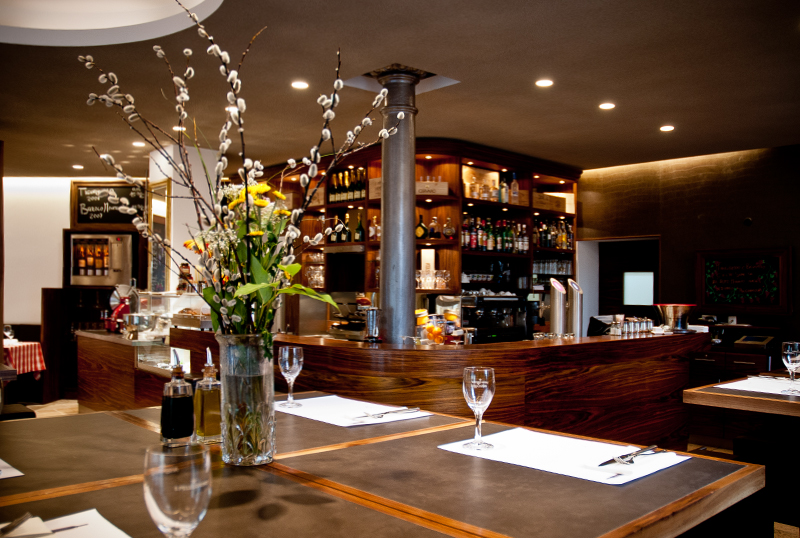 www.vino-caffe.de
Hochbrueckenstrasse 14, 80331 Munich, Tel. +49 89 210 288 380
Mondays through Saturdays from 09:00 till 01:00; Sundays 14:00 till 01:00
Sometimes the best place to hide is in plain sight. Situated right opposite "Mandarin Oriental" in the heart of Munich, "Vino Café"s location can hardly be considered inconspicuous. Which is exactly why a lot of people will shy away from it, writing it off as just another tourist trap. Much do they know!… Despite its nonchalant name, "Vino Café" can boast one of the most exquisite wine collections in Munich, and a hearty menu of classic and elegant Italian dishes made with love. It is the only place in Munich you can get spaghetti parmigiana – pasta tossed in the whole head of Parmigiano cheese. Add truffles for the true connoisseurs.
The place offers a democratic mix of a white table cloth restaurant on the left, and an easy-going high-table trattoria on the right, separated by a beautiful floor to ceiling wine rack. The service is always impeccable, the prices are surprisingly palatable, and the spaghetti parmigiana is to die for – I would not miss it for the world!
Lehel Bar Food Club (Steaks & Cocktails)

www.lehel-bar.de
Karl-Scharnagl-Ring 6-8, 80539 Munich, Tel. +49 89 2111 1760
Mondays through Saturdays 11.00 till 03:00
A bar and party location to the left, an intimate and cozy restaurant to the right – in this compact setting in the heart of Lehel you can find it all. Don't miss the "Meet the beef" Tuesdays, when you can try their fantastic steaks at half the price – they are definitely worth crossing the city for!
Nice ambiance, elegant setting, DJ mixes from the speakers paired with hearty drinks, attentive service and beautifully presented food – all this definitely calls for repeat visits. It's a popular party location, so be sure to call in advance to make sure the place is not rented out for the night. It is also recommended to reserve on Tuesdays and weekends.
Gandl Feinkost Speisen Bar (Great Dining Experience)

www.gandl.de
St. Anna Platz 1, 80538 Munich, Tel. +49 89 29162525
Mondays through Saturdays 09.00 till 01:00
The place looks more like a delicatessen shop than a restaurant from outside, but the tables with white table-cloths up front give it away. If you come inside, you realize it is a full-blown restaurant of a decent size – something hard to guess while looking at it from the street.
Belonging to the same owner as the "Lehel Bar" (the messy magazine-looking website sort of gives the connection away), "Gandl" is way more than a delicatessen shop, or a bar (as both the outlook and the name would suggest). You can land here for just a glass of wine in the sun, or stop for a full-course meal in the evening – you are bound to enjoy both, as the service will be impeccable, the food outstanding, and the atmosphere relaxed and easy.