By popular demand, I am continuing with "Eat the Fuck At Home!" series, as in most countries in Europe and a lot of places one still cannot go out to eat… 🙁
This week's find and current favorite is a recipe from Central Thailand. It's a fucking tasty and colorful dish, vaguely resembling the Chinese sweet & sour chicken, but with about a thousand times more flavor!
It does not call for any overly exotic ingredients and is so easy that you need to have hands growing out of your ass to fuck it up.
Ingredients
200 gr chicken meat (breast of thigh – whichever one takes your fucking fancy), cut into bite-size pieces
1/3 cup (~80 gr) of raw cashew nuts (make sure NOT to get the roasted and salted ones – while they sure go well with a beer, they will make your dish taste fucking disgusting). If you love cashews as much as I do – throw in ½ (~125 gr) or even the whole cup (250gr)!
1-2 red spur chilies (the original recipe calls for dried ones, but the fresh ones work just as fine), seeded and sliced into 3-4 cm long pieces
1 small onion, sliced
2 tablespoons oyster sauce
1 teaspoon granulated sugar
2 spring onions, cut into 3-4 cm lengths
½ cup (~125 ml) of vegetable or sesame seed oil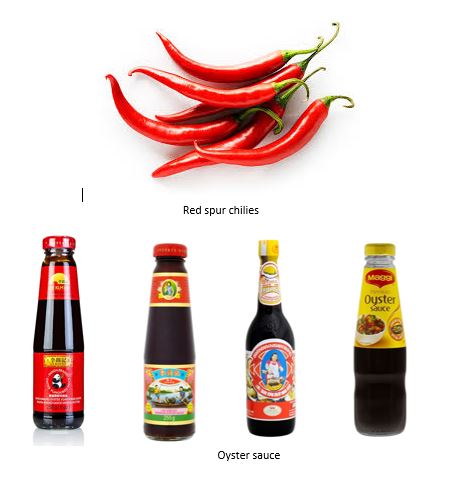 Above are the pictures of the only two vaguely complicated ingredients you need. If you don't know what fucking cashews or spring onions look like – you probably have never seen a chicken either, so relax and order takeout – cooking not for you…
Cooking
Heat the wok, and pour as much of the oil into it as you fucking dare. Once the oil is hot, turn the heat down to medium, and throw in the cashews. Fry them stirring constantly for 3-4 min until golden brown.
Pro-tip: the cashews seem to take a long fucking time to take on (so for the first couple of minutes it will seem like nothing is happening), but then take on heat and color at lightning speed. Watch them like a hawk, and at first signs of browning, fish them the fuck out of the wok with a slotted spoon, and drain on paper towel.
Add the chilies (dried or fresh) to the oil in the wok, and stir fry for 20-30 seconds until fragrant, and their color turns a bit darker. Remove with a slotted spoon, and leave to drain on paper towel.
Now's the time for chicken. Throw the pieces into the oil in the wok, and fry for another 5 minutes, or until the chicken is cooked and gets a lovely golden-brown color. Take all chicken out of the wok with a slotted spoon, and drain on paper towel.
While the rest of your ingredients are chilling out on paper towels, throw the onion in the wok, and stir-fry for about 1 minute. This time, do NOT remove the onion from the wok, but add oyster sauce and sugar and mix well.
Now – show time! Add the chicken, cashew nuts, chilies, and spring onion and stir fry for 1 minute.
Remove from heat, and serve. You can eat it with the side of plain white rice, or just pure – the stuff is fucking delicious!