What do normal people do for summer vacations?… They pack a swimsuit and flip-flops, and go somewhere warm, direction South, preferably next to a big expanse of (not freezing) water. They sleep in every day, sit by the beach, drink cocktails with little straw hats in them, and enjoy the ambiance…
What do we do?… We choose a destination North from our starting point, a place widely known for some of the highest annual rainfall on the continent, and go on a 10-day motorbike vacation there. Riding in the rain – yippee!!!! We have never been known for the smartest or most logical choices in our lives, but when pretty much every person we shared our excitement about going on a motorbike vacation to Ireland with, inquired what on earth we had been drinking or smoking, some vague doubts about the destination and the choice of transport started creeping in on us…
Doubts, or no doubts, the flights were booked, the bikes freighted ahead (yes, we are lazy/fancy/extravagant/organized/dumb [select one most suitable option] like that!), rain gear packed, and we were, indeed, heading to Ireland on a biking trip…
Before reuniting with our bikes in Gorey, south of Dublin, we had 2 full days to roam around on foot in the capital of the Republic of Ireland, enjoying everything the city had to offer. By "everything" we mostly meant pubs and Guinness, but in the end there was a random assortment of (semi)-cultural tourist attractions thrown in into the mix.
We had some balls going to Ireland the way we did. The "motorbikes + rain" combination aside, I personally was showing up on the Emerald Island with some shady documentation to my name. I am a dubiously proud holder of a Russian passport. Which means I need fucking visas to go everywhere, including Timbuktu and places that are not even on the map!… For this particular trip, I had a visa for the United Kingdom, not the Republic of Ireland. True, there is an agreement between the two, stating that holders of UK multiple-entry visas who already entered the UK once on them, can technically come to the Republic of Ireland as well, but I was still skeptical. Mostly because my visa was in a passport that expired a year ago, and both (passport and visa) were issued in my old name. Naturally, I was worried…
Turned out – absolutely for nothing! To my sheer shock and delight, the immigration officer at the Dublin airport (a lovely fella with rosy cheeks and a childish face, who barely fit into the booth he was occupying on duty) laughed heartily (and did not wait a second to comment on the fact) at how hilarious an Irish name of Murphy looked in a Russian passport, and welcomed me to the newly-acquired motherland by enthusiastically stamping the expired passport. Noticing the mistake, he just shrugged it off, and with the "What the hell!?…" comment, stamped the valid one as well. "For good luck", as he commented. I immediately felt at home!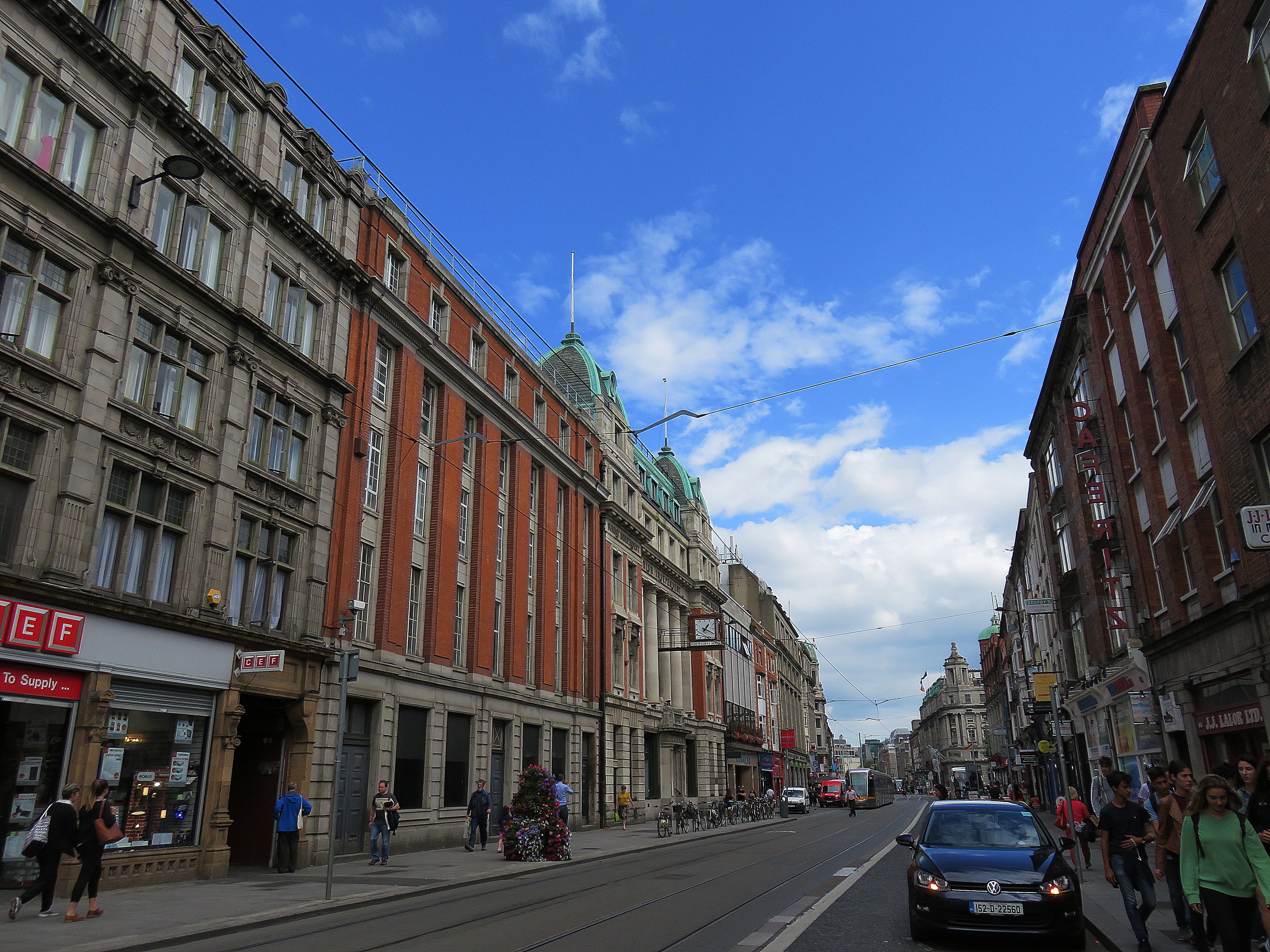 We emerged from the depths of the airport, and felt rather strange outside. It was sunny! And warm… People were walking around in T-shirts and flip-flops! Judging by the boiled lobster complexions many of them were proudly sprouting, the day of our arrival was not a random 1-day quirk of nature, but the heat-wave that must have been going on for at least a week… Completely unexpectedly, so we decided to be cautious and not get too excited over our surprisingly good luck, but did our best to enjoy this randomly occurring meteorological phenomenon. A taxi (surprisingly orange in color – somehow I expected everything in Ireland to be green…) took us to the hotel, and a chatty cabby cemented my first impression of the unbelievable friendliness of people on the island by giving us a free tour of everywhere we were driving through. Closing in on the downtown he recommended a couple of pubs and restaurants close to the hotel – all recommendations were welcome, and having followed a couple of them, we only fell further in love with the place and the people!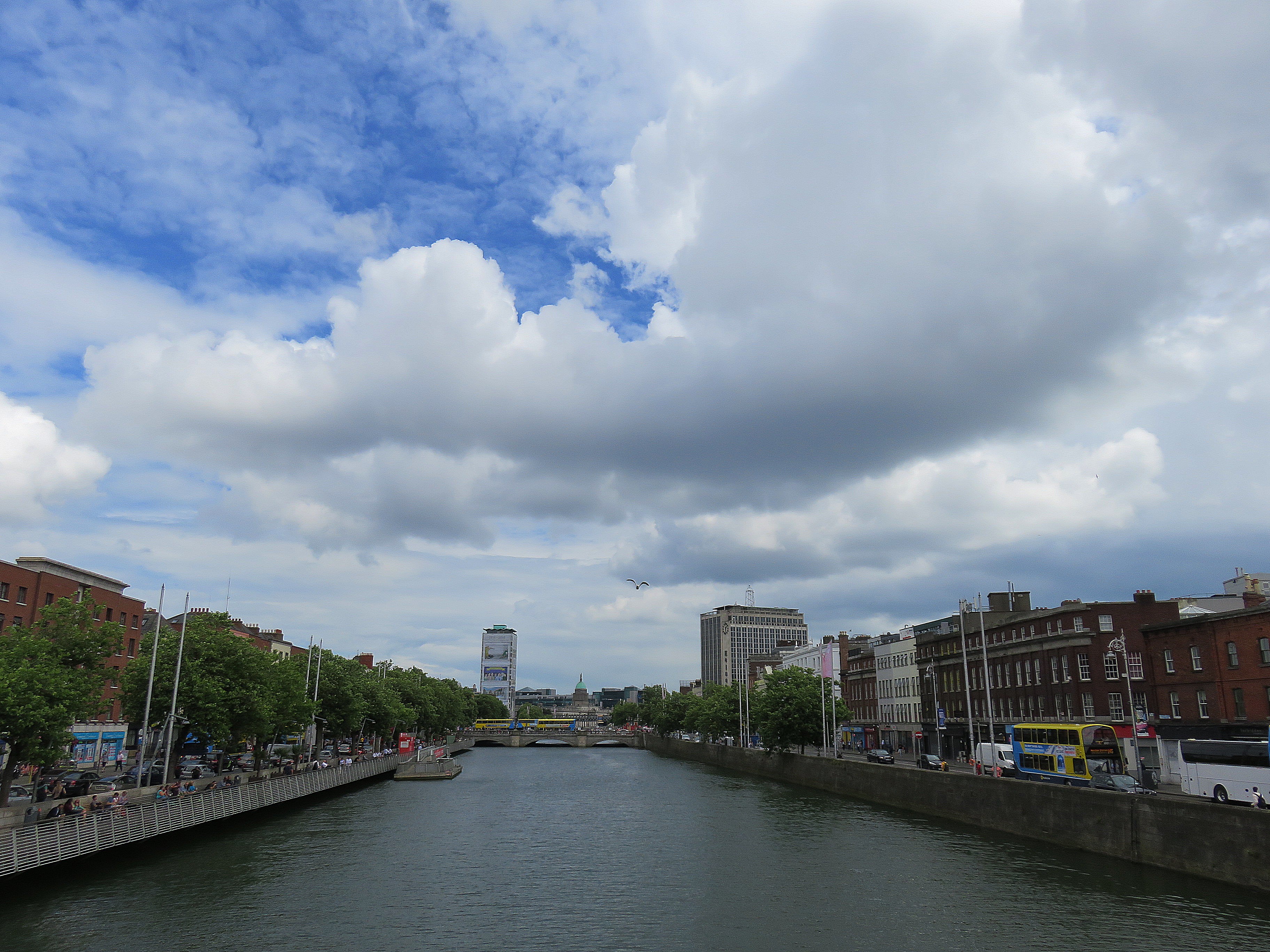 We chose the Kelly's Hotel because of the location/price combination, and were not disappointed in either category even for a second. Having read the reviews on TripAdvisor before committing to two nights at the place, I was perplexed to find somebody angrily commenting on how they could not sleep at night because of the loud noise from the pub downstairs. What the hell did they expect????… The hotel openly and clearly admits that it is situated downtown in the midst of drinking and dining scene, so it does get loud in the night. To be more precise – very loud. Ireland is not the quietest country on this planet, and Dublin proudly holds the banner of the loudest pubs and restaurants ever! Since we were on vacation and were fully intent to contribute to the loudness of the surroundings, we were not bothered one bit. 
To the hotel's credit, all rooms were fully stocked with ear plugs of various colors, shapes and sizes, so the complaints of the author of that TripAdvisor's article were completely groundless… Having stayed at Kelly's Hotel for 2 nights on arrival and an additional night before flying back home at the end of our trip, we can wholeheartedly confirm that it was a good choice, indeed. Located in the very happening area just off the Temple Bar district, it had everything a big city had to offer – great pubs and restaurants, lively night scene, and easy connections to everywhere you want to be in Dublin. It is highly recommended to anyone, who will not be easily discouraged by a little background pub noise going on at 3 in the morning.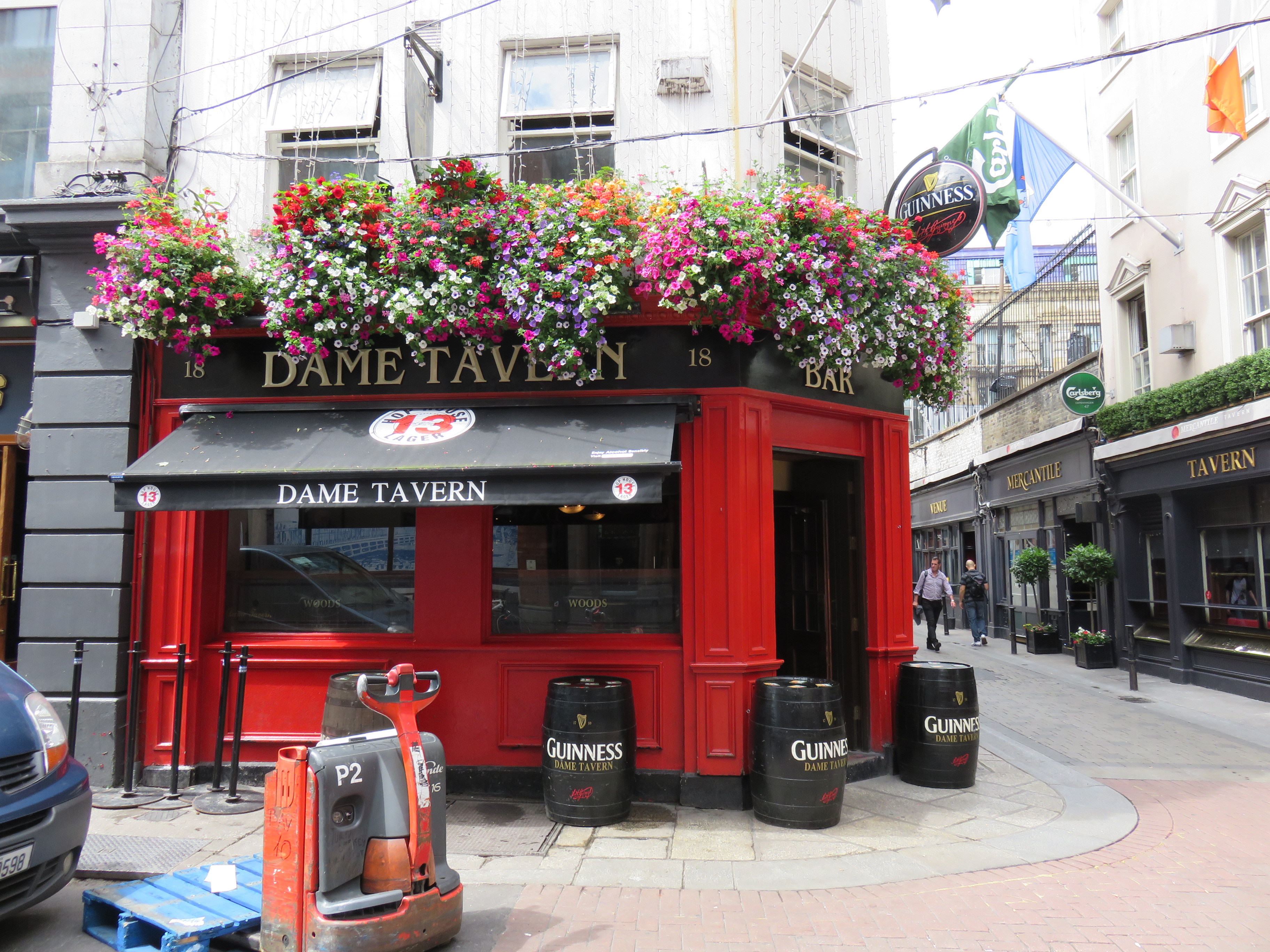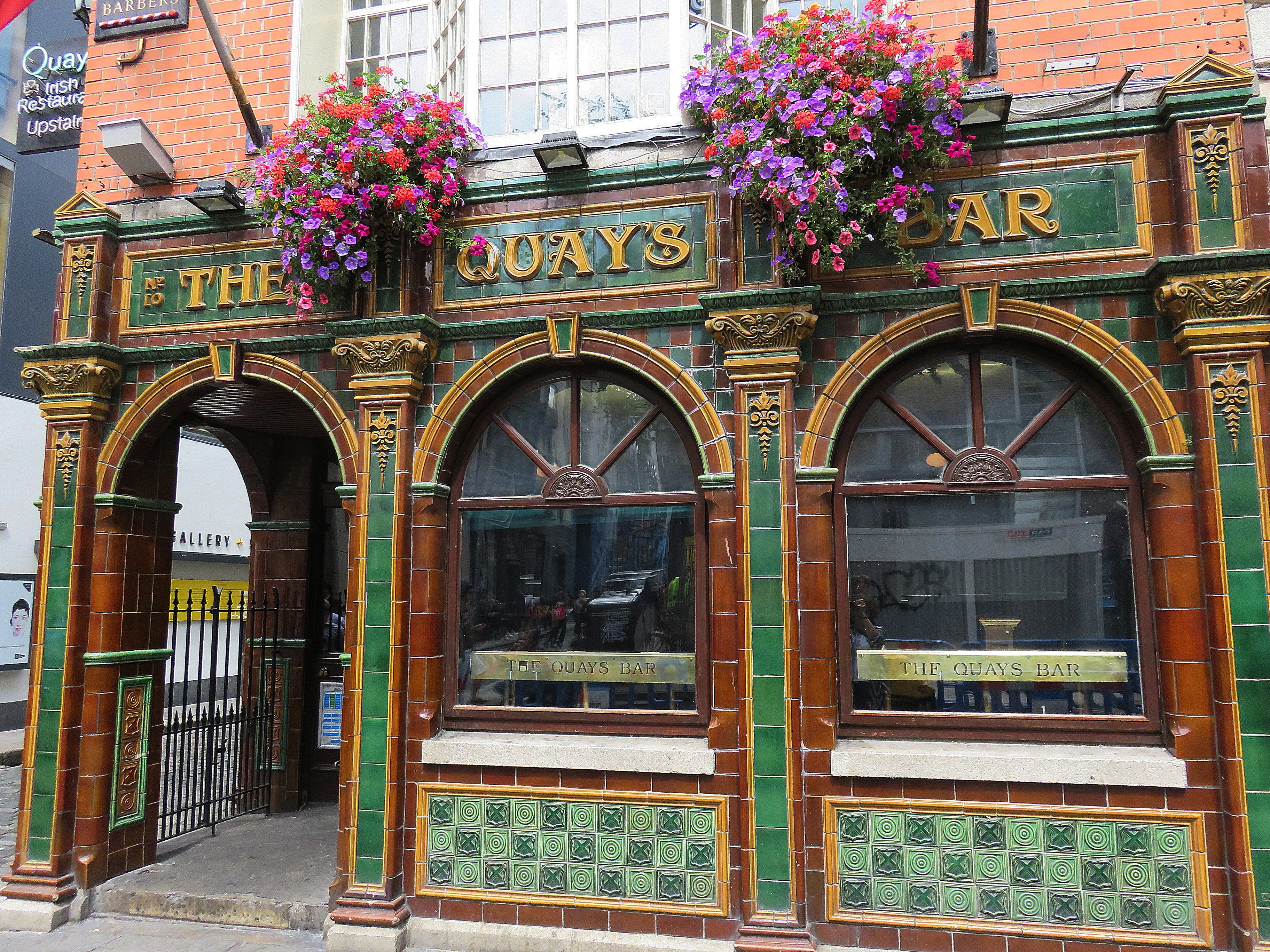 If I were to describe Dublin with just a couple of words, the first that would actually come to mind will be "loud", "colorful", and "cheerful". All three can be wholeheartedly attributed to the numerous pubs you will discover on every street and corner of this wonderful city. Old and new, simple and fancy, they will welcome you into their dark beery midsts, envelope you in friendly banter, noisy ambiance and general happiness that exists only in Irish pubs, where the Guinness flows freely, the music is a part of life, the resident drunks are kings, and a good craic is had by all!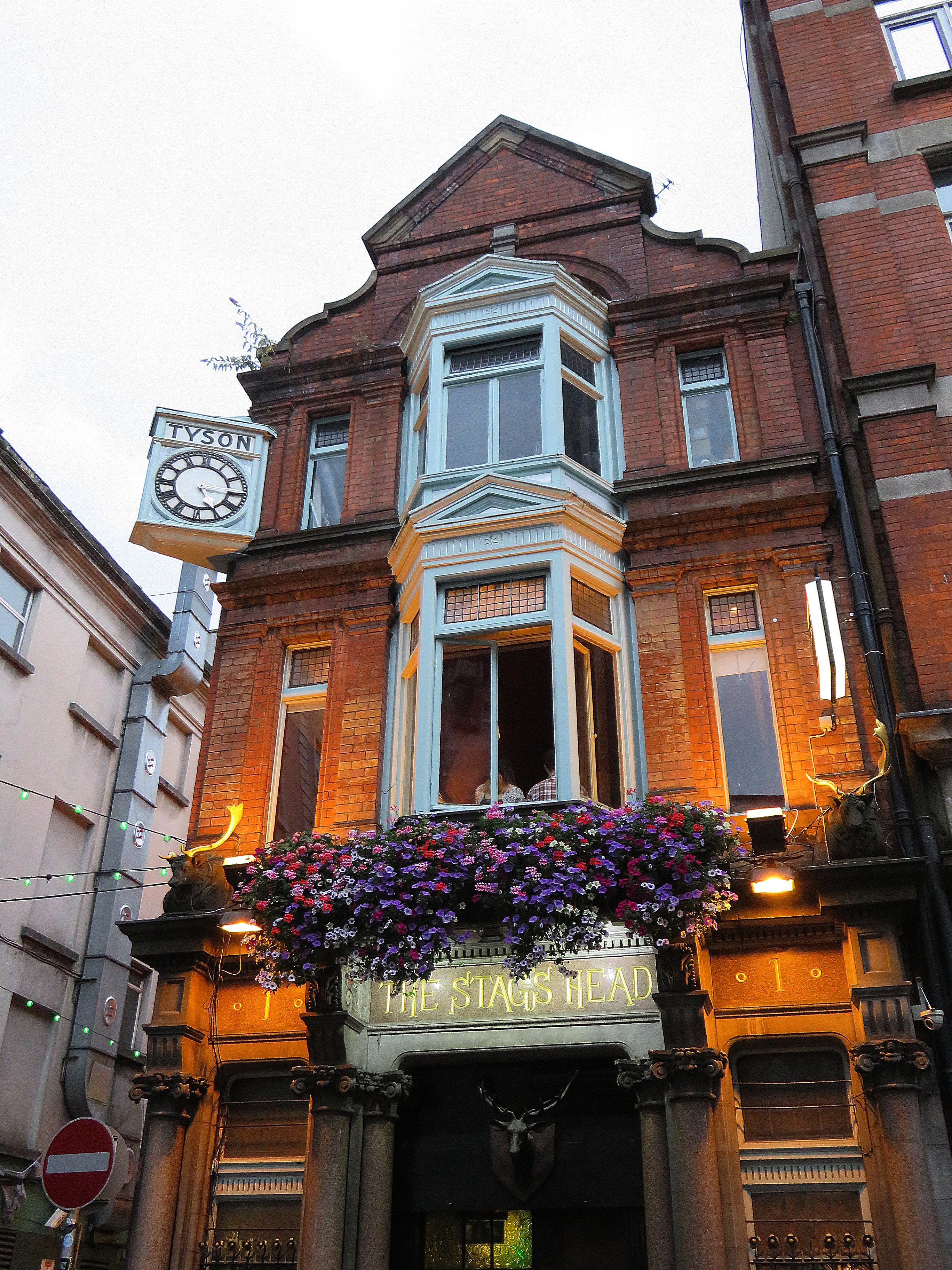 Our first pit stop was the Stag's Head – one of the old classical pubs of Dublin, that many friends back in Munich had dozens of fond memories about, and that just happened to be in our new neighborhood. The hotel was making our room ready for us, we did not have a proper meal since yesterday, having woken up at the crack of dawn, and in addition to all the friendly recommendations the pub was also mentioned by our cab driver as a decent place for a pint. Before we knew it, we were ordering bangers and mash and a portion of ham and cabbage to complement our already very enjoyable pints of Guinness.
Our program for the day was really relaxed – see whatever we can see without stressing ourselves too much, have a pint at every occasion that presented itself, and go with the flow. With this in mind, the first day was an absolute success! We walked around, had some Guinness with fantastic pub food, walked through the Temple Bar quarter (without stopping at any of the venues there – even fresh off the boat we knew better!), saw the grounds and buildings of the famous Trinity College, had more Guinness, took several dozen photos of the colorful streets and pubs of Dublin, had more Guinness, and generally allowed the vacation mood to settle in.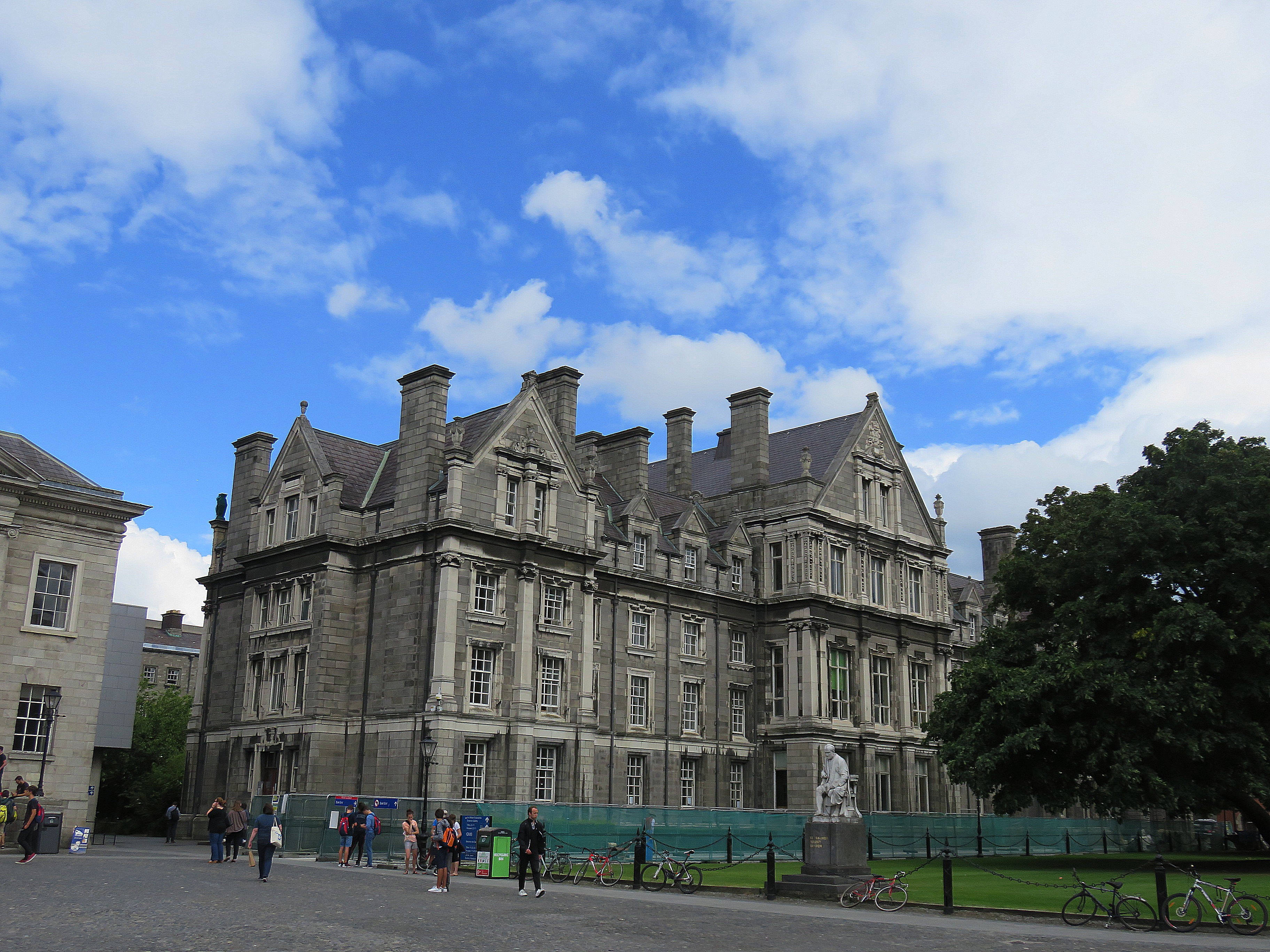 The evening was reserved for a special occasion – meeting up with an old friend of Nic's, who he last saw 15 years ago in Asia, where they first made the acquaintance. I have always admired people who could stay in touch and remain friends despite the challenges that the passing time and geographical distance put between them, and was curious to meet the "old new friend". Jamie did not disappoint. A Dubliner by birth and an adventurer at heart, he showed us the neighborhood at its best, and after only half an hour together, the three of us were feeling ourselves local over and over again, sipping Guinness on the pavement outside the pubs and skeptically eyeing the tourists, trying to get a seat at a table inside (so uncool of them!). The evening was a whirlwind of pints, pubs, and venues, and ended up in The George, a cool and relaxed gay bar in the neighborhood (at 9 on a Thursday evening, we definitely were too early for the main crowd!), and surprisingly to ourselves, we called it a night at a kindergarten hour of 10. Not even the loud drunk crowds downstairs in The Hogans could disturb our good night's sleep! We slept like babies, and were ready for new adventures by the early hours of the next morning.