A rich, yet mild curry that is perfect for the cold and shitty weather outside!  Our household name for this amazing dish is "Ben's Chicken", named so after a dear friend we got the recipe in a box (together with ALL ingredients and spices needed to cook it!) from.  This was an amazing present, and Ben's name is forever perpetuated in eternity (and our extremely grateful hearts and stomachs) in this amazing dish.
Ben, if you ever read this – we are fucking delighted and thankful for your thought of X number of years ago! The sheet of paper with the recipe is now well-worn and has multiple unidentifiable food stains on it, the spices and other ingredients have been replaced many time over, and the box had first found a new use, and then got lost in one of many house moves we experienced over the past years. Yet, the dish lives on. Go, Ben!!!!!!
Ingredients
Before you start, several words of caution:
The official recipe says the ingredients are for 4 people. We always followed it religiously, yet always managed to eat everything we cooked in one sitting. And there are only 2 of us… Whether we are exceptionally hungry for Indian food, or the recipe was meant for people with smaller stomachs, remains a fucking mystery. Anyways, you have been warned!
Another important thing to keep in mind is time – it takes a fucking long time for Ben's Chicken to be ready! So I suggest you have a hearty breakfast, and then start cooking. The chicken will be ready for dinner.
If you are at a loss as to what cardamom, cumin or turmeric is like, and the only cinnamon you have ever seen was the powdered shit on your Starbucks Frappuccino – I already feel sorry for you. But don't despair – for those poor culinary-disabled souls, I took some valuable fucking time out of my busy lockdown schedule, and googled all the pictures. You are fucking welcome!
So, now, the actual fucking ingredients:
75 gr (3/4 cup) flaked almonds, roasted in a pan, and then ground in a spice grinder/coffee mill into powder with only a handful roasted flakes left for garnish. After years of fucking with the dish (in a good sense of the word), we started cheating, and buy our almonds already ground.
1 tbsp. of butter
~675 gr (or 2 proper big fat-ass chicken breasts), cut into bite-size pieces
1 tbsp. of olive/sunflower/vegetable oil – whichever takes your fancy or you have handy
1 onion, chopped
2 garlic cloves, crushed with the flat side of the knife
4 green cardamom pods
2 tsp ground cumin
1 tsp ground coriander
a pinch of ground turmeric
1 cinnamon stick
a good pinch of chili powder (use as much as you fucking want, if you actually like spicy food!)
250 ml (1 cup) coconut milk
120 ml (1/2 cup) boiling chicken stock (you don't need to try being fancy, and can use the powdered one, don't sweat it!)
1 tsp tomato puree (paste)
75 ml (5 tbsps.) single (light) cream
1-2 tbsps. fresh lime or lemon juice
2 tsp. grated lime or lemon rind
1 tsp Garam Masala spice
Salt and ground black pepper
Saffron rice and/or poppadums, to serve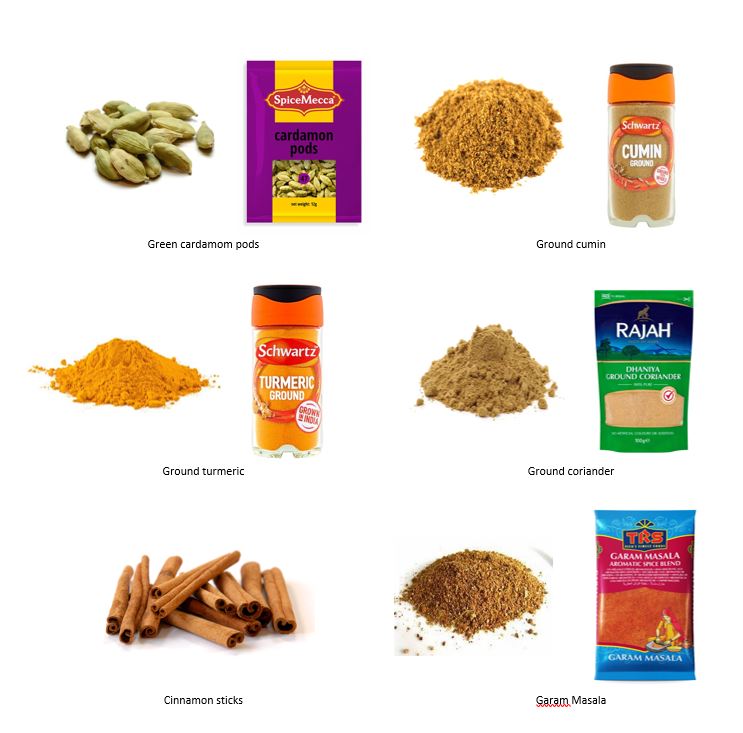 Preparation
If you could not find the already ground almonds, or specifically want to fuck with the flaked ones, you start with those. Dry-roast the almonds in the frying pan until pale golden. Set a handful aside for garnish, and continue to roast the remaining ones until they are slightly deeper in color. Leave the almonds to cool, and then grind them into oblivion in a spice grinder, food processor or coffee mill.
Heat the butter in a big frying pan with high rim, and fry the chicken pieces until evenly brown. Take them out of the frying pan and set aside.
Add a little bit of oil into the frying pan, if necessary, then fry the chopped onion for 5-8 minutes, until golden.
Stir in the cardamom pods and garlic and fry for another 2 minutes.
Add the ground almonds, cumin, coriander, turmeric, cinnamon stick and chili powder to the frying pan, mix well, and cook for about 1 minute. Turn the heat to low.
Add the coconut milk, chicken stock and tomato puree and stir everything in.
Add the cooked chicken pieces and season with salt and pepper.
Cover with the lid and cook on low heat for 3 (!) hours (now you know why I said the dish takes fucking long to cook), stirring it every half-hour.
After 3 hours, stir in the cream, lemon/lime juice and rind and the Garam Masala, and cook on medium heat for another 30 minutes.
Stir once again, and – Voila! Ben's Chicken is ready to eat.
Serve it with some reserved almonds on top, and eat with rice or poppadums. You can get poppadums in any Indian shop and in many supermarkets. If you don't know how to cook rice – fucking google it!
As always, you are fucking welcome!