The next morning greeted us with the sounds of the waves, blue skies and delicate palm-tree shades on the sand. That was on the outside. On the inside we were dying. Gone were the days when we could party all night and wake up in the morning fresh as daisies ready for more. We were ready for more, but not before serious resuscitation attempts would be applied.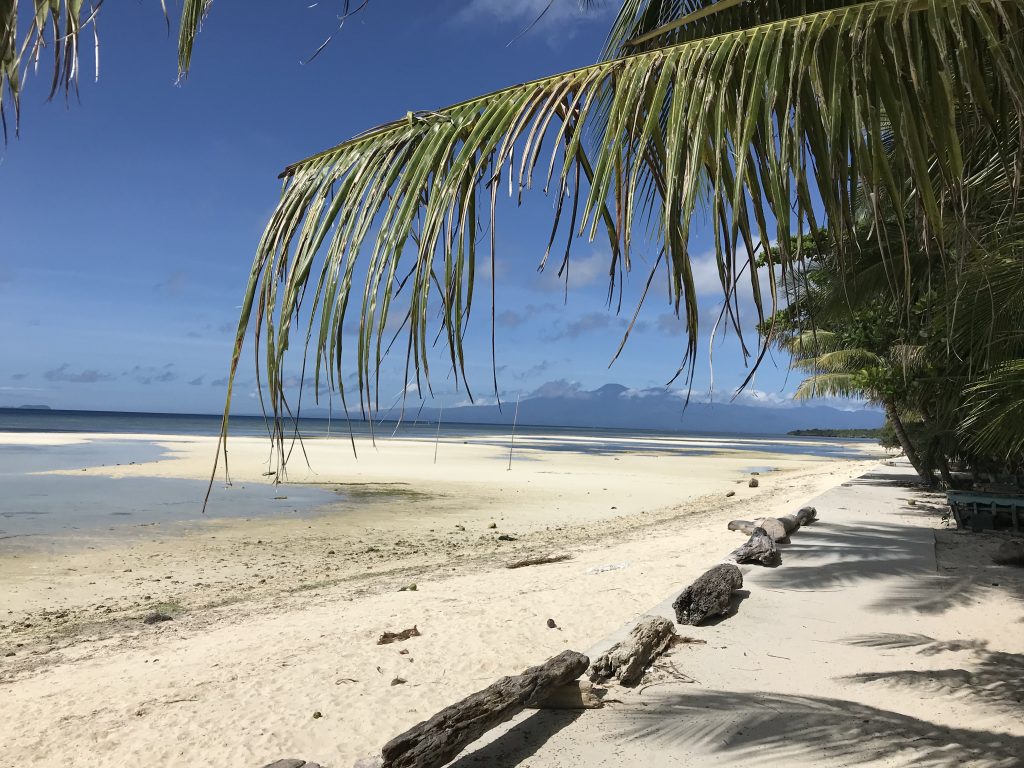 To add injury to the insult, I woke up with a UDI (an Unidentified Drinking Injury) on my knee. The cut and bruise were colorful, although relatively painless, and I had a hard time remembering the origins of this decoration. Vague memories of the Italian restaurant started surfacing up in my tired and hangover brain. I desperately needed a shower to wake up, sober up and clean up. Alas – no such luck! Nic, ever the gentleman, went out to explore the facilities of our VIP room, and informed me with disgust that he could pee stronger than the water pressure in the shower. Nature wasn't on our side either – the morning low tide also prevented us from dipping in the nearby seas. We put on yesterday's shorts and T-shirts, and crawled out onto the deck.
Chris was sitting under the umbrella with a standard cold San Miguel as if he never left, and a couple of neighbors were chilling in the loungers next to him. The bayots were as chatty as yesterday, although fewer in numbers. Overnight, two of them disappeared, leaving without pay or warning. That left the proud owner short staffed and puzzled. Chris was genuinely hurt – he really embraced all his staff members, provided them with food and board (in addition to pay), treated them like family, and gave them the opportunity to be themselves. Although bayots were recognized and accepted in the Philippines, the general public standing was that they were to keep quiet, know their place and stay under the radar. Dressing up in women's clothes, wearing loud makeup and (God forbid!) singing or dancing were all inappropriate behavior in public, and generally frowned upon. Chris did not give a shit about makeup or dresses, and Sunny Side presented the bayots with a rare opportunity for self-expression during working hours. The fact that two staff members would leave without saying good-bye, and losing their well-earned wages was a mystery and a disappointment…
But we had our own and quite urgent problems. If we could not have a shower, we at least needed breakfast to start resembling humans again. As we already noticed last night, Sunny Side's engine was powered by beer, and beer alone. This was fine for the evenings, but if we wanted to sober up, we again needed solids. We went back to the Italian. It turned out to have a name, Marco Polo, after a famous Venetian explorer, and in the bright hours of early morning it looked quite different (not that we remembered what it was like last night!) – everything was calm, serene, and welcoming. Unfortunately, they remembered me, as the first question we heard coming through the door was "How's the head?…" My acrobatics with the chair last night apparently did not go unnoticed… Well, what you gonna do?…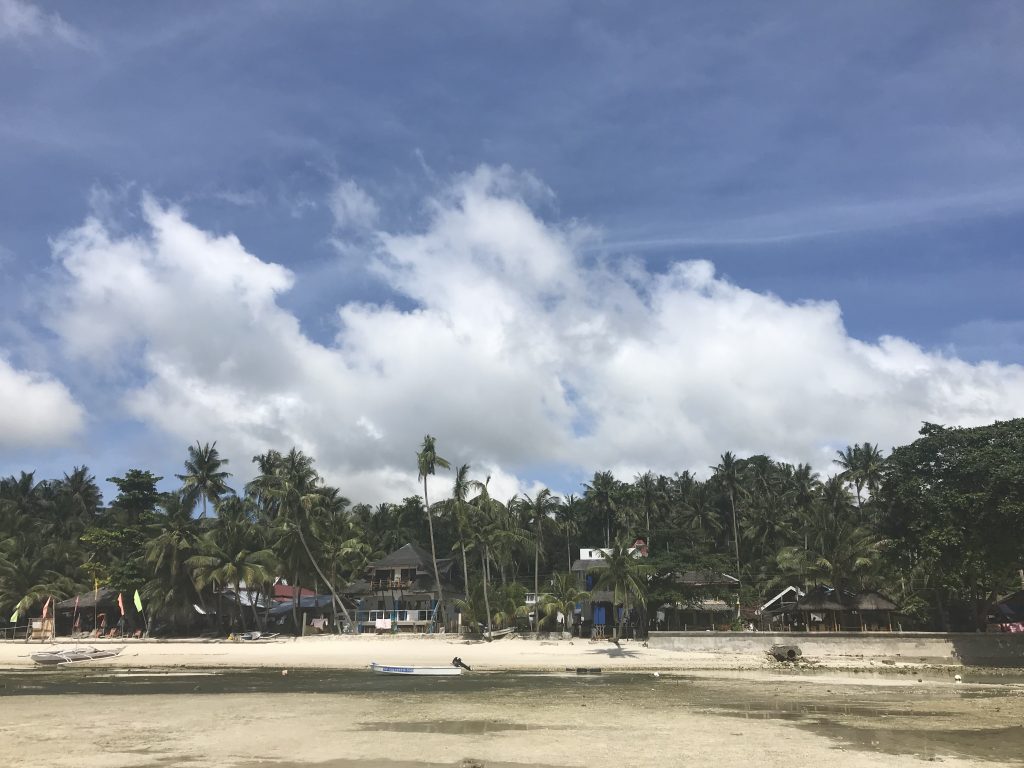 In the light of day, we had a chance to not only appreciate (and remember) the surroundings, but chat with the owners. Two proud sons of Naples and Sicily, they ran the restaurant together, and like true connoisseurs of good food, somehow managed to sneak in proper Italian prosecco, prosciutto, cheeses and wines onto the menu. We have readily partaken in all (minus the wine – we were here for breakfast, after all!), and enjoyed the wonderful views from restaurant's terrace. For the next couple of days on Siquijor Marco Polo will be our go-to place for everything. If you happen to be in that neck of the woods – make sure to visit. You will be as delighted as we were!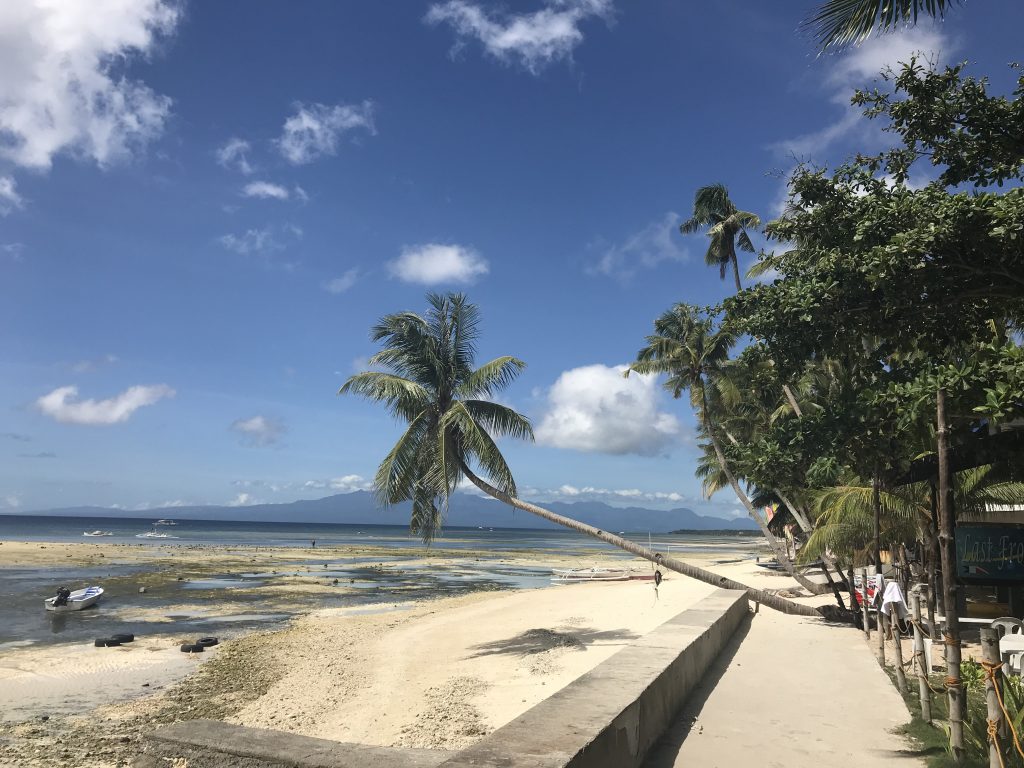 Happy, sated, and slightly less hungover than we were (thank you, Italian prosecco!), we could now think about finding a place to stay. Sunny Side was a designated party place, but one can't live on beer alone – I needed a shower. Anne's place was a bit too far for a permanent base, and the potholed un-lit roads would be too much for us during party-time. We went back to Chris' and rode up and down the main drag, knocking on the door of every decent and cemi-decent looking place in the neighborhood. Everywhere was full. Turned out that remote as it was, Siquijor still attracted its fair share of tourists, all of whom were intent to have a New Year party on the island. Most established places in the vicinity of Sunny Side were fully booked. Luckily for us, new ones were popping up like mushrooms after the rain, and having rode down the road a little further, we secured one of them!
Stella'z Guest House had clean new rooms with functioning showers and water pressure (I checked!), big beds and even air-conditioning. The location was perfect: less than 5-min ride away from Marco Polo, and about 10-min ride from Sunny Side. We happily moved in and spend the next hour enjoying the water pressure and the aircon. The only downside of our new digs was incompatibility of its electric plugs with my hairdryer. In +35C degree heat, however, hair could dry out on its own, but could not wash itself. With this conciliatory thought I gave up on trying to find a fitting plug, and embraced the hippy lifestyle. In all further photos from the island I looked the part, and now you know why…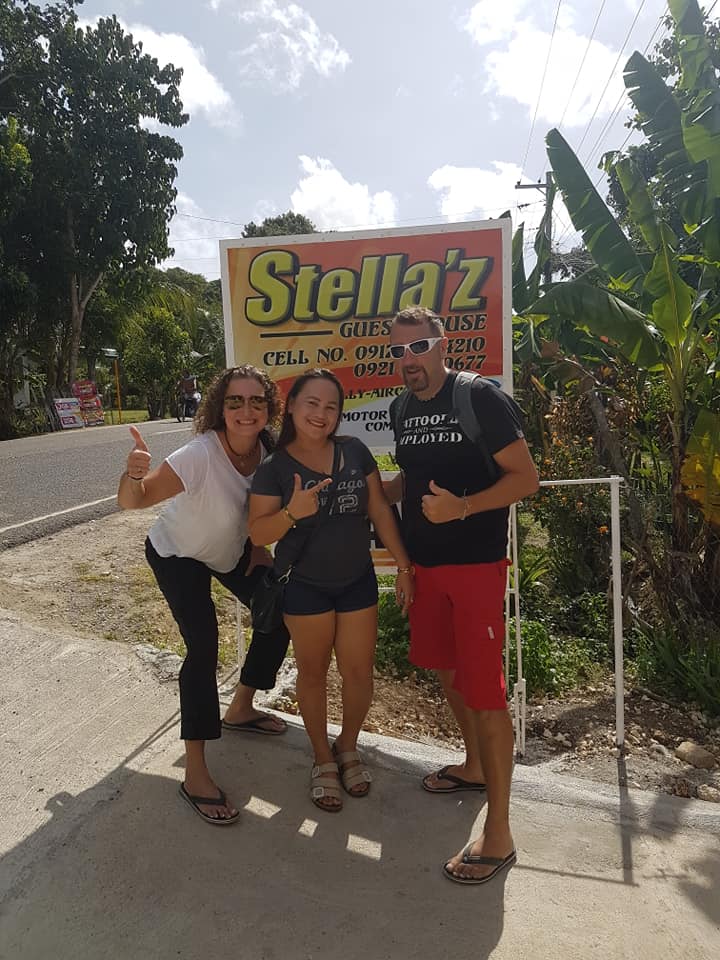 The day that started so beautifully on the outside and so painfully on the inside also happened to be my very own and very personal birthday. I guess I might still be relatively young, if the former sentiment about the dichotomy of the inside and outside world still applies… Generally, the further one goes, the more these two seem to match. And usually not in one's favor…
While I fully intended to celebrate said birthday on Siquijor in general and at Chris' in particular, I could not, for the life of me, predict or foresee the scope of the celebrations to come. I had a strong suspicion that Richie had a big hand in it, as Chris was way too relaxed and on island time to come up with the organized havoc that ensured. Having Anne and Cheryl as new friends on the island also played a huge role in what was to come.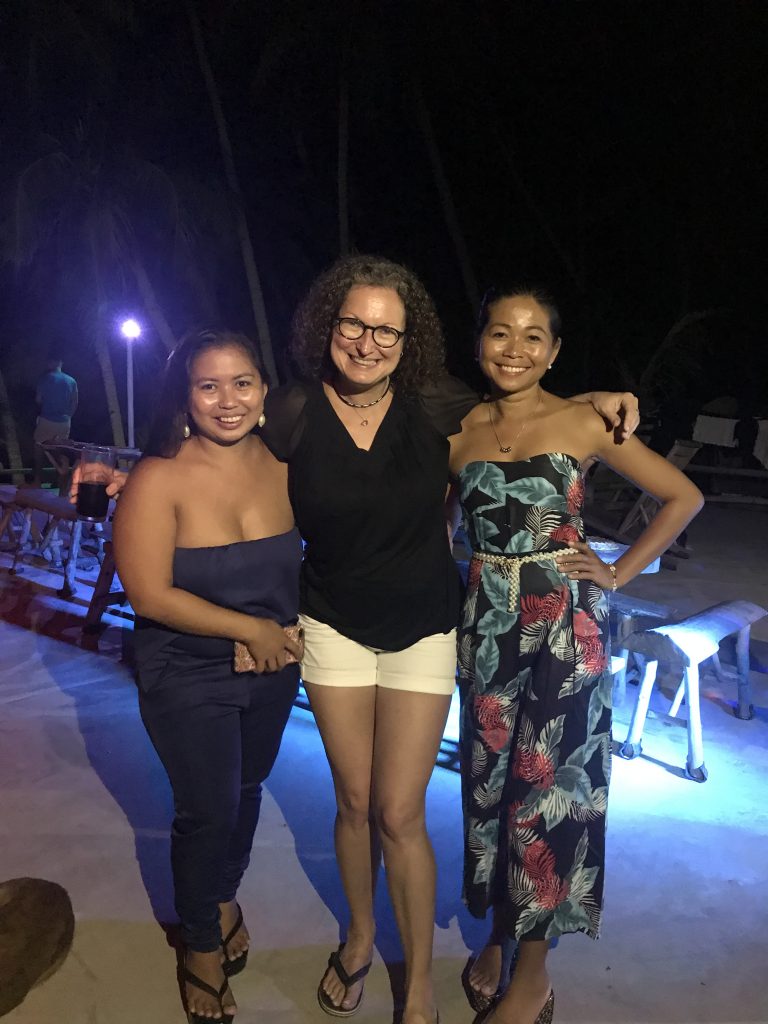 By the year 2018 I had a couple of weird and memorable birthdays under my belt. Mad student years aside, the most recent ones included:
An impromptu celebration in the "Mushroom Bar" down the dodgy-looking alley in Aonang, Thailand. The birthday cake was personally ordered by the president of the local MC, and "ladies of the night" danced traditional Thai dances to the "Happy birthday to you" sung by the highly intoxicated yet impeccably friendly biker gang (see here for the full epic story);
A more "refined" celebration in an Irish pub in Kuala Lumpur, Malaysia, accompanied by bottomless Lychee Martinis and a sing-along to the 80-es music marathon on TV (full story here).
The surprise celebration at Sunny Side got its proud place in the ranks of the most memorable birthdays ever. Preparations must have started early in the morning, but busy with our shower quest we did not notice. When the new hippy me and Nic showed up in Sunny Side, there was a commotion of people and tricycles, coming and going, bringing in trays and mysterious-looking boxes. It was hot, but the thought of another San Miquel did not call for a welcoming response from my tired, soon to be one year older body. I've never been a beer drinker anyway – while I can definitely drink the stuff (which last night happily demonstrated), the brewing liquid pleasures were largely lost on me, and I have always chosen wine as my beverage of choice. However, the realities of life were such, that South-East Asia not being big on grapes, did not present a good platform for indulging in wine, and left one to enjoy what was available. Hence the San Miquel evening last night, which was thoroughly enjoyed despite of the lack of beer-drinking inclinations on my part.
With all this said, my first birthday surprise of the day were two chilled bottles of wine brought by Richie. God knows where he found them on a remote island in a region that is only vaguely aware of the existence of grapes, but there they were, and they were very welcome, indeed!
While I was enjoying my wonderful birthday present, the commotion continued. The mysterious-looking boxes on the deck were now accompanied by a family of drums. There were the tiny baby-ones hurdled together, a huge monstrous-looking papa-drum, the size of an average human, and every shape and size in-between. This was getting interesting!…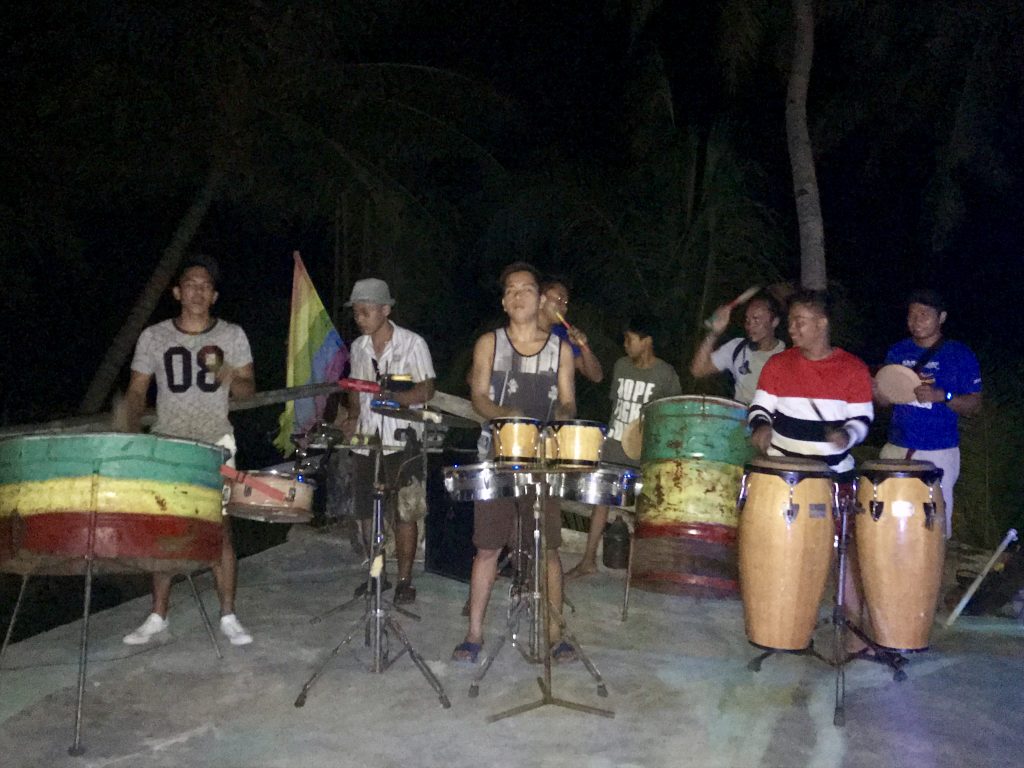 The mysterious trays, covered with banana leaves, revealed all sorts of wonderful snacks, hidden inside, and there were more to arrive – with hot food!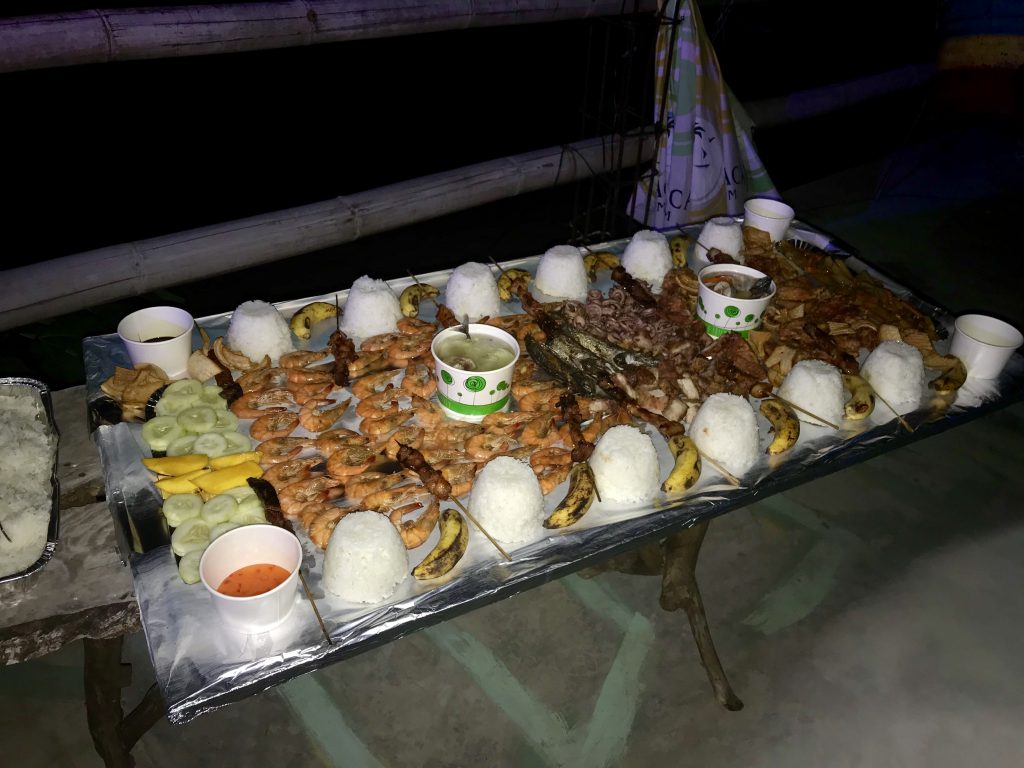 By the time the sun set down into the sea, party lights were up, Chris was DJ-ing on the deck, friends, neighbors and random strangers gathered around, and before I knew it, the birthday party was in full swing.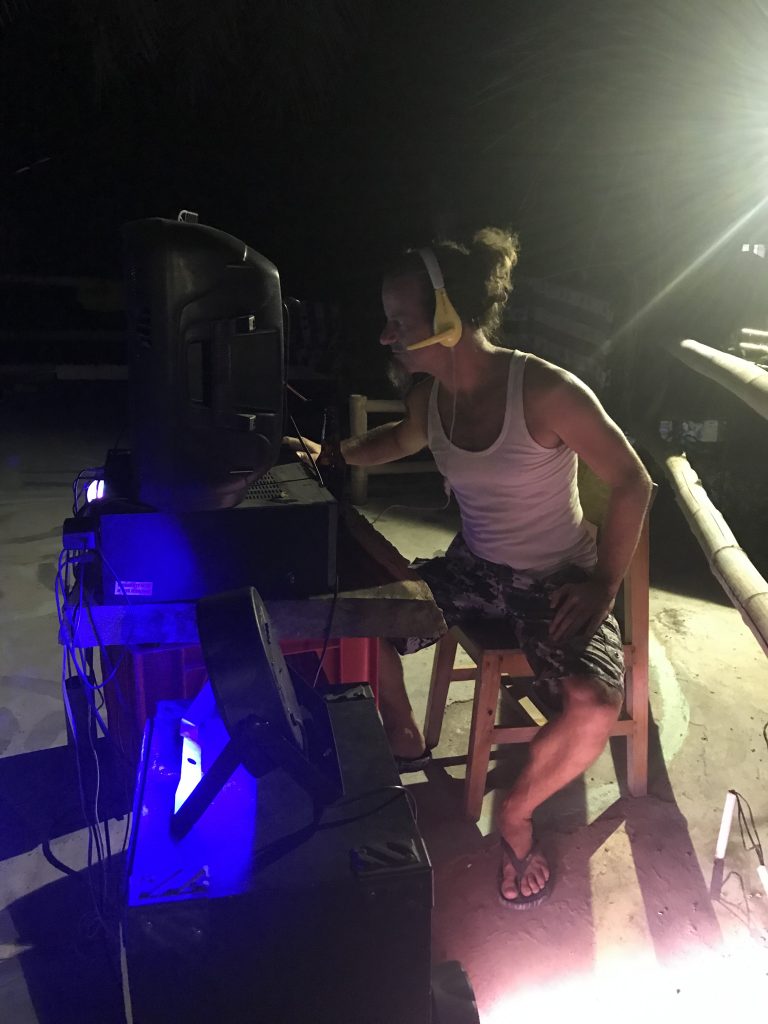 We had amazing food, birthday cake, fireworks (more practice was apparently needed in preparation to the pyrotechnical mayhem of the New Year celebrations), and the local drummer band playing the wild assortment of drums brought in earlier surpassed themselves. The music attracted even more people who seemed to have come from the other side of the island.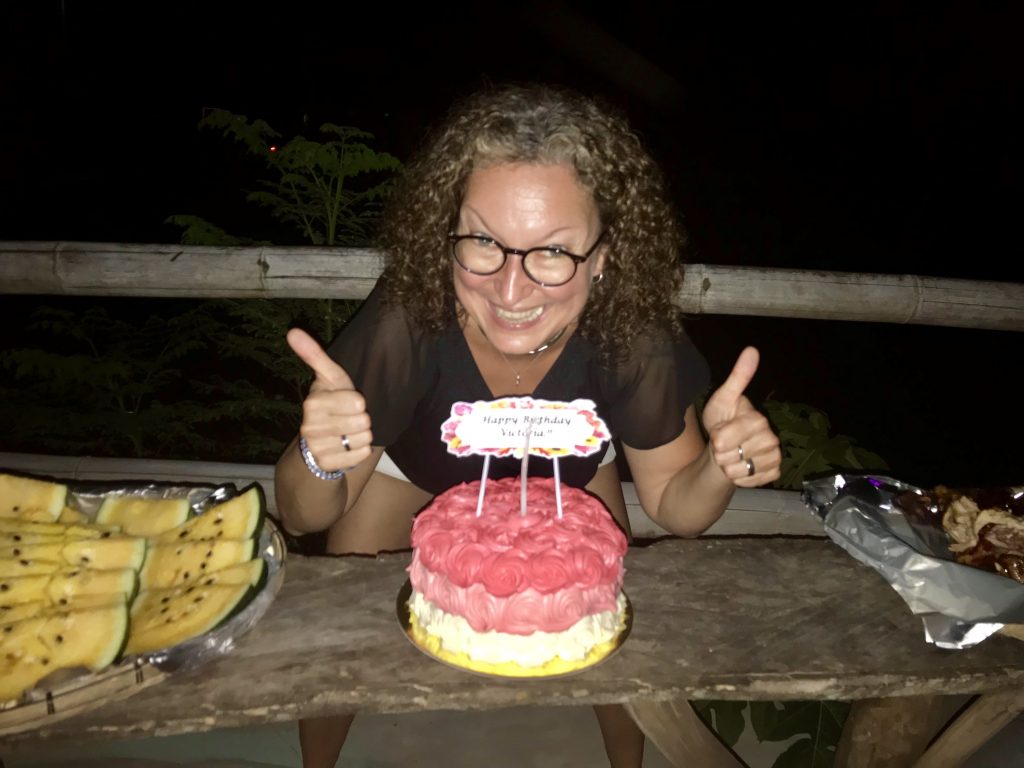 The drum band was accompanied by the fire-eaters, juggling burning torches and fire balls to the beat with amazing grace and skill.  One of the guys managed to accidentally set fire to his substantial dreadlocks to the sheer delight and amusement of the public (no worries – the fire was quickly extinguished, and he did not even lose his dreads!). The fire-eaters also doubled up as "sexy-dancers".  There was an impromptu semi-striptease (nobody got fully naked, though, to my sheer disappointment), the DJ kicked in, wine and beer were floating freely, and it seemed that half the island joined in on the party.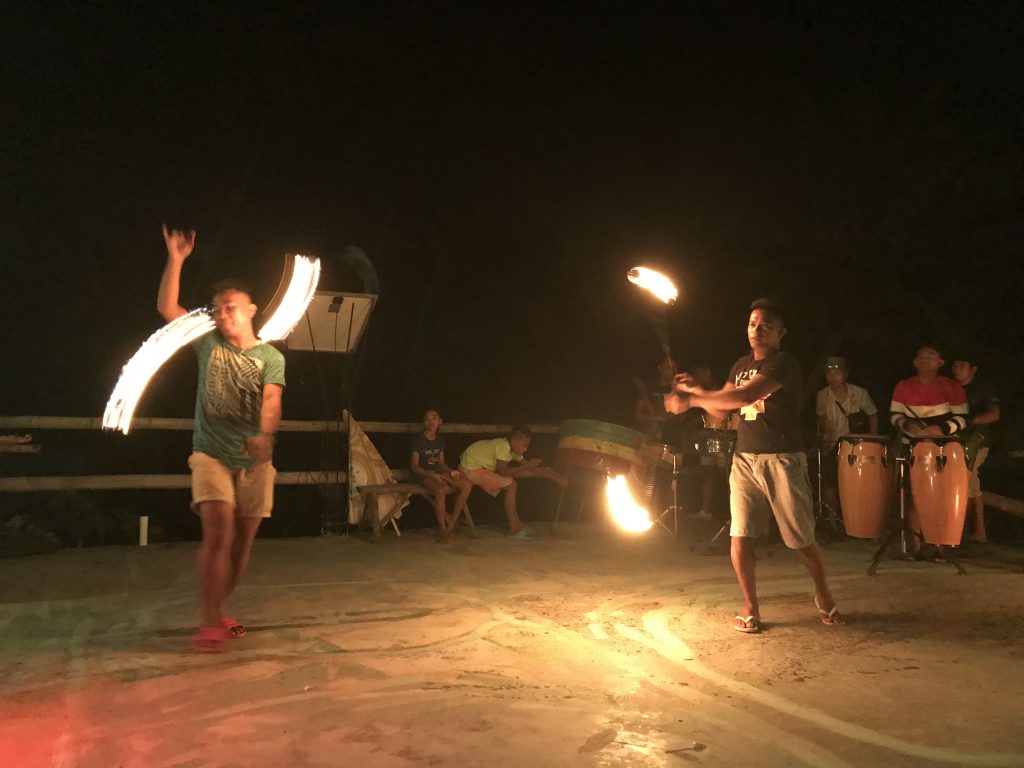 Another year older, and none the wiser! A great party was had by all. Needless to say, we again did not remember how we got back to our bed at Stella'z.