Our plan was to move up the coast, and hopefully explore some islands off it. The next stop was Sihanoukville, the only port of Cambodia, and the country's "most happening beach destination" according to Lonely Planet circa 2012. Two years later, when we made it there, it seemed to be happening a bit too much. But all in its turn…
In the spirit of the holiday season, the mini-bus taking us to Sihanoukville offered passengers Santa's hats to wear for the duration of the trip, but +30C was not very inspirational for the occasion. The driver that took us from Kep must have been on speed or crack, for he managed to reach Sihanoukville in one and a half hour instead of the promised three, ignoring every traffic rule he could remember. The nice touch was an official notice on the inside of the van door, encouraging passengers to phone or text the bus company if the driver was going too fast, too slow, was picking up hitchhikers, overtaking dangerously, or talking on his cell while driving. If the bus company really expected us to call, their lines would have been jammed, for our guy did all that, adding a variety of other traffic offences to the list. When we reached Sihanoukville, each passenger got a Christmas card from the driver, probably to congratulate us all on reaching our destination alive…
At first glance, Sihanoukville looked like a party shithole. The two main beaches downtown were full of prostitutes, drunk tourists and rude kids pushing souvenirs. Within 5 minutes we were offered weed, happy "sexy time", and were nearly torn into pieces by a couple dozen Tuk-tuk drivers, all competing to take us to where we can find all of the above and much more. Having studied the map, while calming our nerves over drinks, we made a decision to move away from the sleazy party zone, to a beach 15-minutes away from downtown, that the guidebook promised to be "remote and serene". Otres Beach's serenity days were long gone, but it was still a welcome change from downtown, so we landed in the first nice-looking beach bar, and sent the boys on a scouting mission. The idyllic view from the bar – blue skies, white sand, umbrellas on the beach, palm trees and boats on calm waters – was quickly rehabilitating our crippled impressions of Sihanoukville. Beer and fruit smoothies were doing equally fine in eliminating the sour after-taste left by the more central locations.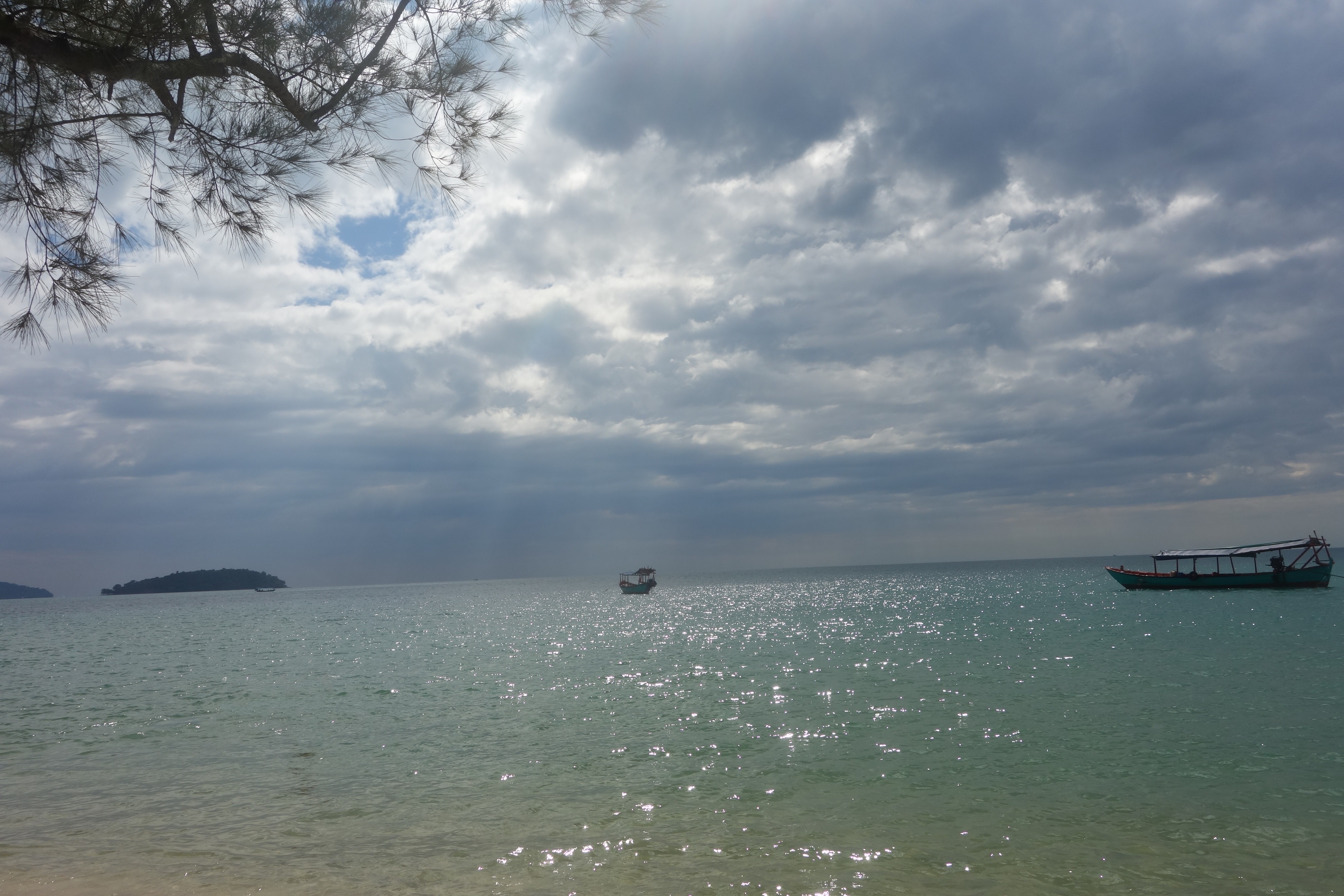 Our new digs, found almost at the very end of the beach stretch at "Done Right", were anything but ordinary. Round igloo-like white clay huts seemed to have been transported from somewhere in the 60-es. The overall ambiance of the place that did not take reservations, counting solely on walk-ins, and operating on a minimum non-profit budget, with staff working for food and accommodation, confirmed the feeling of the happy flower-power hippie days. Hammocks were swaying invitingly between the trees, lodgers were often found sleeping by the bar, weed was freely and openly smoked starting from breakfast time, and the price list by the bar proudly announced that Bob Marley song requests could be accommodated, but at a steep price of $50 per song. 
Lodging at "Done Right" cost between $5 and $27 a night, so there weren't many takers for Bob Marley.  The bartenders were a wild assortment of fuckups, predominantly holders of British passports with an occasional Canadian thrown into the mix, who came to Cambodia for a couple of days, and got stuck for months and years. They were all cheerful and friendly, eager to engage in conversation, share drinks and smokes with lodgers. Despite the presence of showers and the sea nearby, many of the latter looked liked they have not seen water or soap in ages. Harem pants and knee-long dreads were the most common outfit among the regulars. We stood out among the crowd a bit, but they embraced us nevertheless.
"Done Right" was not the only hippie-inspired crazy-ass place on the beach. The neighboring "Mushroom Point" sprouted unique fungus-like huts, and proudly announced that they had "fucking pizza" on the menu.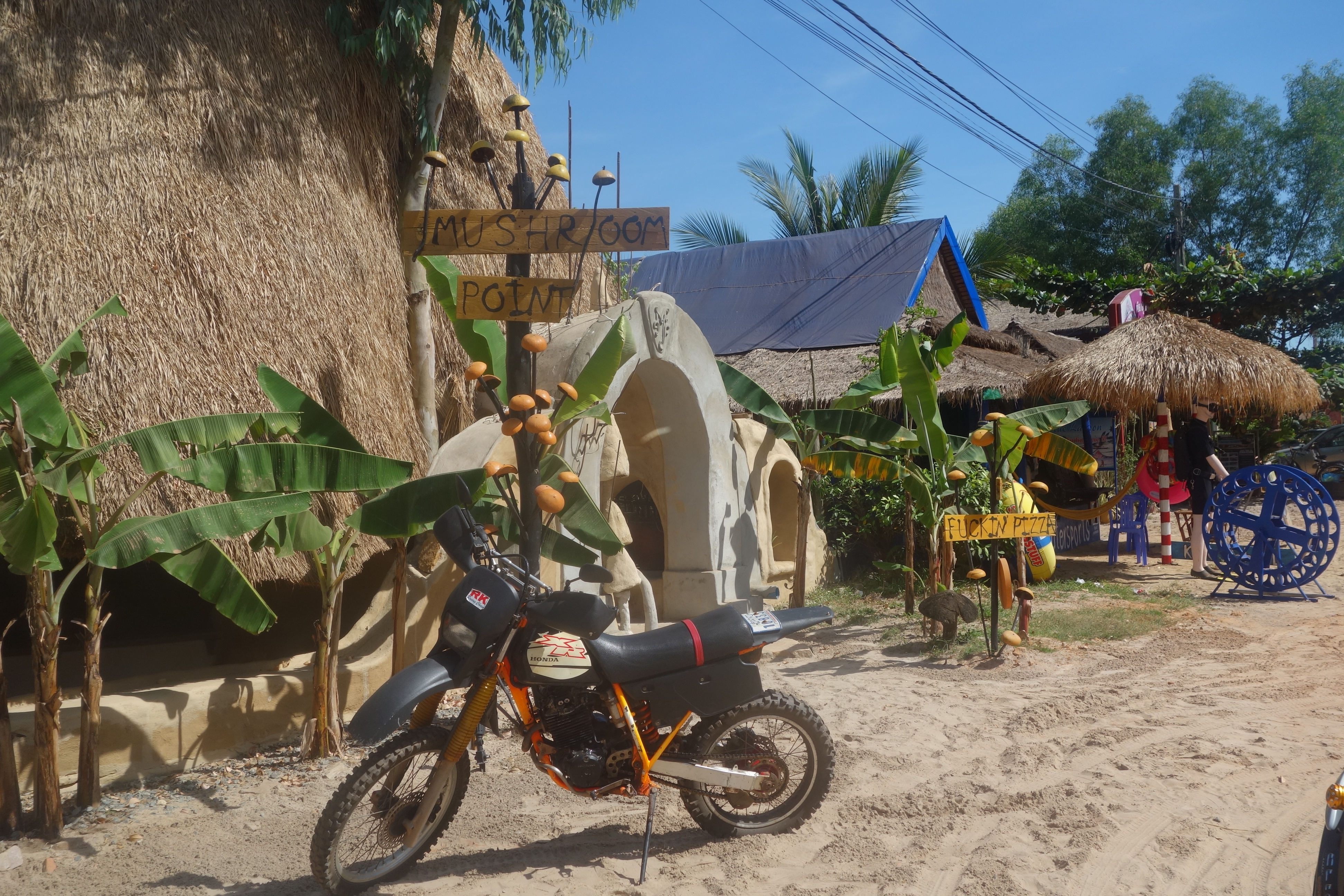 "Blame Canada", a late-night beach bar, conveniently open all day long as well, boasted hunky half-naked bartenders of predominantly Canadian origin, and a whole menagerie of kittens, puppies and a rabbit with pink-dyed fur – all together an irresistible honey trap for every female over the age of 13.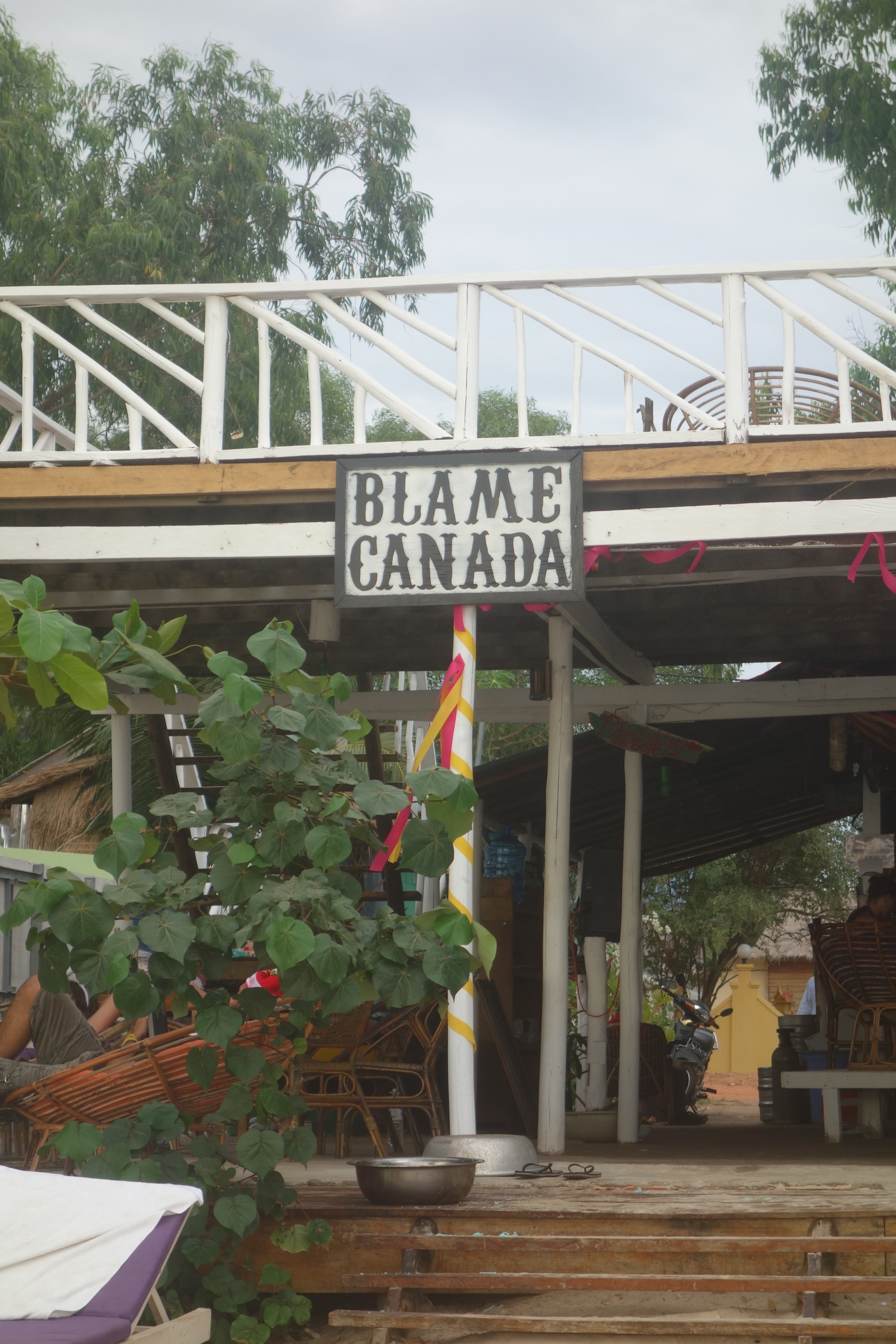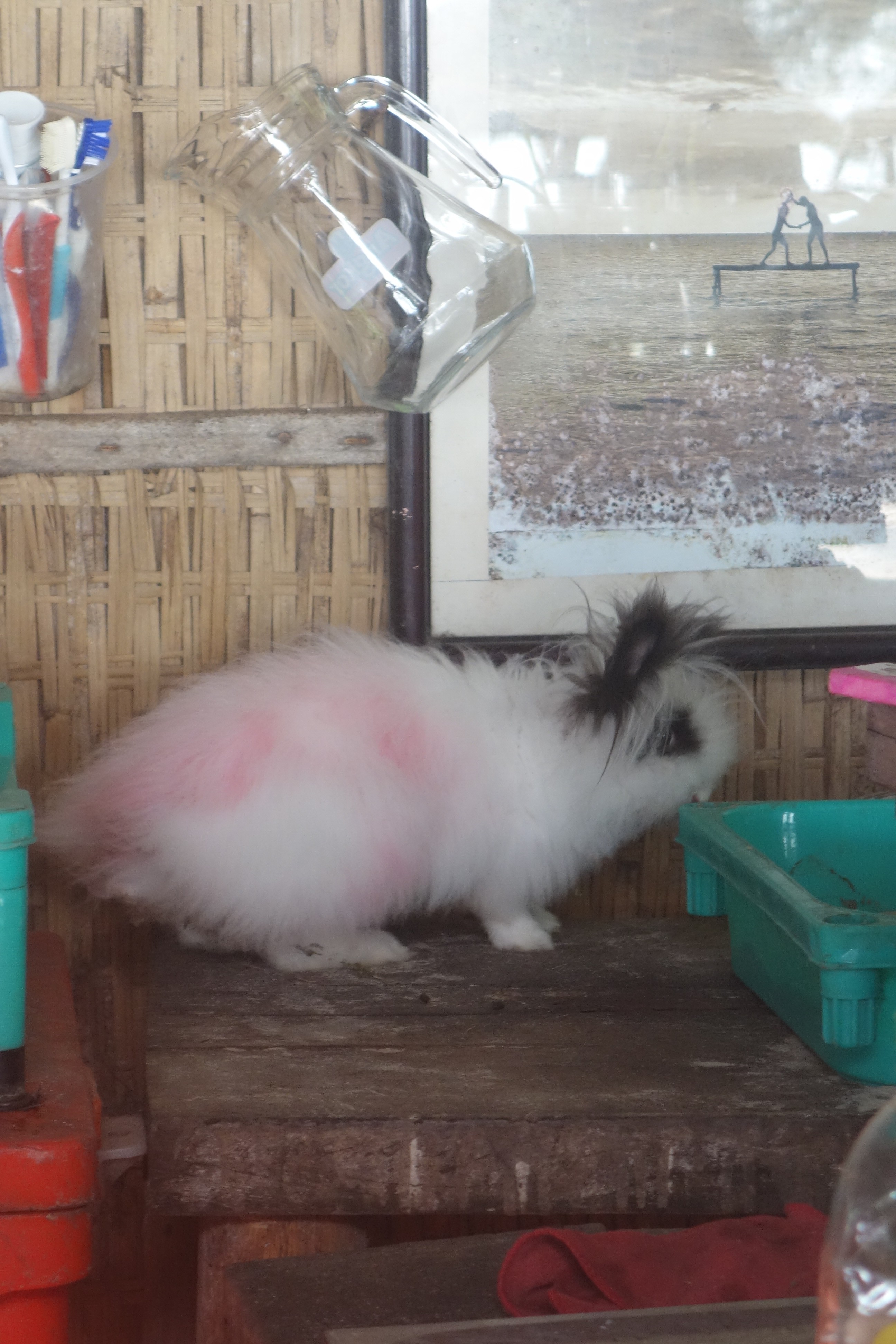 What topped it all off, however, was the Saturday Night Market in the neighboring village with no name. Mentioned by one of the bartenders at "Done Right" as a "kick-ass place" to visit, it solidly cemented the unorthodox reputation of Otres Beach and surroundings. Imagine a cross between the Magic Forest from "Peter Pan" and a 60-es hippie commune. The market offered all sorts of food, from Mexican tacos to Bavarian sausages, varied drinks of predominantly alcoholic content, "space" hash cookies, local hallucinogenic absinthe, and a wild mix of bracelets, earrings, harem pants, and other hippie paraphernalia. In the center of the area was a makeshift stage, offering free mike to  everybody who felt inspired. Those were numerous and colorful – a tall and obviously stoned guy with a ukulele had to be chased off stage several times, after having usurped the privilege and tired the audience.  One of the bartenders from "Done Right" was spotted rapping, and a crazy-looking guy tattooed from head to toe and wearing a spiked motorcycle helmet was drumming to complete abandon with every performer. People were sitting on the ground eating, drinking, chatting, smoking and munching on space cookies in the dim light of colored lanterns hanging from the trees. The atmosphere was surreal, but peaceful and definitely colorful.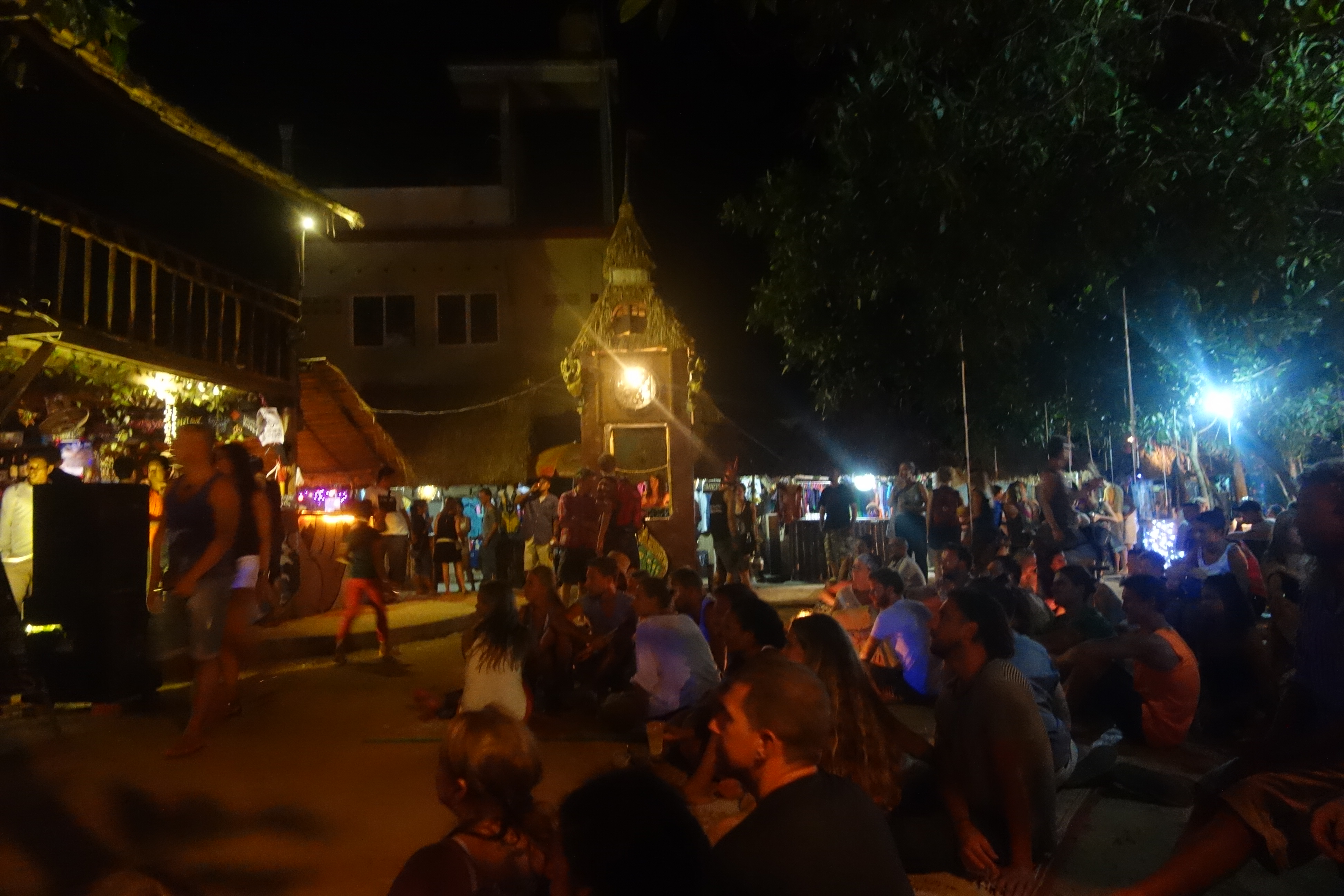 Earlier that day we spent three hours in a local Cambodian cooking school, learning how to prepare banana flower salad (a surprisingly tasty dish that we, regretfully, won't be able to recreate at home, due to the lack of the main ingredient), Loc-Lac beef, and an amazing pumpkin custard, cooked with sugar and coconut milk in a whole pumpkin. It was an enjoyable and tasty afternoon, and topped with the hippie market and white sandy beaches, not completely overrun by crazy clouds, it made Sihanoukville the place to be.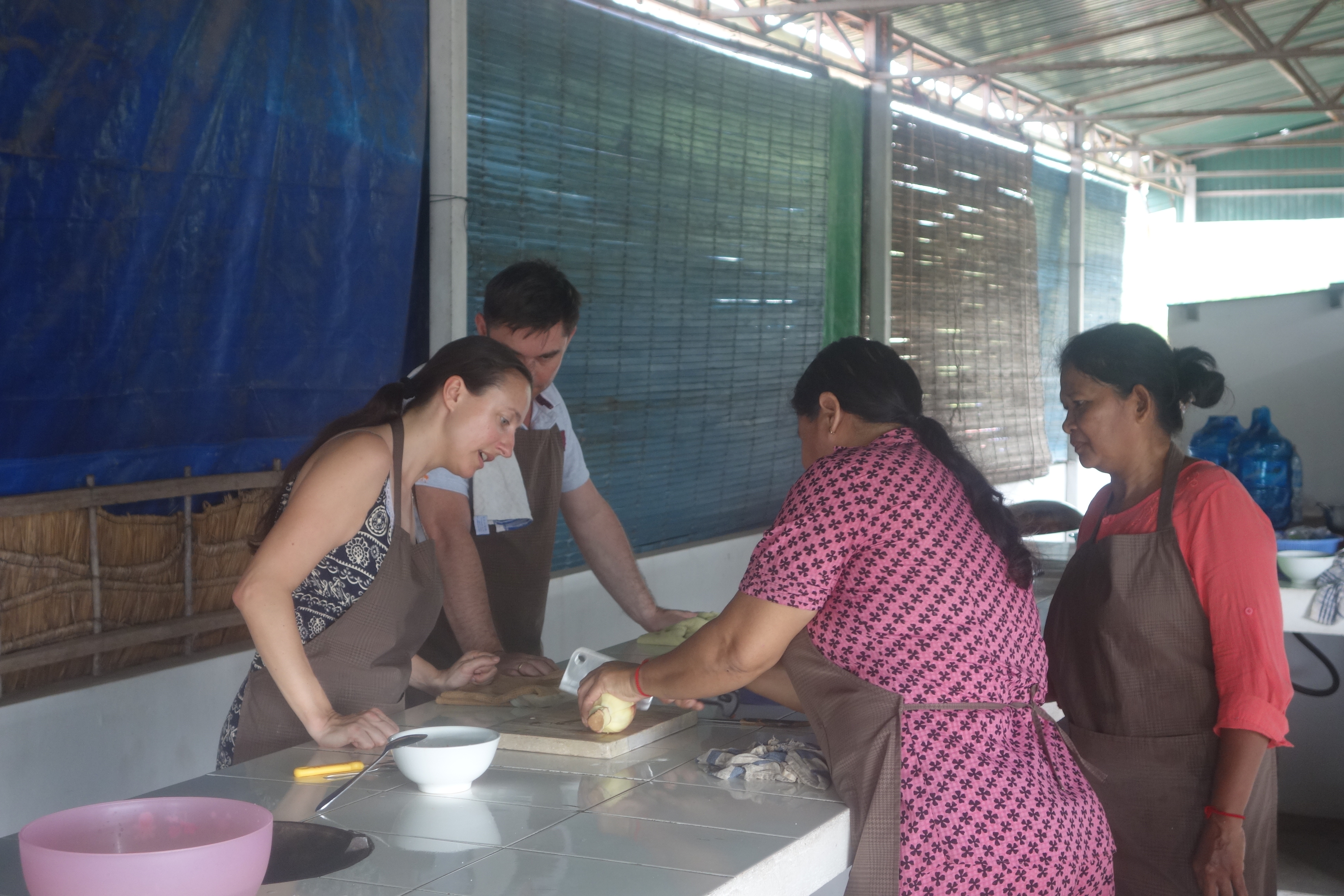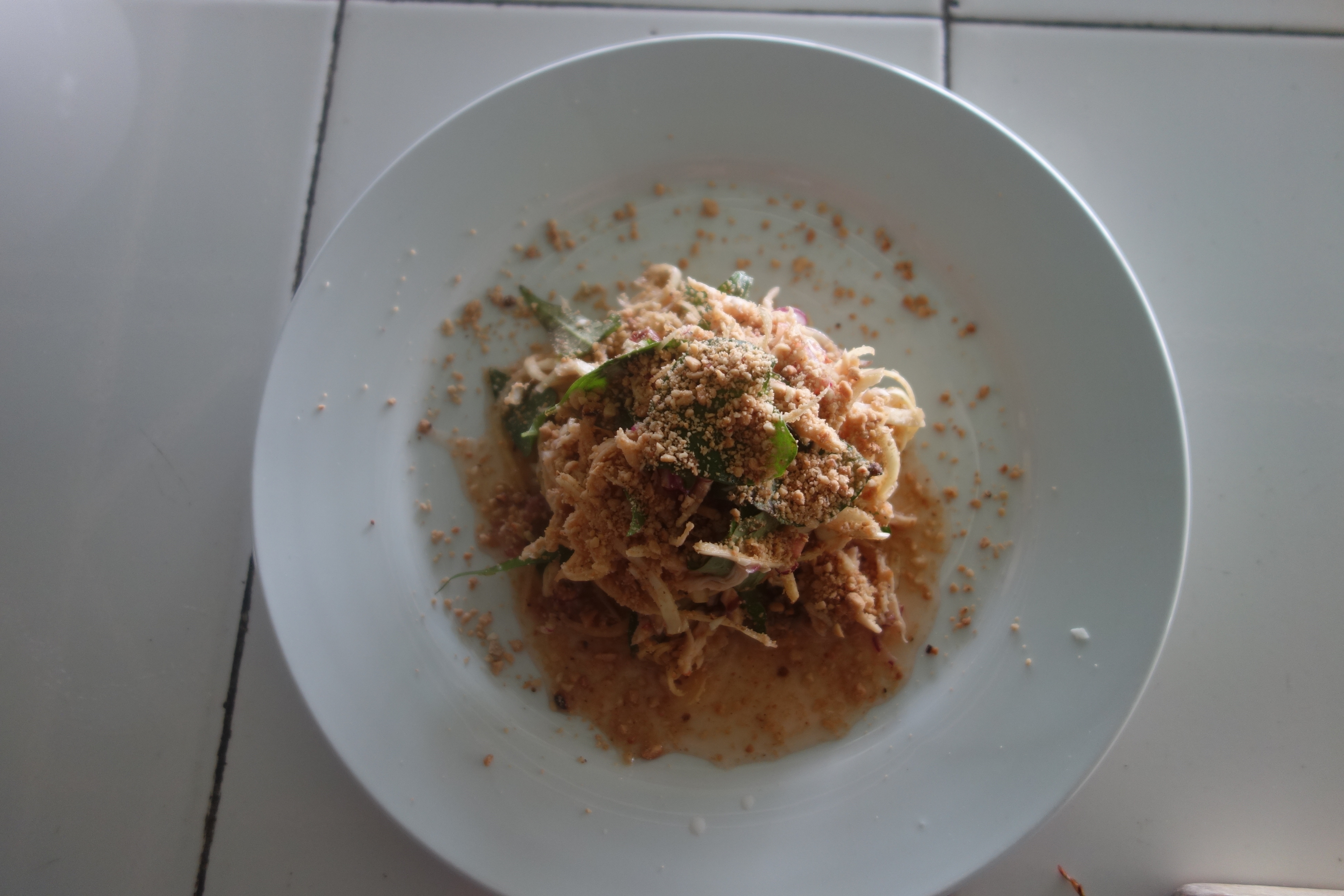 The beaches were, indeed, amazing. After we moved away from downtown, our first unfavorable impressions of Sihanoukville quickly vanished, and were steadily replaced by only positive memories. Otres Beach per se, was a stretch of bars and restaurants with tables and lounge chairs spilling out into the sand, although still in a much less obvious fashion, than the two downtown beaches. Besides, the beach continued even past the bars – after a 10-15 minute walk one wandered into the long stretch completely devoid of any signs of civilization, apart from a random adventurous tourist or two, and a couple locals, frolicking in the sea. We walked down the white sands for about an hour and it happily continued to be empty and beautiful.  Surprisingly, clean as well.