Joined by our friends Richie and Andrea, who flew from Munich the night before (and were immediately introduced to the full night of outdoor chanting and an early-morning construction site, that unfolded next door specially for their arrival), we had a food walk with Jodi on today's agenda. This was the part I specifically was very much looking forward to.
Jodi Ettenberg, international lawyer turned nomadic food traveller and soup connoisseur, is the writer of The Legal Nomads travel blog and the author of "The Food Traveler's Handbook" I stumbled upon on the Internet half a year earlier. Jodi is also an international ambassador of street food, and having learned that she was going to be in Saigon at the same time as us, I asked her if there was any chance to meet up. Turned out, she was organizing food walks in Saigon, in an attempt to share with people her knowledge of Vietnamese cuisine and passion for food. Richie and Andrea gladly signed up, and before we knew it, we were meeting Jodi on the corner in front of the KFC in District 3. KFC was not on the menu, but a lot of other places were.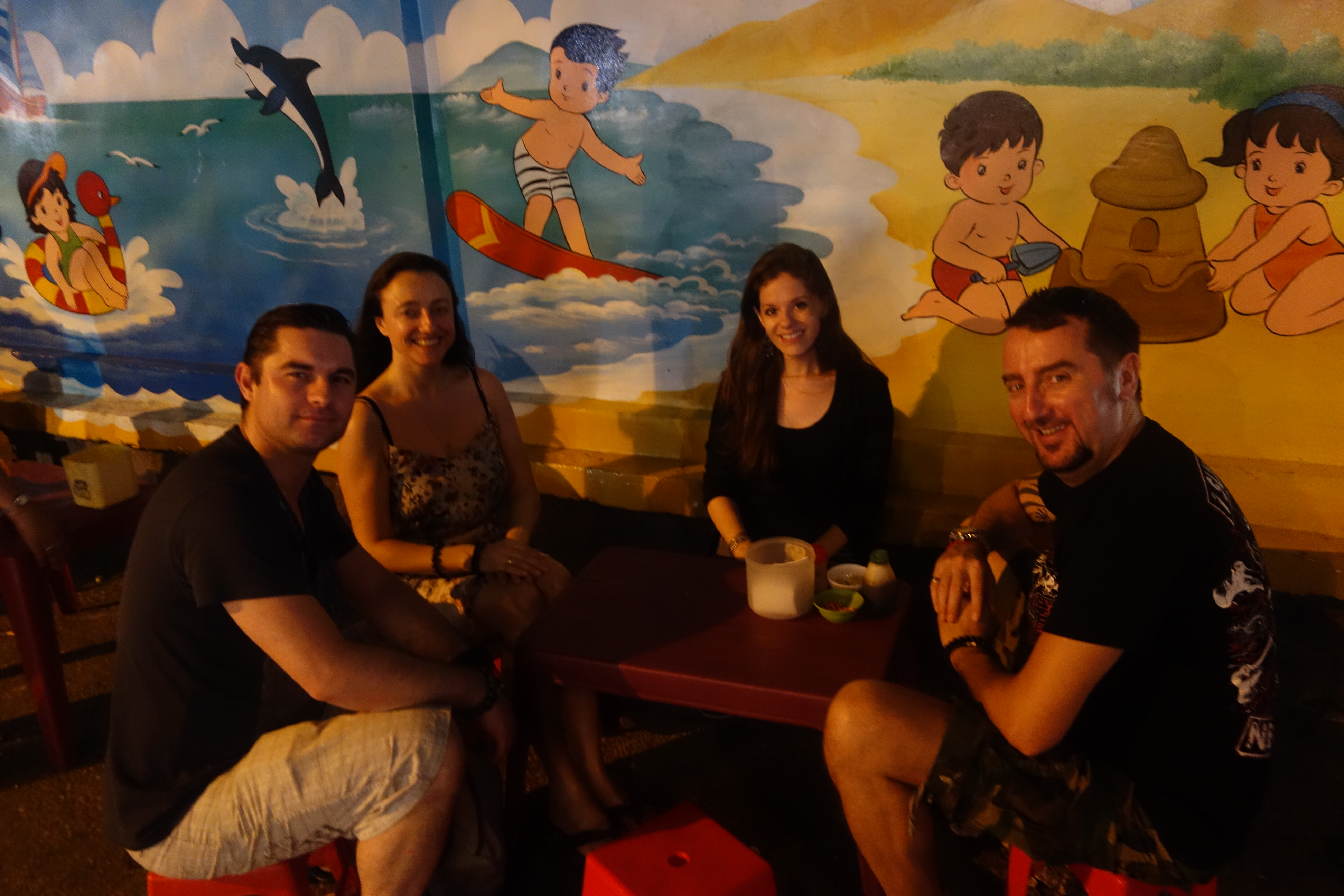 Jodi turned out to be a beautiful miniature girl, who spent 3 hours walking the four of us through downtown Saigon, feeding us all sorts of local street delicacies that we would otherwise never have ventured to try on our own, and sharing stories about Vietnamese culture, people, and food. This was a most amazing evening!
We started off by eating Banh Canh Cua – a tapioca noodle soup with crab broth, crab pieces and sliced pork. The soup was delicious, and full of flavor, and the Tapioca noodles were a surprisingly yummy change to all the rice or egg noodles we tried before. Almost all soups in Vietnam come with pork – it is an essential ingredient, like noodles. Other meats, fish, seafood or anything else imaginable is added on top.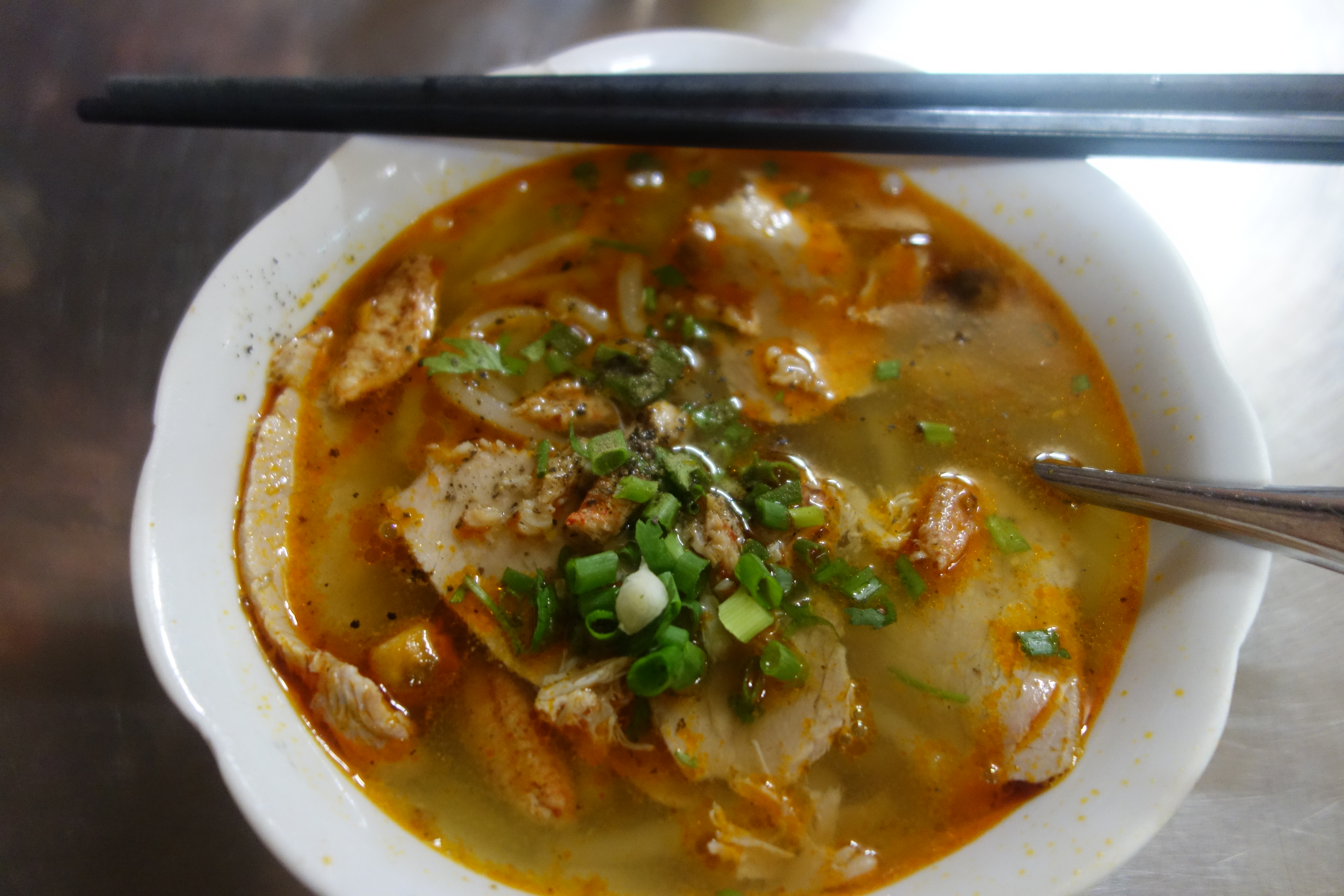 Next on the menu was Banh da xug hen – a dish from Hue, an old capital of Vietnam, which looked like a big dry rice pancake with sesame seeds on top of a mix of mini clams, Vietnamese coriander, lemongrass, chili, onions and peanuts. It did not look like much, and I honestly would have never been attracted to it by sight, but the dish turned out to be the highlight of the evening. Full of flavor and juices, tangy and spicy, it had an amazing taste that lingered in our mouths long after we wolfed it down.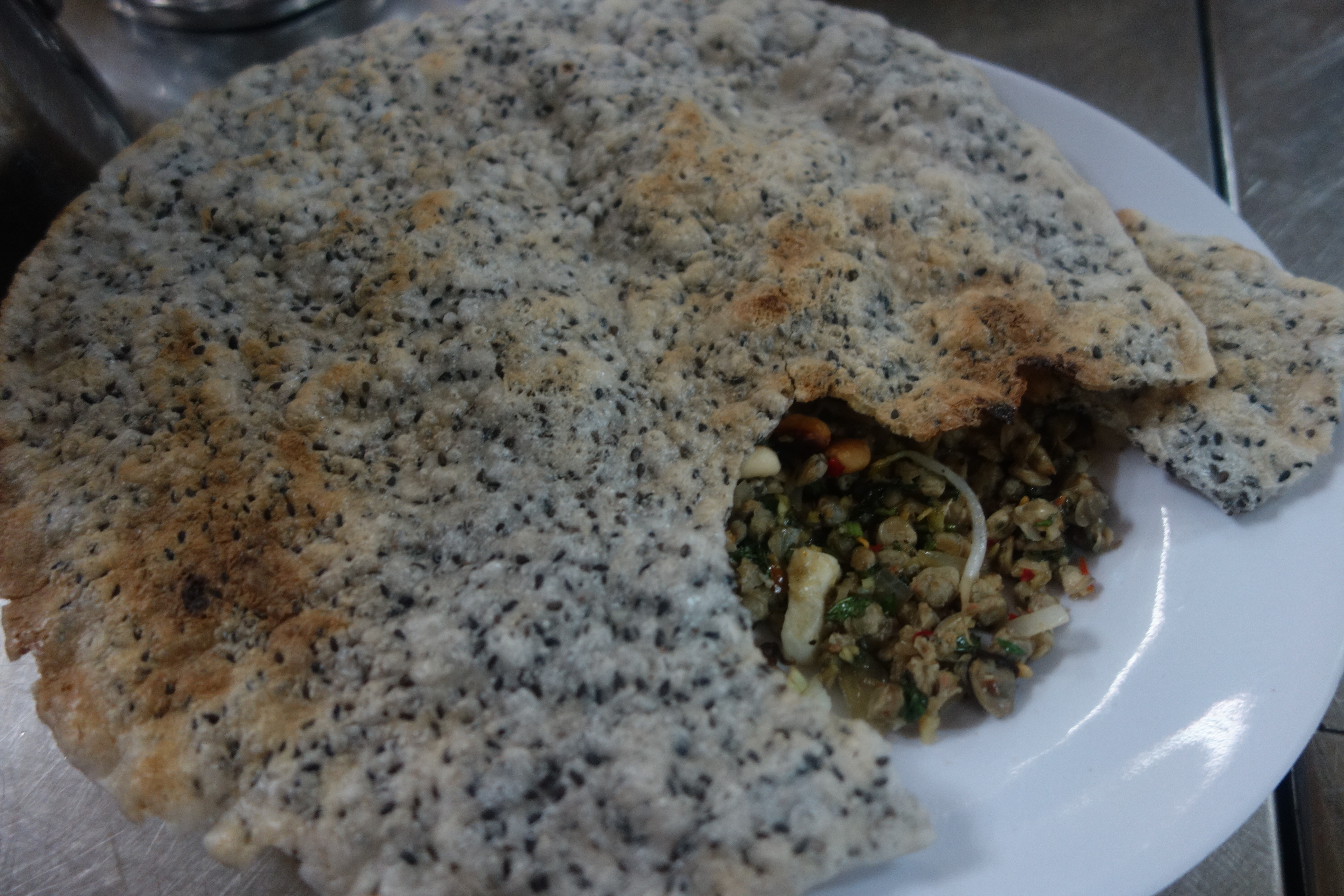 After a short walk we ended up at a tiny food stall on the corner of a kindergarten (kiddies painted on the wall behind us were a very fitting backdrop to the teeny-tiny plastic stools we sat on). The second soup for the night was Hu tieu – with rice noodles and the inevitable pork, topped with fried shallots and green onions, and served with broth on the side.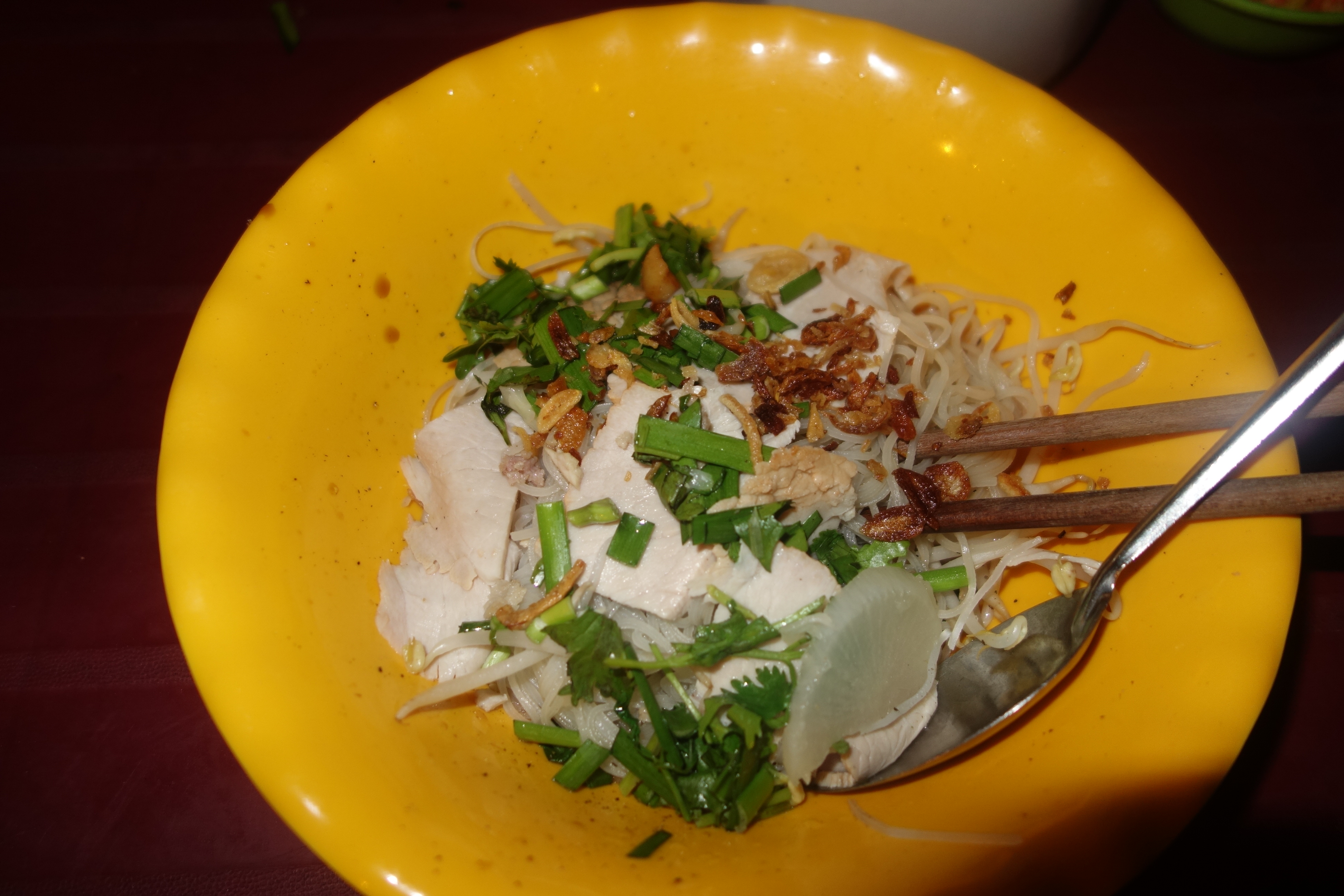 We were already quite full, but the evening was far from over. Our next stop was at a small local square with a pond, a popular student hangout, surrounded by street vendors, selling all sorts of snacks. We had Banh Trang Nurong – a grilled rice paper pancake, folded in half, and filled with a mix of ground pork (what else?!), dried shrimp, a quail egg and scallions. It sounds like a lot, but the pancake was exceptionally thin, and the stuffing was merely a spread over the rice dough – all together a delicious combination and a great snack.
We continued criss-crossing through the district and walked into a big green park with a creepy past. The park used to be an old cemetery, which the city authorities at some point decided to give new life. All the foreign residents were dug up and sent home to their respective countries, and all the Vietnamese were rounded up and relocated to a more convenient spot outside of town. The resulting free space in the center of the city was landscaped into a park. By the sheer force of denial locals believe that the spot has always been a park, and put it to good use. After the sunset the park turns into a multi-faceted entertainment venue – in one corner you see people engaged in group aerobics classes (old an young, jumping together, including a couple of middle-aged ladies in what looked like pajamas, and giving the exercise a really good go), next to them others were practicing their ballroom dance moves, kids were playing by the fountain, and food stalls on the side were offering all sorts of snacks. This was where we were heading. A refreshing break from all the consumed soups and pancakes was Yaourt – a yogurt from Dalat, fresh and cold – a delightful end to the evening! Or so we thought…
Turned out Jodi had one more item on the menu for us – in the same park we went to a different corner food vendor, a lady famous for her Goi du du bo – un-ripened papaya salad with beef jerky, rice crackers and peanuts, topped with Vietnamese coriander. She only made so many plates for the day, and when they were finished, she went home. The salad was delicious, and the warm beef jerky added an unusual tang to it, but we were too full to finish our plates.
Rolling over from side to side, we said hearty good byes to Jodi, and following her recommendation decided to finish the evening with a drink in a rooftop bar of the nearby Novotel. The view was spectacular – in the dark of the night with the lights lit all over the city you could really appreciate how massive it was. Saigon stretched below us for miles and miles around, close but distant, content in itself, allowing to be admired, but never getting too close.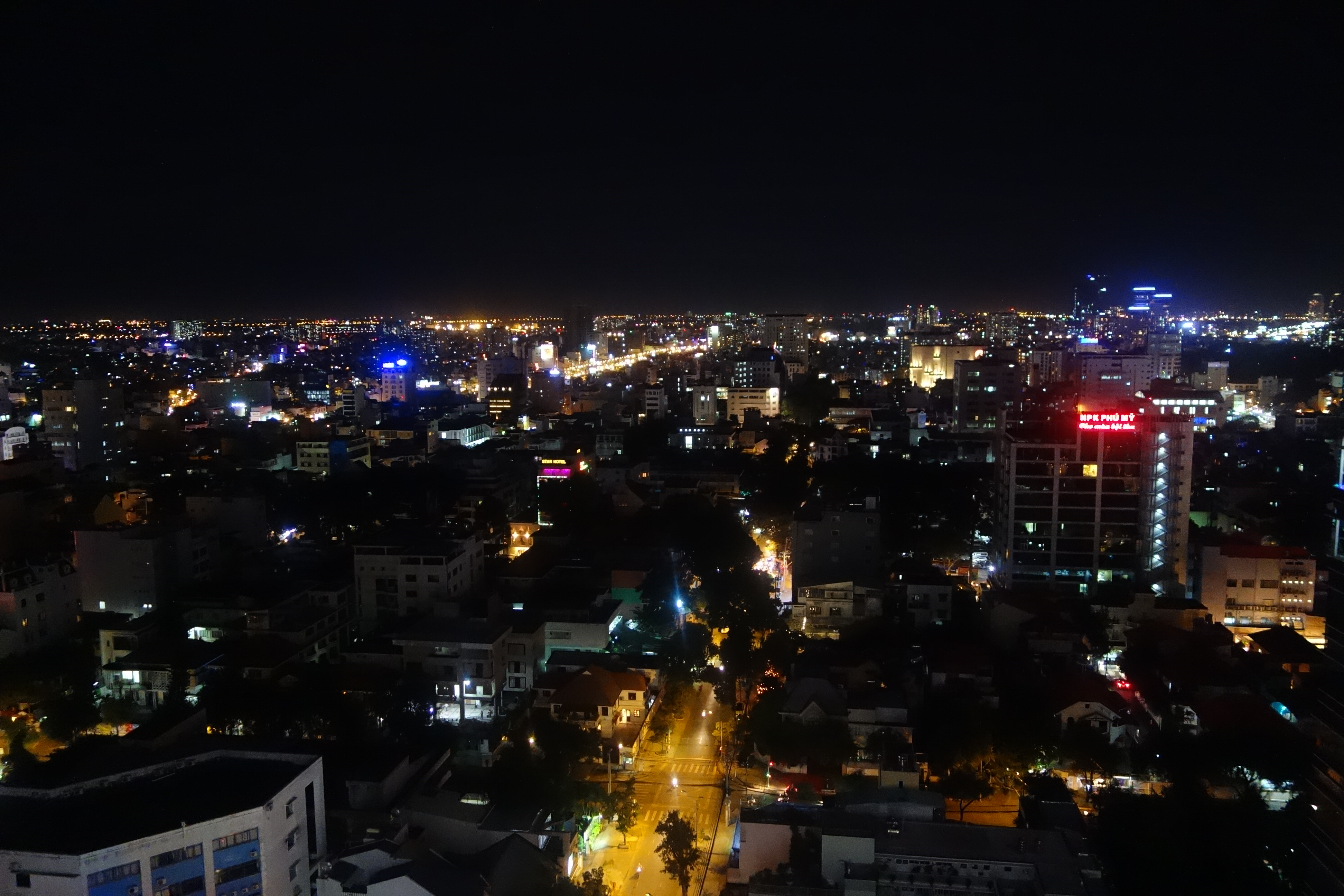 The food walk and drinks with a view were a perfect ending to our stay in Saigon. They left us with good memories of this contradictory city with great and tumultuous past, uncertain present, and hopefully bright future.
What lay ahead of us was the trip up North to Dalat, a former French resort place, wine region, home to spectacular mountain views, and breath-taking scenery. At least, this was the plan. As quite often happens, real life interfered, and the next day took us in a totally different direction. But this is a whole different story…